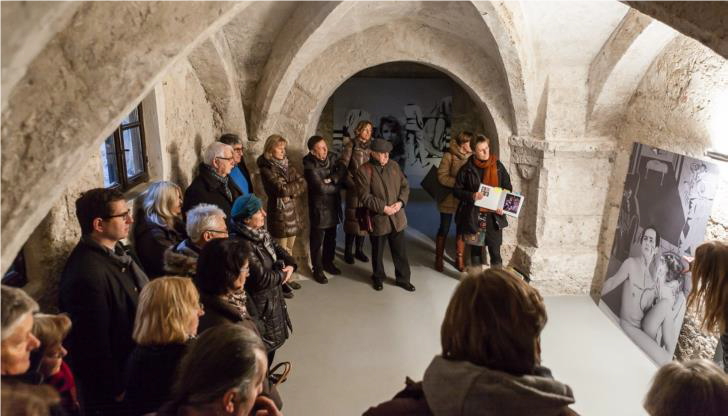 The circle of friends DASMAXIMUM e.V. in the exhibition Heide Stolz, which can be seen in the main castle until 21 April as part of the Skulptu-renweg.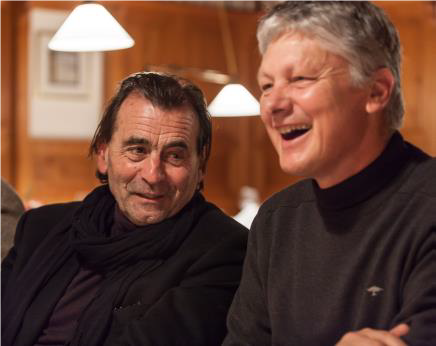 Dr. Robert Anzeneder (r.), Chairman of the Circle of Friends, with Hans Steindl, First Mayor of Burghausen, during the subsequent social part of the excursion.
Photos: DASMAXIMUM
Burghausen regularly demonstrates how well historic walls and modern art go together with changing exhibitions of important artists in the town. The "Sculpture Trail" in the world's longest castle is a fascinating example of this, as is the Heide Stolz exhibition in the vaults of the main castle. The latter was realized jointly by the town of Burghausen and the DASMAXIMUM Foundation, Traunreut. The Friends of the Foundation visited both exhibitions.
Gloomy and cold weather could not dampen the interest of the approximately 30 art lovers who were welcomed by the chairmen of the circle of friends, Dr. Robert Anzeneder and Dr. Peter Lämmerhirdt. Modern art often does not reveal itself at first glance. All the more valuable were the explanations of the art representative of the city of Burghausen, Ines Auerbach M.A., and the director of the museum DASMAXIMUM, Dr. Birgit Löffler. Both succeeded excellently in reinforcing the expressiveness of the works.
The latter also applies to the photographs by Heide Stolz. It is hard to believe that these photographs were already taken in the 60s, so modern do they still seem today. A spirit of optimism and creativity speak from the pictures, some of which first came to light during the selection process for the Burghausen exhibition. The group of visitors was particularly impressed by the only color photograph, a masterfully staged group picture.
It was the first event of the newly founded circle of friends. It was a success and whetted the appetite for a sequel. Markus Ballerstaller, cultural representative of the city of Burghausen and supporter of the cooperation between Burghausen and the DASMAXIMUM Foundation, took note of the suggestions with approval. And at the subsequent get-together, which was also attended by 1st Mayor Hans Steindl, who spontaneously agreed to the town's membership in the Circle of Friends, there was extensive discussion of further possibilities. Good prospects for art and culture!