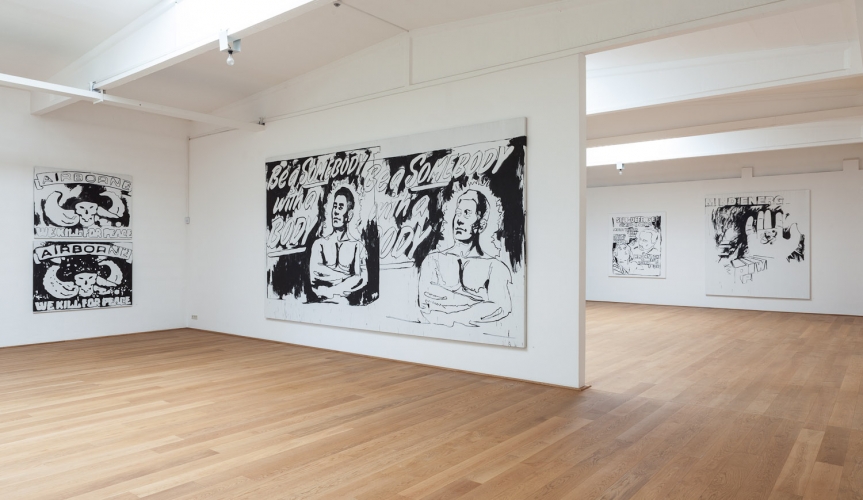 Room View
Photo: Franz Kimmel
© The Andy Warhol Foundation for the Visual Arts, Inc. Artists Rights Society (ARS), New York
Reproduction, including downloading, of Andy Warhol works is prohibited by copyright laws
and international conventions without the express written permission of Artists Rights Society (ARS), New York
Andy Warhol was a co-founder and most important representative of American pop art. Although he was one of the most successful advertising artists of New York in the 1950s, he devoted himself from 1960 to art. He combined popular motifs from comic, popular culture and high society with advertising effects and multiplied them in screen printing series. One of the photographically and color-alienated portraits from his personal environment in these years belongs to the collector "Jan Cowles", a monochrome screen print double.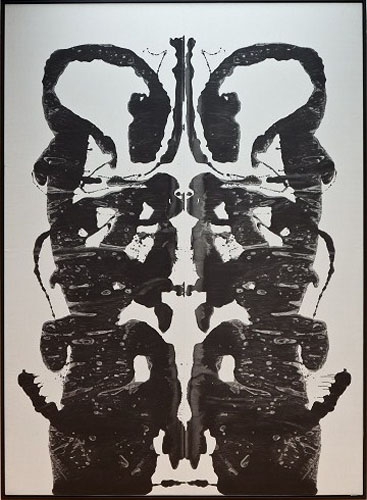 Rorschach, 1984
Photo: Franz Kimmel
© The Andy Warhol Foundation for the Visual Arts, Inc. Artists Rights Society (ARS), New York
Reproduction, including downloading, of Andy Warhol works is prohibited by copyright laws
and international conventions without the express written permission of Artists Rights Society (ARS), New York
All other works exhibited – and some of them had never been shown before – were created in the last years of the artist's life between 1984 and 1986. Common to most of them is the traditional design with the brush after enlargement by opaque projector as well as the abandonment of the so essential color for Warhol in the early years. Even the cheerful Doppelakt with comic icon "Felix the Cat" remains black and white.
Also common to the group of works is the concentration on political and social focal points. Self-defense and energy are as much a theme as - between fashion sneaker and Ghostbuster - the US gross national product GNP and the health insurance system. A winged skull in place of the Airforce logo undermines the euphemism "We kill for peace".
A key element in the series is the bodybuilder's advertising "be a somebody with a body". The original classified ad, which was increased and doubled by Warhol into the monumental, stands for a purely outward view of the outside. At the latest there, however, where within the "Last Supper" cycle bodybuilders and Leonardo's Christ, whole body and whole spirit, as a double are painted beside or above each other, the actual dimension of Warhol's work becomes noticeable.