FRIENDLY AND PROMOTIONAL COMMITTEE DASMAXIMUM TRAUNREUT e.V.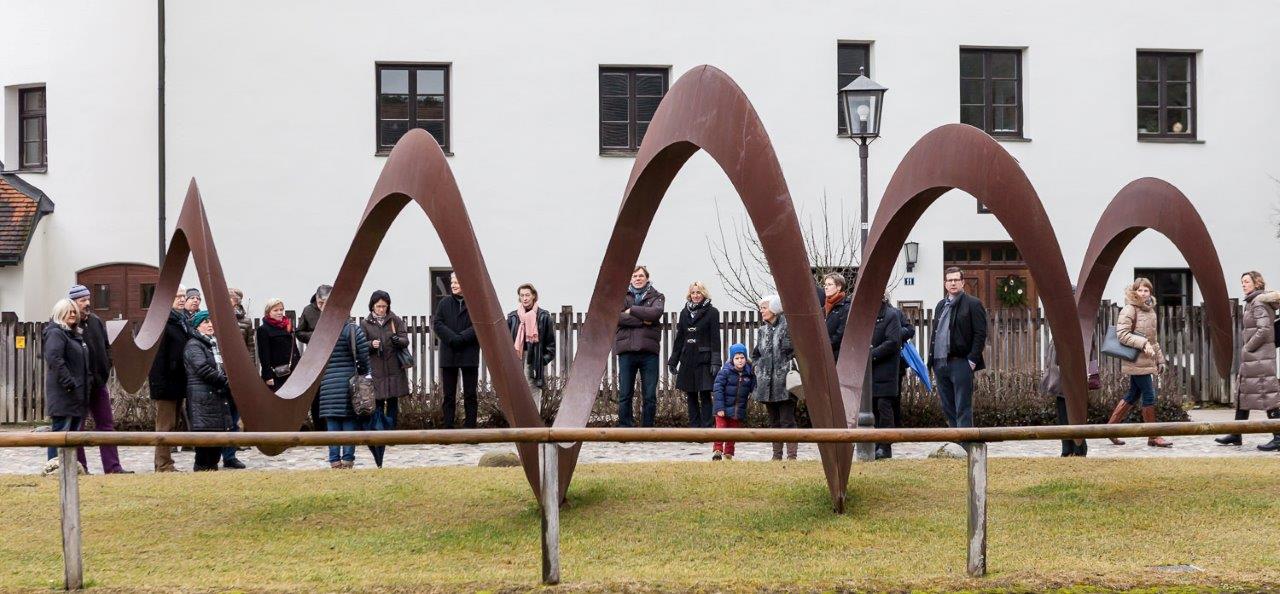 Excursion to the sculpture path "Weggefährten", Burghausen, 2014 (Sculpture: Josef Baier, Große Spirale, 1997)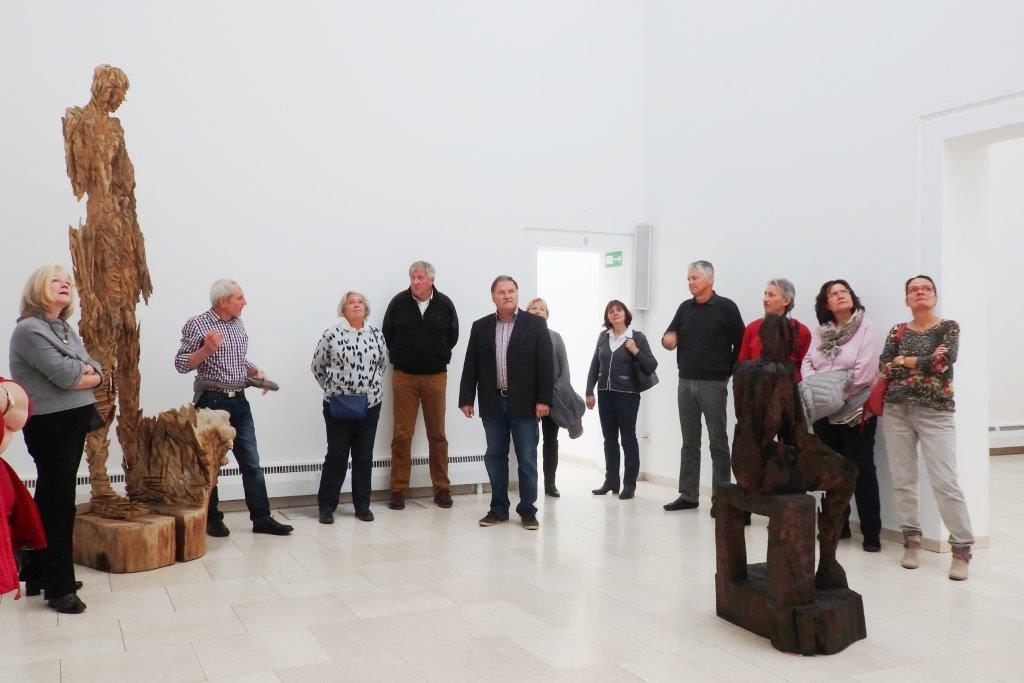 Artist's tour through the exhibition "MenschSein - Andreas Kuhnlein", Städtische Galerie Rosenheim 2017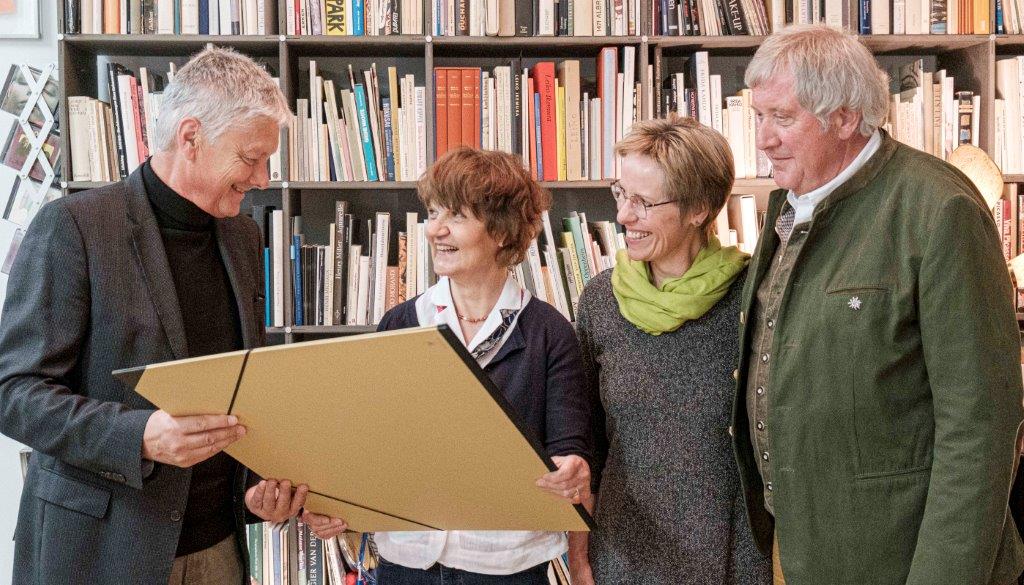 The Board at the presentation of a Uwe Lausendrawing by Rotraut Susanne Berner (middle left), May 2019, purchased by funds of the Circle of Friends
The DASMAXIMUM Foundation in Traunreut is supported by a "Friends and Sponsors of DASMAXIMUM e.V.". This is not only about the financial support of projects such as cultural events and youth work, but also in particular about a lively network of institutions, associations and sponsors for the permanent preservation of the foundation.
On the initiative of the notary and art lover Georg Mehler, a good 20 art lovers met in July 2013 for the founding meeting of this association, which has set itself the goal of promoting art and culture around DASMAXIMUM. First and foremost, CSU politician Alois Glück confirmed his participation and was pleased together with the members of the first hour about this enrichment of cultural life in the district. Dr. Robert Anzeneder, who as director of the Johannes-Heidenhain-Gymnasium in Traunreut had been associated with the museum from the beginning, was elected first chairman of the association. The second and third chairmanships were given to Dr. Birgit Löffler, museum director of DASMAXIMUM, and the lawyer Dr. Peter Lämmerhirdt. After the retirement of the founding board members in 2021, José Hazañas from Hauck Aufhäuser Lampe Privatbank AG and museum director Dr. Maria Schindelegger took over the chair alongside Dr. Peter Lämmerhirdt.
With the help of other sponsors, the Circle of Friends supports youth projects and the communication of contemporary art, especially to visitors who are "far away" from the museum.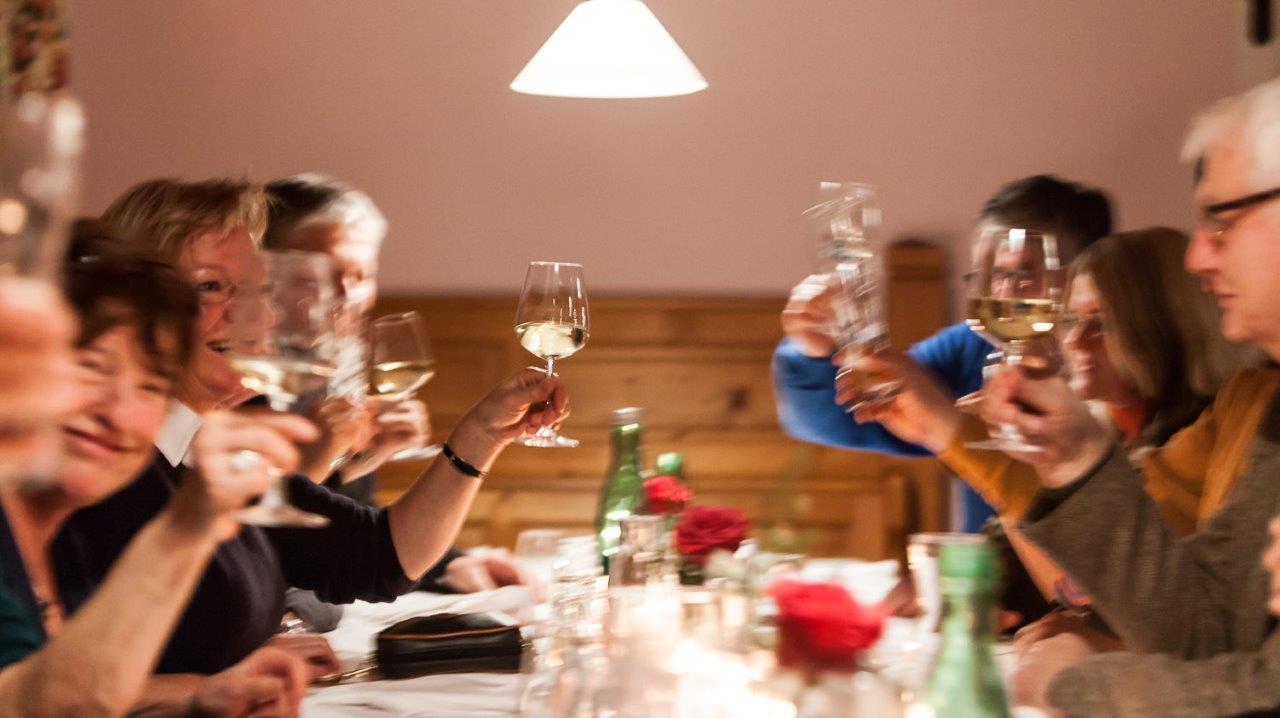 Cosy get-together after a joint visit to the exhibition
Contact and joining:
DASMAXIMUM Traunreut
Circle of friends and supporters
Fridtjof-Nansen-Strasse 16
83301 Traunreut
Tel 08669-1203 713
Freunde@dasmaximum.com
PROJECTS OF THE CIRCLE OF FRIENDS AND SUPPORTERS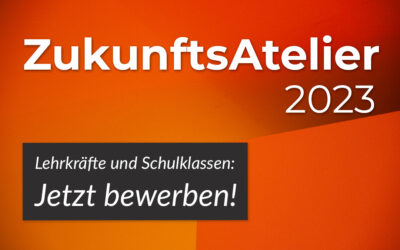 With the FutureAtelier, DASMAXIMUM has developed a 3-module workshop offer for students that aims to create awareness for social responsibility.
Teachers and school classes can now apply for the ZukunftsAtelier 2023. . .