"Blinky Palermo" (Peter Heister Kamp)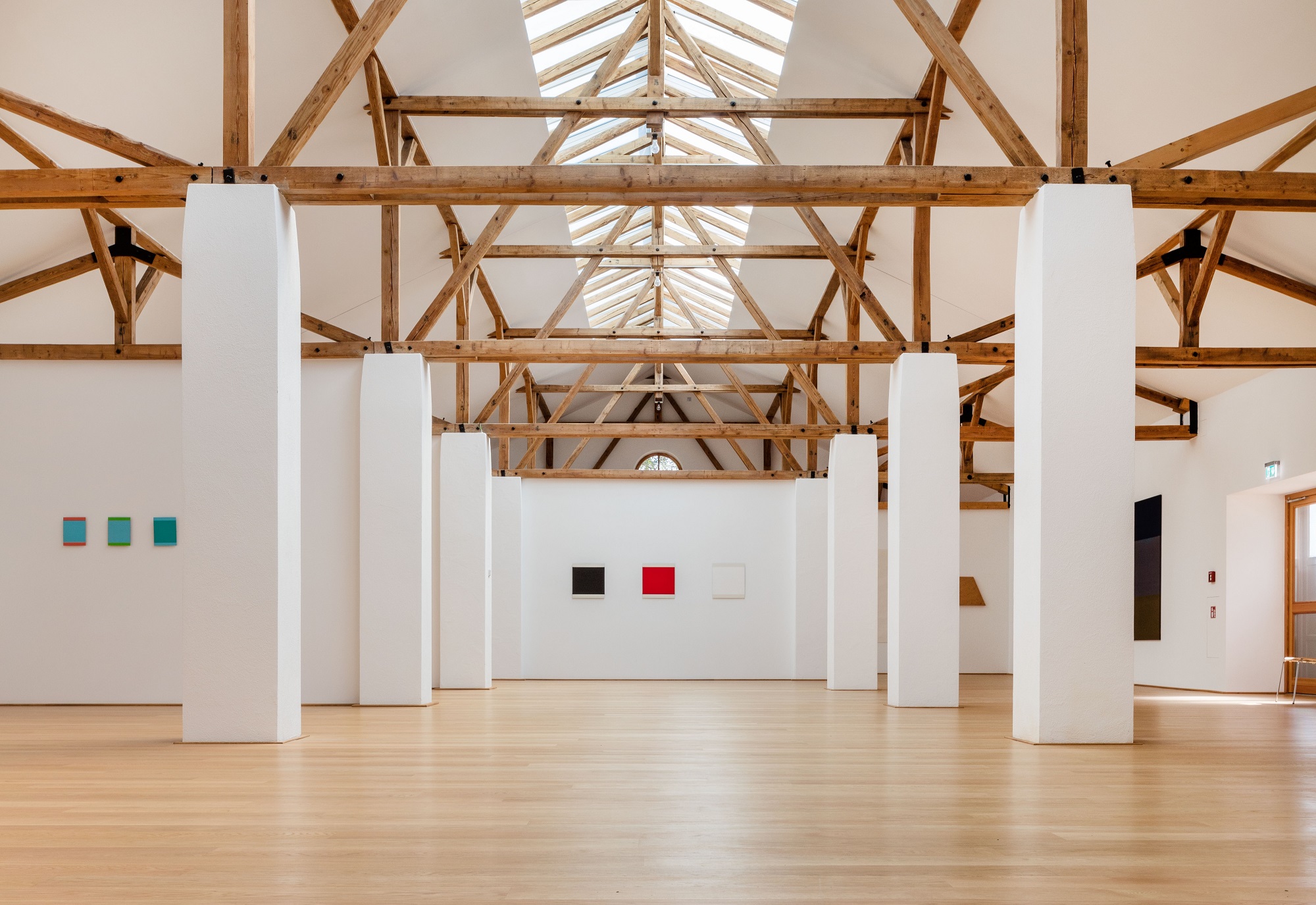 New Hall with works of Palermo
Photo: Velux
© VG Bild-Kunst, Bonn
With Palermo, the series of artists in the DASMAXIMUM Museum has been extended to include a German artist who symbolizes to a special degree the close connection between Europe and the USA in the joint and simultaneous search for new forms of artistic expression. In the 1960s Palermo emerged from the Beuys class of the Düsseldorf Academy, where Gerhard Richter, Ulrich Rückriem, Imi Knoebel and Sigmar Polke were among his closest companions. And yet it was the North American avant-garde artists of the 1950s, such as Barnett Newman, Ellsworth Kelly, Brice Marden, and Richard Tuttle, who prelighted his idiosyncratic work.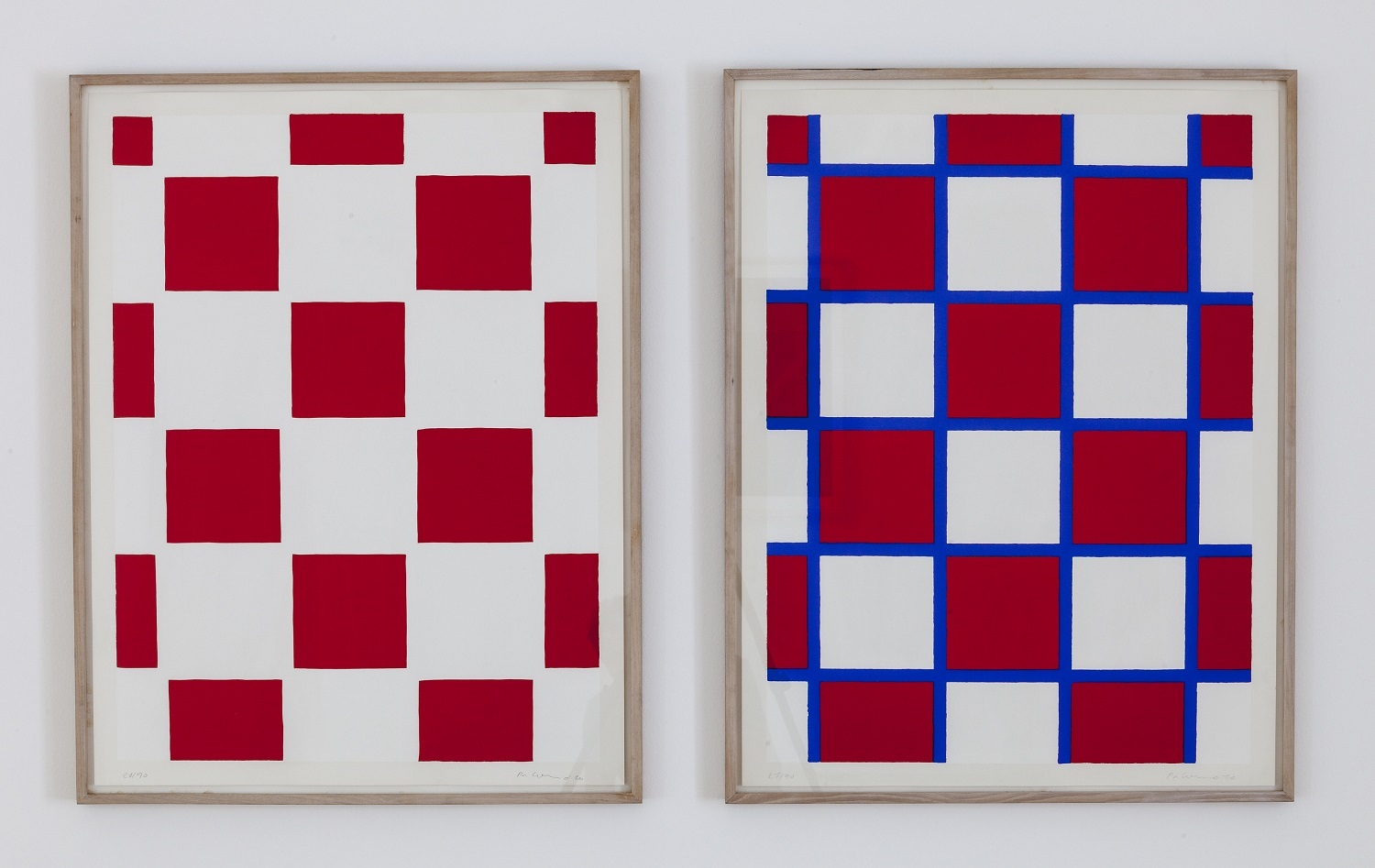 Flipper, 1970
Photo: Franz Kimmel
© VG Bild-Kunst, Bonn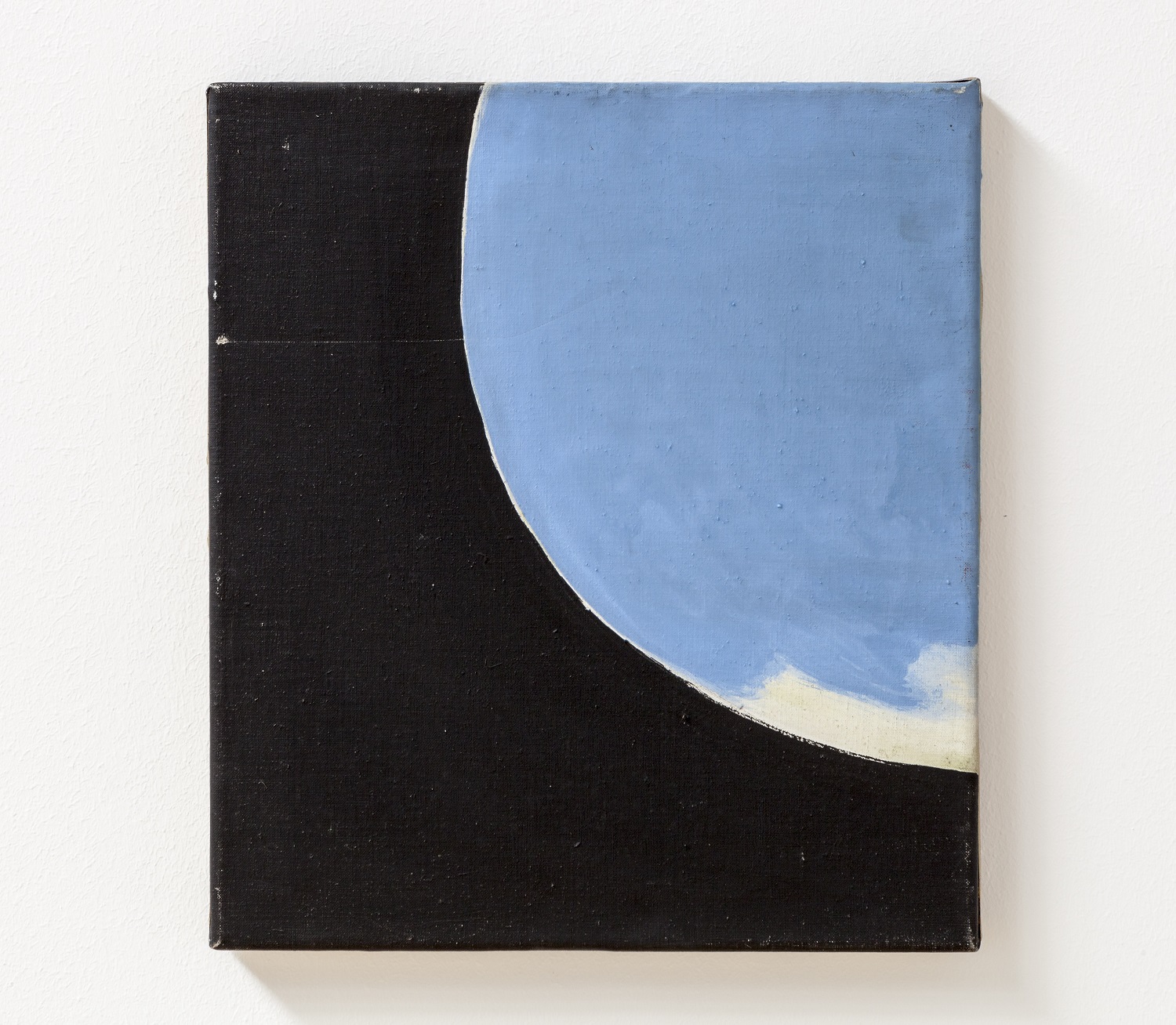 Untitled, 1966
Photo: Franz Kimmel
© VG Bild-Kunst, Bonn
About 30 works give an overview of Palermo's short period of work, including significant contributions from the fields of painting on canvas, objects, fabric images, drawings, metal images and print graphics. Almost all of them were part of the 12 exhibitions and numerous editions with which the Galerie Heiner Friedrich already drew attention to the young artist from 1966 in Munich, Cologne and New York. "Classics" such as the "Blue Triangle", which has advanced from the poster motif of the first exhibition in the course of several reworks and editions to the hallmark of Palermo, are the Werkpaar "Flipper", which consists of a concrete reference to a Slot machine decoration alludes to the art of the Dutch "De Stijl"-constructivists, or a fabric that, in its horizontal division of dyed cotton fabrics, the most diverse threads between swatch painting, landscape art and Concept.
objects, such as the series of stretched wooden strips (i – III), take as a vertical reference to the surrounding space as Palermo's numerous, mostly no longer preserved wall drawings. Among the works exhibited are unique originals such as the multi-part template for print graphics "happier than the morning sun", four precious small versions of the "Times of the day" as acrylic painting on paper and finally the metal images from the New York years, in Which Palermo seems to break the strictest form and conscientious colour research with vivid colouring and in the title of perfectly representational associations (e.g. on the 1975 newly created New York Island of Pleasure "Coney Island").
Thus, at Palermo – beginning with Kasimir Malevich's "Black Square" of 1913 as the key image of geometric abstraction – very important positions of the twentieth century meet. From the screen-covered form of the "grey disc" to the almost invisible giant drawing of the "Rhomboids", however, they evade a precise art-historical classification and thus float with the greatest ease between the categories.