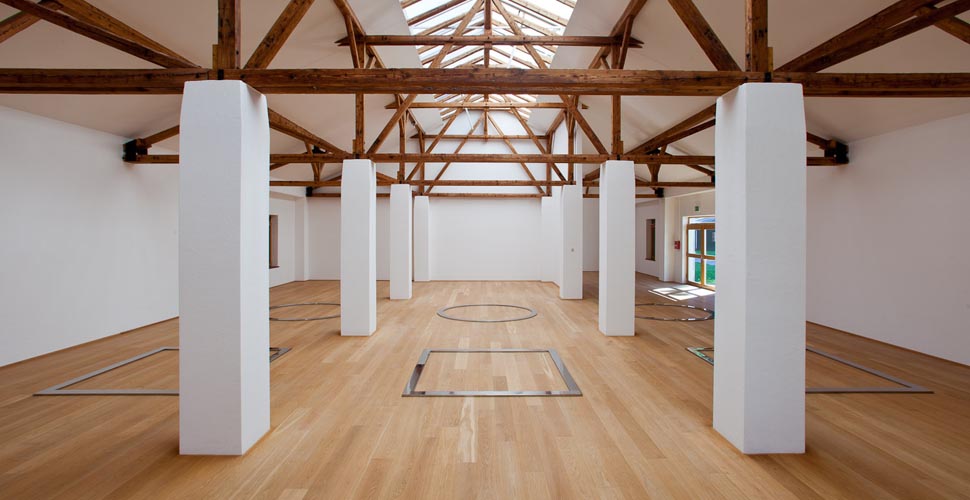 Room View
Equal Area Series, 1976-1977

Photo: Franz Kimmel
© Estate of Walter de Maria
The rigorous and at the same time sensual works of Walter de Maria were considered as an initial impetus for international new art trends such as conceptual art and land art as early as the 1960s. When Walter de Maria 1968 had the gallery Friedrich filled with Earth in the course of the installation "Munich Earth Room", he provided a striking example of uncommercial creation – and one of the most important landmarks of art in the second half of the twentieth century.
The total of 25 pairs of equal area series have been created since 1977. With the same base area of square and circle, they are images of the "squaring of the Circle". Starting with a side length of the first square of 72 inches (182.88 cm), each pair is increased by one inch. This results in the idea of a series extending to the cosmic, which expands the already large-scale plant around the aspect of infinity.
The actually often spectacular expansion of the works of Walter de Maria, including 400 stainless steel lightning on a good 1.6 square kilometers, the "lightning Field" in a plateau of New Mexico, as well as the always mathematical laws, manifest the following Form language and the preferred working with metal the rational abilities of the human mind. At the same time, the different conceptual approaches demand the further thinking of the observer.
Similar to the 500 total of 17 tonnes of "broken kilometer" brass rods, the "equal area Series" De Maria's penchant for minimalist shapes and monumental series is reflected. The precision of the objects as well as their consciously ascetic form language underline the claim of a timeless artistic expression.
Walter De Maria passed away on 26.7.2013, obituaries pay tribute to him in the international press, including e.g. the ▸ Basler Zeitung