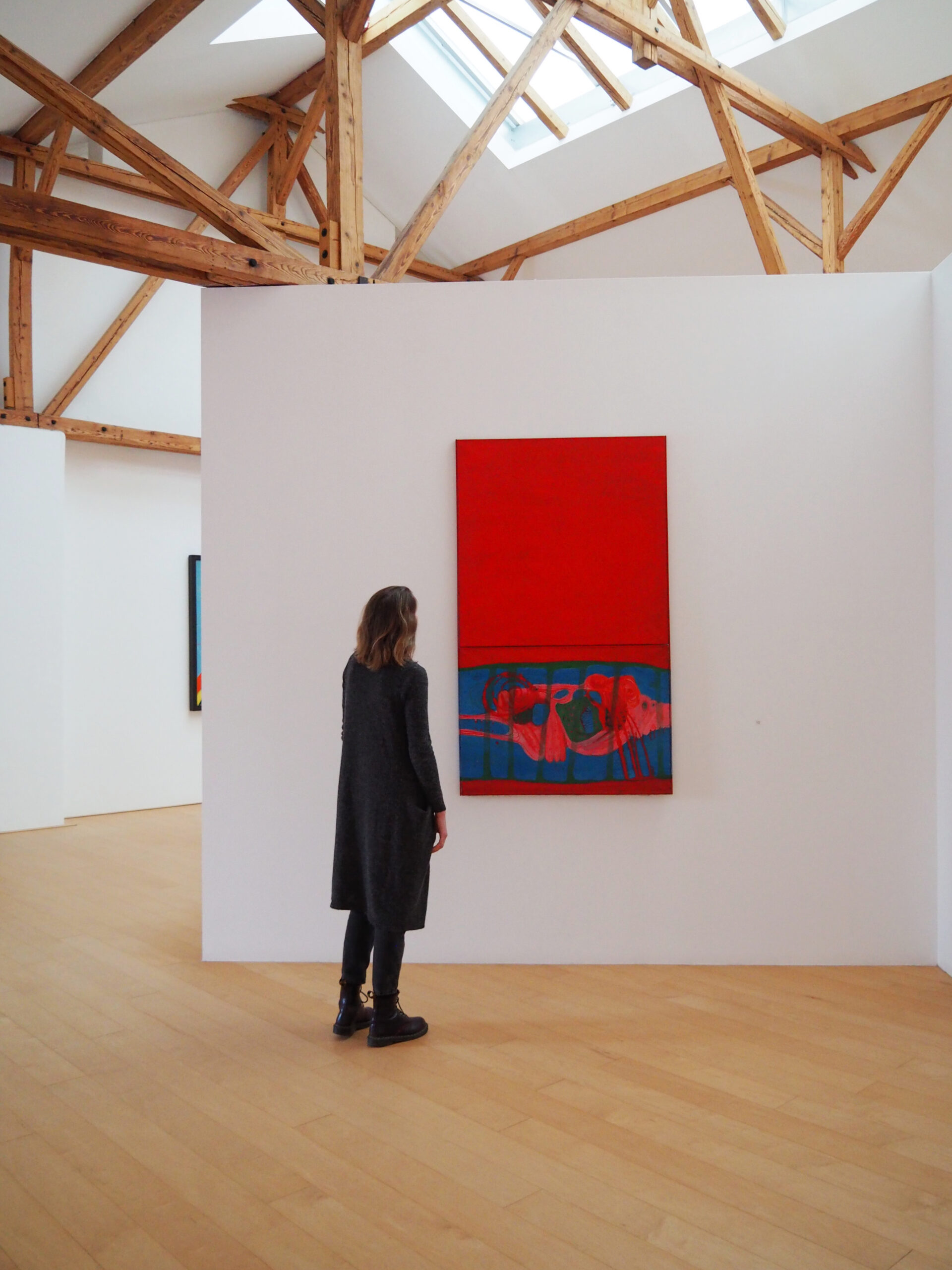 Fig.: Uwe Lausen-Saal with "Red", 1964 © VG Bild-Kunst, Bonn 2022, Photo DASMAXIMUM
Worth seeing: The rfo (Regional-Fernsehen Oberbayern) report on our season start and the current regulations for containing the pandemic in the museum. here.
The days are getting longer again, the light is slowly returning. As a daylight museum, DASMAXIMUM in Traunreut goes on winter break during the darkest season of the year. Now the time has come again: the first weekend in February marks the start of the new museum season.
As a special surprise for the reopening, the museum team has prepared works by the German painter Uwe Lausen that have not been exhibited before: The unusual painting "Rot" (Red), consisting of two canvases, shows one of Lausen's typical early body landscapes, which experiment on the border between figuration and abstraction. In an untitled drawing from 1965, on the other hand, Lausen combines his uncanny-looking body fragments with pop-cheerful elements, and with "Sofa" from 1966, one of the artist's rare collages can be seen in the museum for the first time.
The museum team has also used the winter break to plan exciting projects for 2022: In addition to continuing the successful campaign "Oak Plantings in Honour of Joseph Beuys", special attention is being paid to expanding the projects for children and schools, which have suffered particularly in the last two years due to corona. There will be a workshop for school classes on Joseph Beuys, the oak plantings and social sculpture. The Wort:Bilder project is also to take place again in July after a two-year break.
The tried and tested family offers are also not to be missed: The now ten activity sheets enable families and children to explore the museum independently, and the KunstBegegnung for children will also take place again on one Saturday per month from March.
The museum is open on 5 and 6 February from 11 am to 4 pm. As every year, the reduced entrance fee of 2 euros (instead of 8/5 euros) applies on the opening weekend. Admission for children is free.
All offers are subject to the pandemic containment rules currently in force.
Please inform yourself before visiting our homepage www.dasmaximum.com.