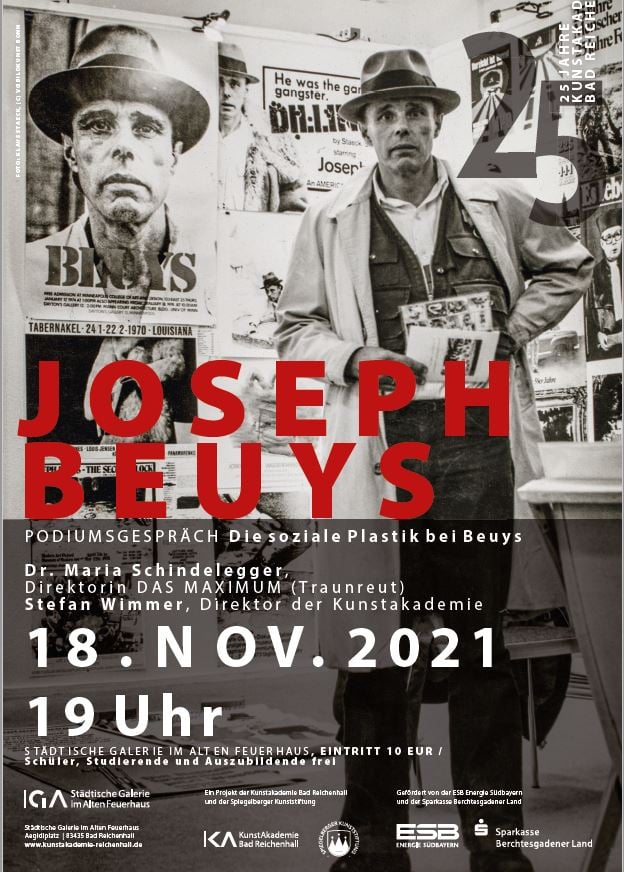 Fig.: Poster for the event, Source: Kunstakademie Bad Reichenhall
On the occasion of the exhibition "Joseph Beuys. Condensation Cores, Idea Carriers and Vehicles", the Bad Reichenhall Art Academy is organising a panel discussion on the topic of "Joseph Beuys and the Social Sculpture".
Joseph Beuys radically expanded the traditional idea of art in the 1960s. He moved away from the idea of sculpture as a material object. Instead, he was interested in society as the material of design.
Stefan Wimmer, Director of the Kunstakademie invited Dr. Maria Schindelegger, Director of the museum DASMAXIMUM to talk about the project "Eichenpflanzungen zu Ehren von Joseph Beuys" as an example of social sculpture and Joseph Beuys' expanded concept of art:
Social sculpture in the work of Joseph Beuys
Venue: Municipal Gallery in the Old Firehouse, Aegidiplatz 3, 83435 Bad Reichenhall
Time: Thursday, 18 November 2021, 7 pm
Admission 10 EUR, free for pupils, students and trainees
Please observe the hygiene measures and Corona rules valid at the time of the event.
Further information on the exhibition and event series: https://www.kunstakademie-reichenhall.de/…/die-staedt-gale…/