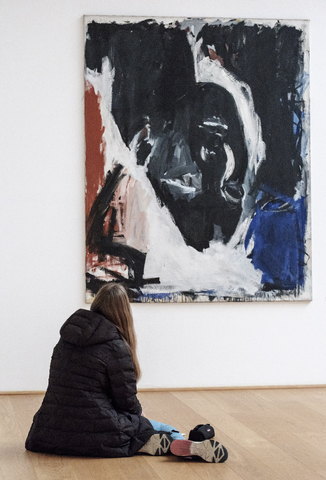 Concentration in front of Georg Baselitz' painting Oda, 1969, 1973-1974 © Georg Baselitz, Photo: Franz Kimmel
INTERNATIONAL MUSEUM DAY ON 15 MAY 2022
"Discover museums with joy" is the motto for the 45th International Museum Day next Sunday. DASMAXIMUM is taking this as an opportunity to highlight its special museum concept, which is based on intensity, duration and concentrated perception of art.
"One room - one work - forever" - this is the motto of the museum's founder Heiner Friedrich and thus sets a deliberate counterpoint to the increasing acceleration of our world. Because time is needed to enter into a real dialogue with the works of art. On International Museum Day, we invite our visitors to consciously take their time, time for just one single work. What happens if you devote 5 or 10 minutes to just this one painting?
Interested visitors will receive a small incentive to take part in this self-experiment at the museum ticket office. As always, admission is reduced from €8 to €2 on International Museum Day. DASMAXIMUM is open regularly from 12 to 18 hrs.
You can find more information on International Museum Day here:
https://www.museumstag.de/aktion/21203