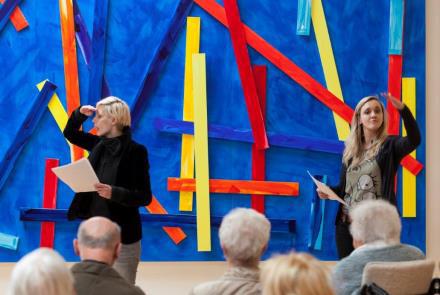 Pauline Füg and Henrikje Stanze at a session in front of Imi Knoebel's painting Fishing Blue I, 2008
Photo: DASMAXIMUM
Due to its international significance, DASMAXIMUM is visited by numerous art travellers from far and wide. But the citizens of the immediate vicinity should have a special share in "their" museum. With daylight and generously hung groups of works, the focus is already on the experience of viewing art; but there is now an additional programme to involve people who rarely come to the museum because of various restrictions.
Already during the Culture and Youth Culture Days 2013, the aim of the Wort:Bilder project was to offer a highly professional programme for visitor groups from social institutions such as retirement homes, youth settlements or life assistance. With the Chiemgau Culture Days 2014, the lighthouse project is now being continued in an expanded form. It is not about art history, but about the joy of observation and one's own creativity.
The two young stage poets Pauline Füg (Bavarian Culture Prize winner and graduate psychologist) and Henrikje Stanze (diploma in vocational education and nursing science) developed the concept on the basis of new creative work with dementia patients at the Museum of Modern Art in New York, where they tested it together with Gary Glazner and were allowed to adopt it exclusively for Germany. Especially for DASMAXIMUM, they are making this innovative approach to art available to a wider audience.
They take selected works by Georg Baselitz, Dan Flavin or Andy Warhol as a starting point to transform images and sculptures of contemporary art into words. What is new here is the loose and interdisciplinary character, which allows a new work to emerge on a different level in the community. This allows even infrequent museum visitors access to art - and conversely, the art public to share in the unbiased view.
For individual interested parties with or without disabilities, an open event on 7 May offers the opportunity to get to know this innovative encounter with great art.