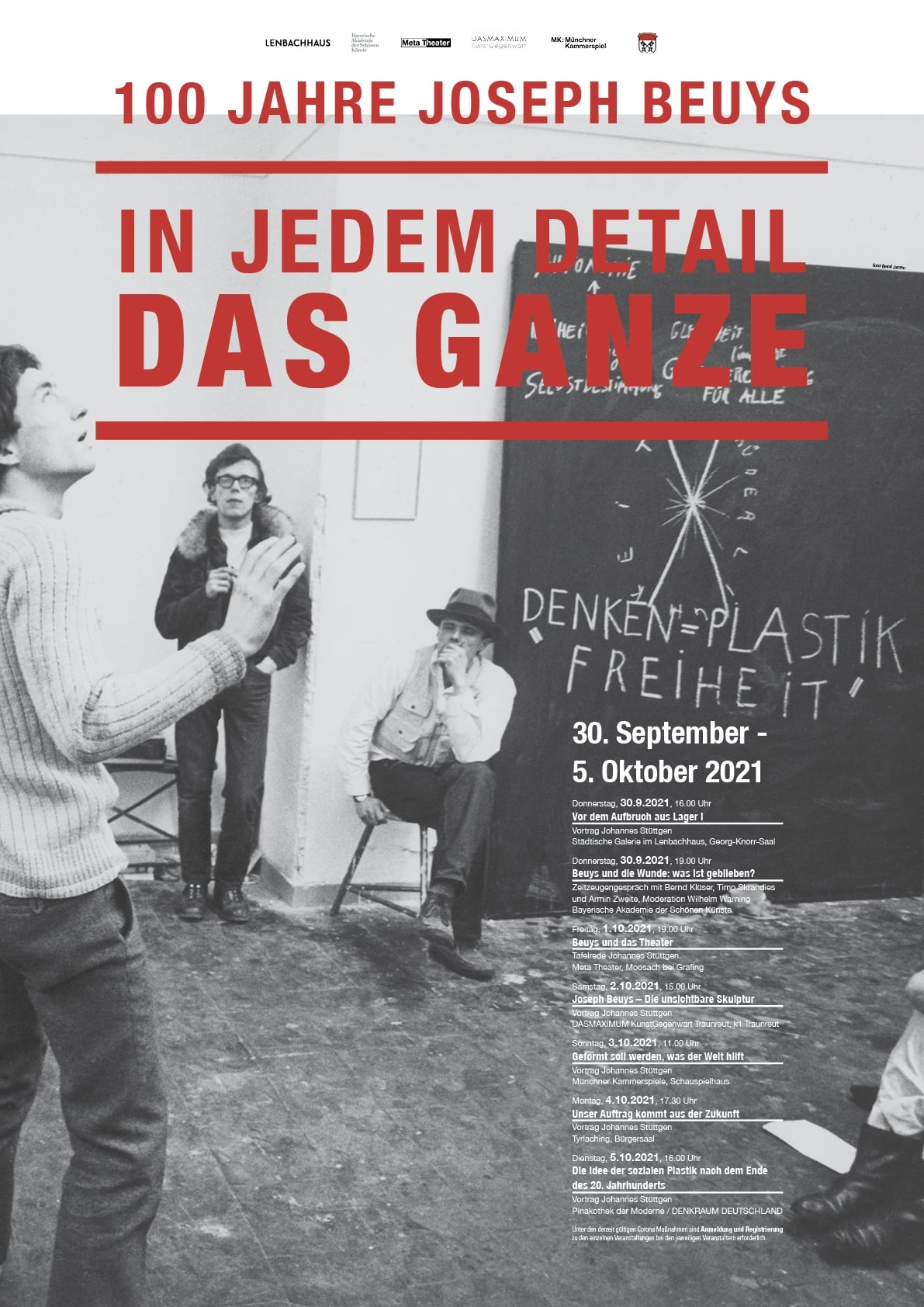 Fig. Poster of the lecture series
In 2015, the "Oak Plantings in Honour of Joseph Beuys", initiated by the DASMAXIMUM museum and its founder Heiner Friedrich, started in Traunreut. On the occasion of the anniversary year for the 100th birthday of Joseph Beuys, DASMAXIMUM also initiated together with the Meta Theatre in Grafing ae lecture series with Johannes Stüttgen, master student and close companion of Joseph Beuys. Renowned Munich museums and institutions such as the Münchner Kammerspiele and the Pinakothek der Moderne joined in. And so, from 30 September to 5 October, seven exciting lectures will take place in concentrated form.
Under the title "Joseph Beuys - The Invisible Sculpture" Johannes Stüttgen will give a lecture at k1 in Traunreut on Saturday 2 October at 3 pm. Afterwards we invite you to an art walk along seven oak plantations to the museum DASMAXIMUM.
Registration under the k1 ticket hotline Tel 08669/857-444
Another lecture will take place on Monday, 4 October at 5:30 p.m. entitled "Our Mission Comes from the Future" in the Bürgersaal in Tyrlaching.
Registration under projectmanagement@lebendige-dorfmitte-tyrlaching.de
The registration and participation requirement is the 3-G rule in each case.
Further information on the entire lecture series can be found here: https://www.dasmaximum.com/wp-content/uploads/2021/09/InEveryDetailtheGanzelow.pdf