15.03.2021
OAK PLANTING IN HONOR OF JOSEPH BEUYS
ALTENMARKT A.D. ALZ, TOWN HALL

At a meeting with Heiner Friedrich at the DASMAXIMUM museum in 2018, Altenmarkt's mayor Stephan Bierschneider had already expressed the wish to make an oak planting possible in Altenmarkt as well. He chose a particularly prominent location for it, right next to the town hall. Due to the pandemic, the planting now took place in the closest circle of officials together with business manager Herbert Lainer and representatives from DASMAXIMUM.
The greeting was given by the deputy chairman of the board of trustees of the DASMAXIMUM foundation, Michael Reich, who as a shareholder of Alzmetall and executor of the will of Alzmetall founder Harald Friedrich has a special connection to the community.
Heiner Friedrich himself arrived in Altenmarkt from Berlin in February 1945 with his siblings Heike and Holger and parents Harald and Erika Friedrich. He experienced the last months of the war there, grew up in Kirchberg and became enthusiastic about the surrounding nature and the community with its dignified Baumburg Monastery. Today he lives in New York. His visit from there was not possible due to the pandemic, but the basalt stone for planting is his personal contribution and greeting: "Creation is a great gift," Friedrich said, "and the oak is a gift of creation." His love of nature, his "gratitude for the grace given to us all," was the basis of his admiration of art and his entry into the art world as a - now legendary - patron of the arts.
PARTICIPANTS
Tree sponsor: Municipality of Altenmarkt a.d. Alz
Initiator: First Mayor Stephan Bierschneider
Planting: Traunreut Youth Settlement, GaLa-Bau Department with Daniel Hartl
Tree: Hungarian oak
Basalt stele: Dietrichsberg Quarry, Rhön, donated by the DASMAXIMUM Foundation / Heiner Friedrich
PHOTOS OF THE OAK PLANTING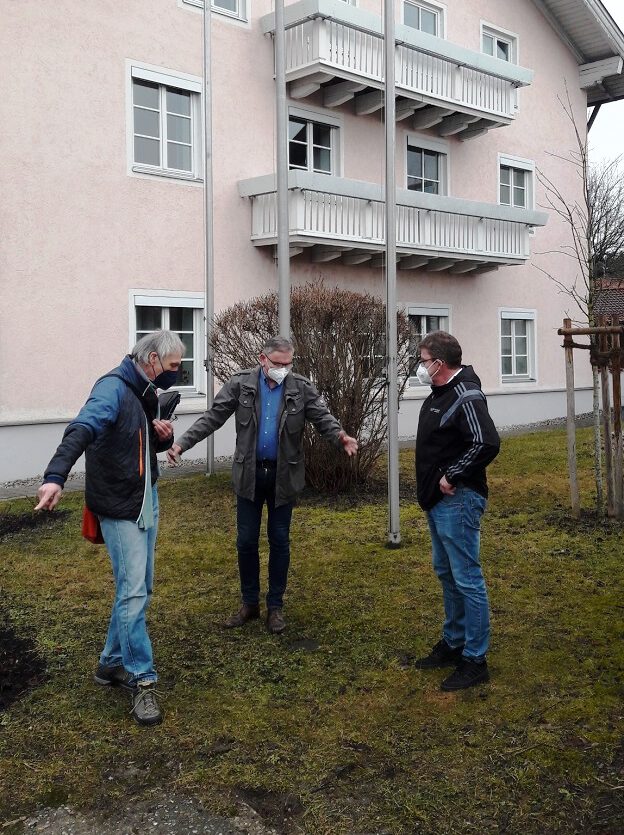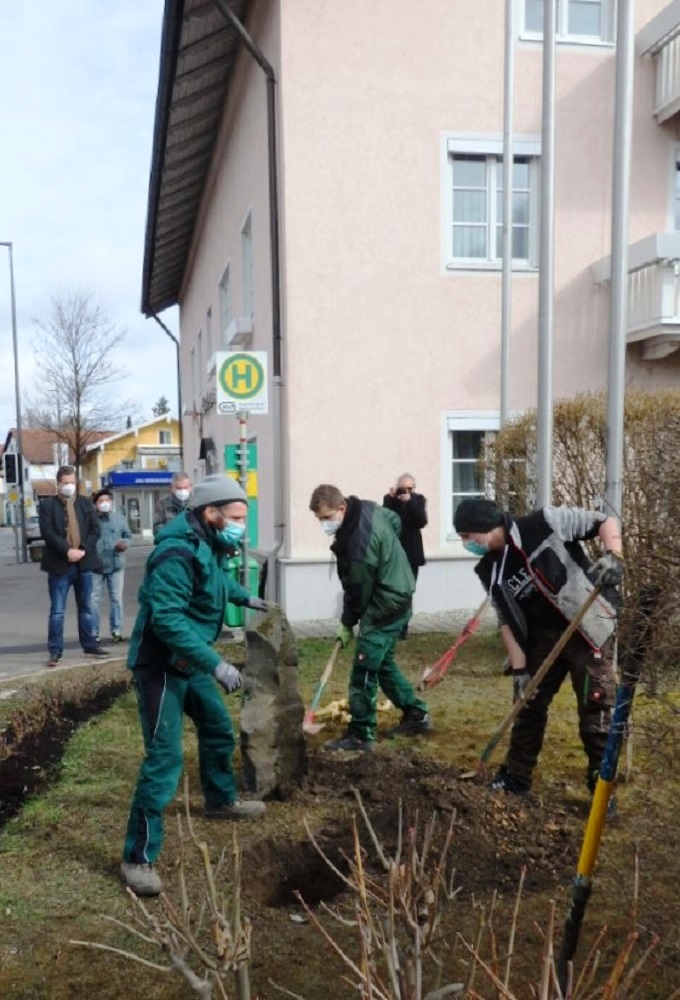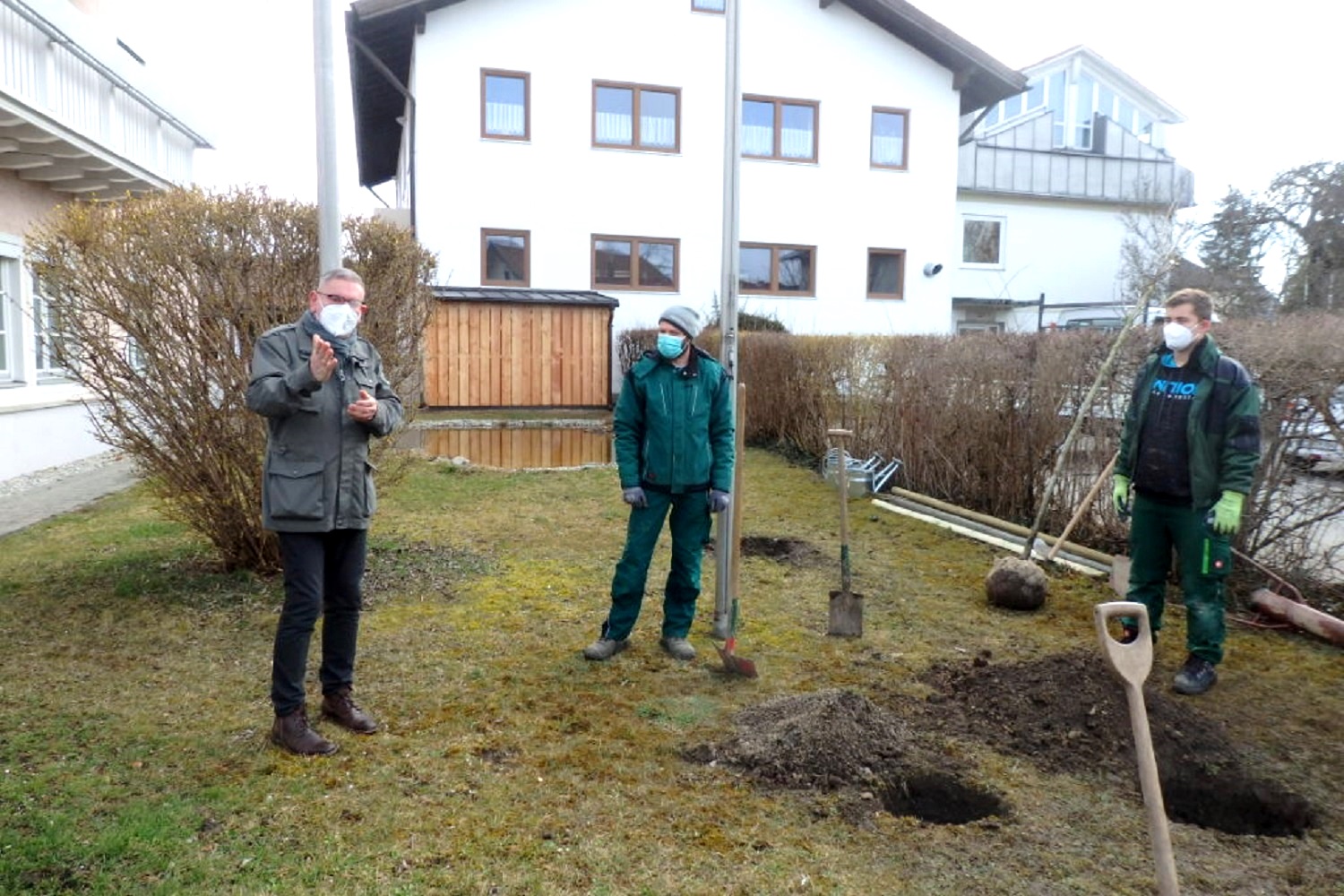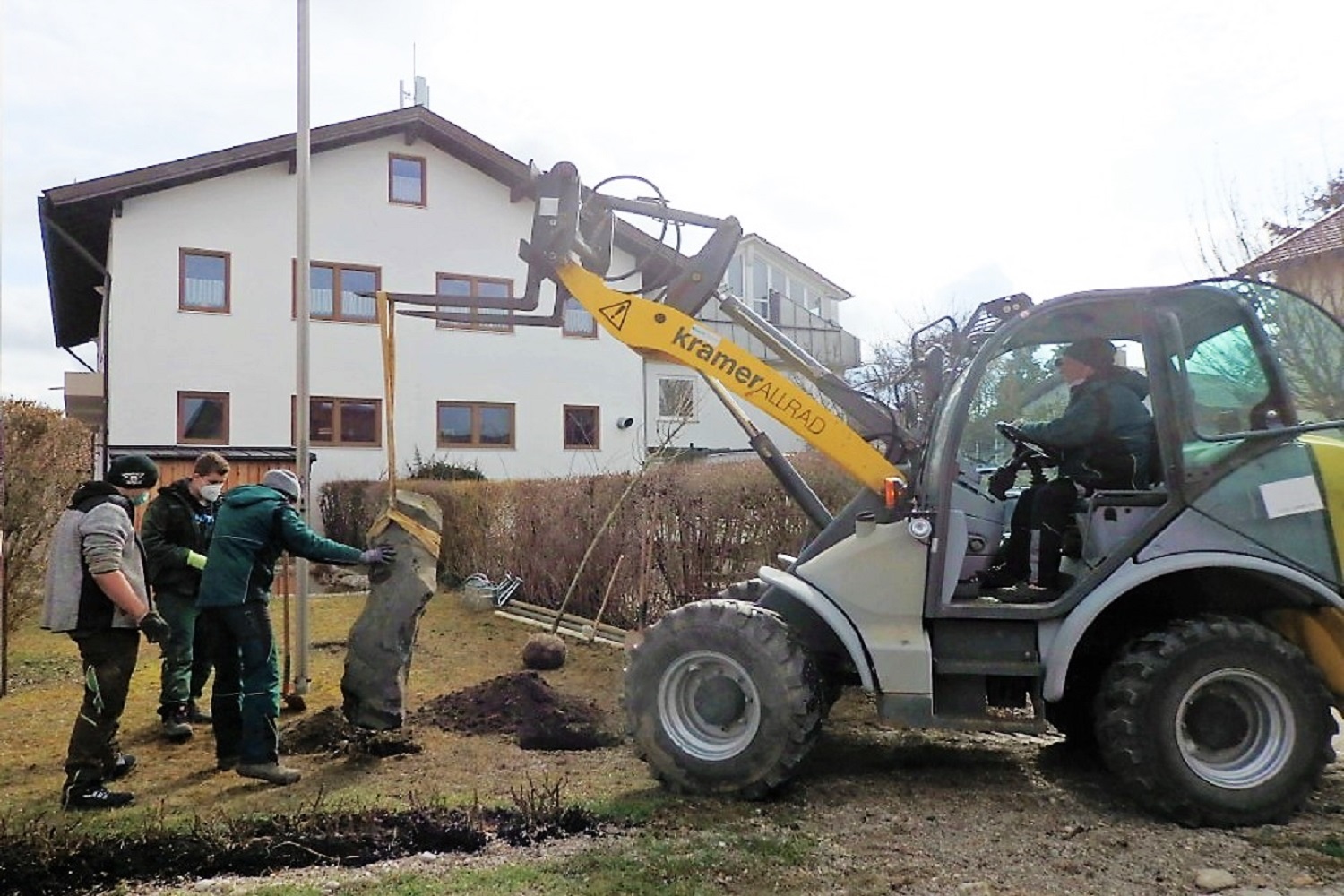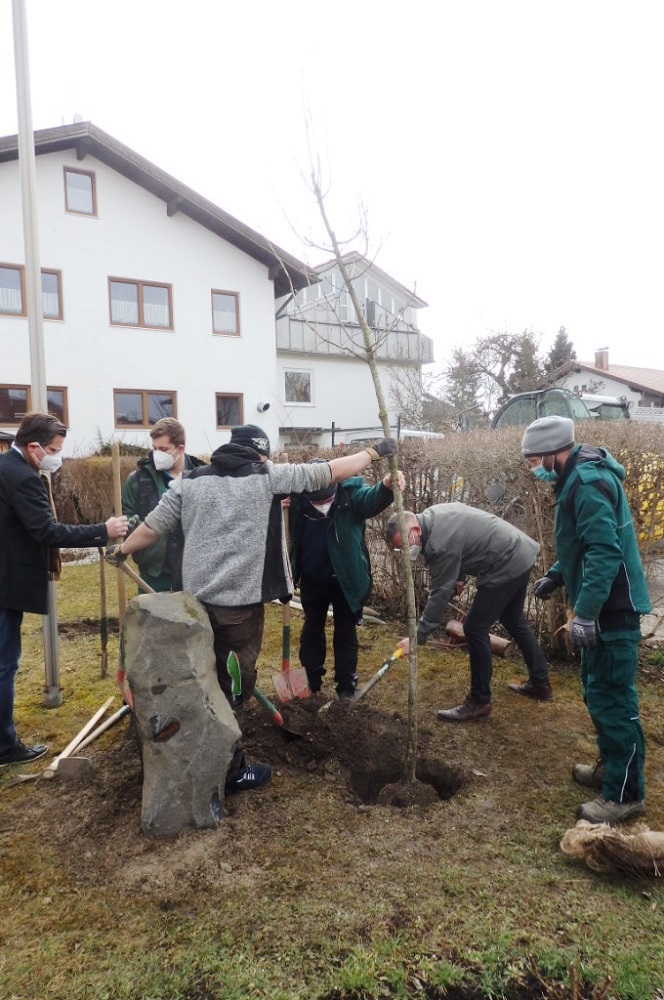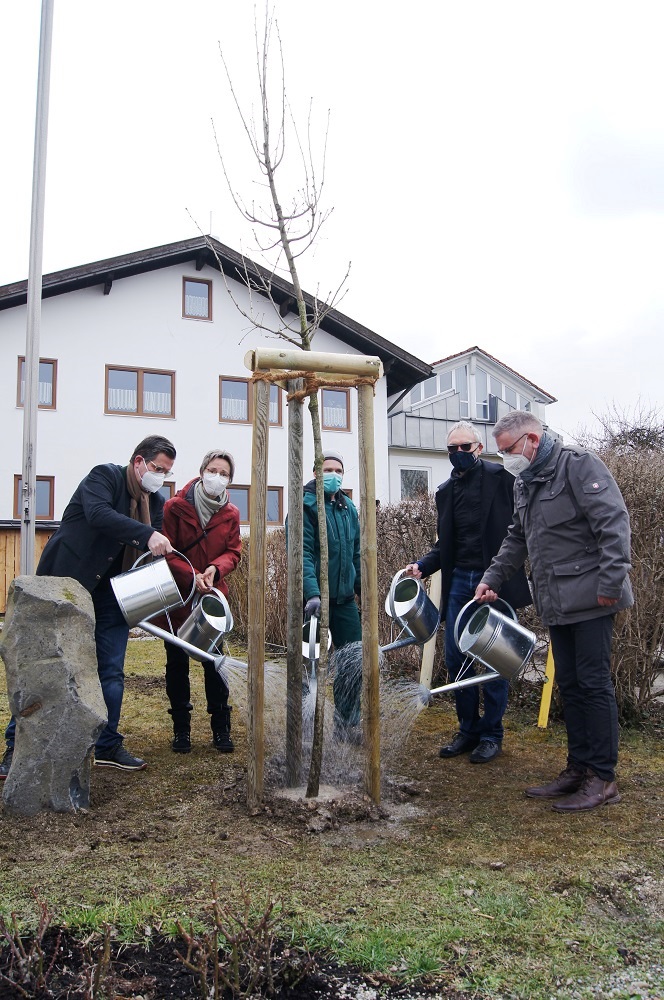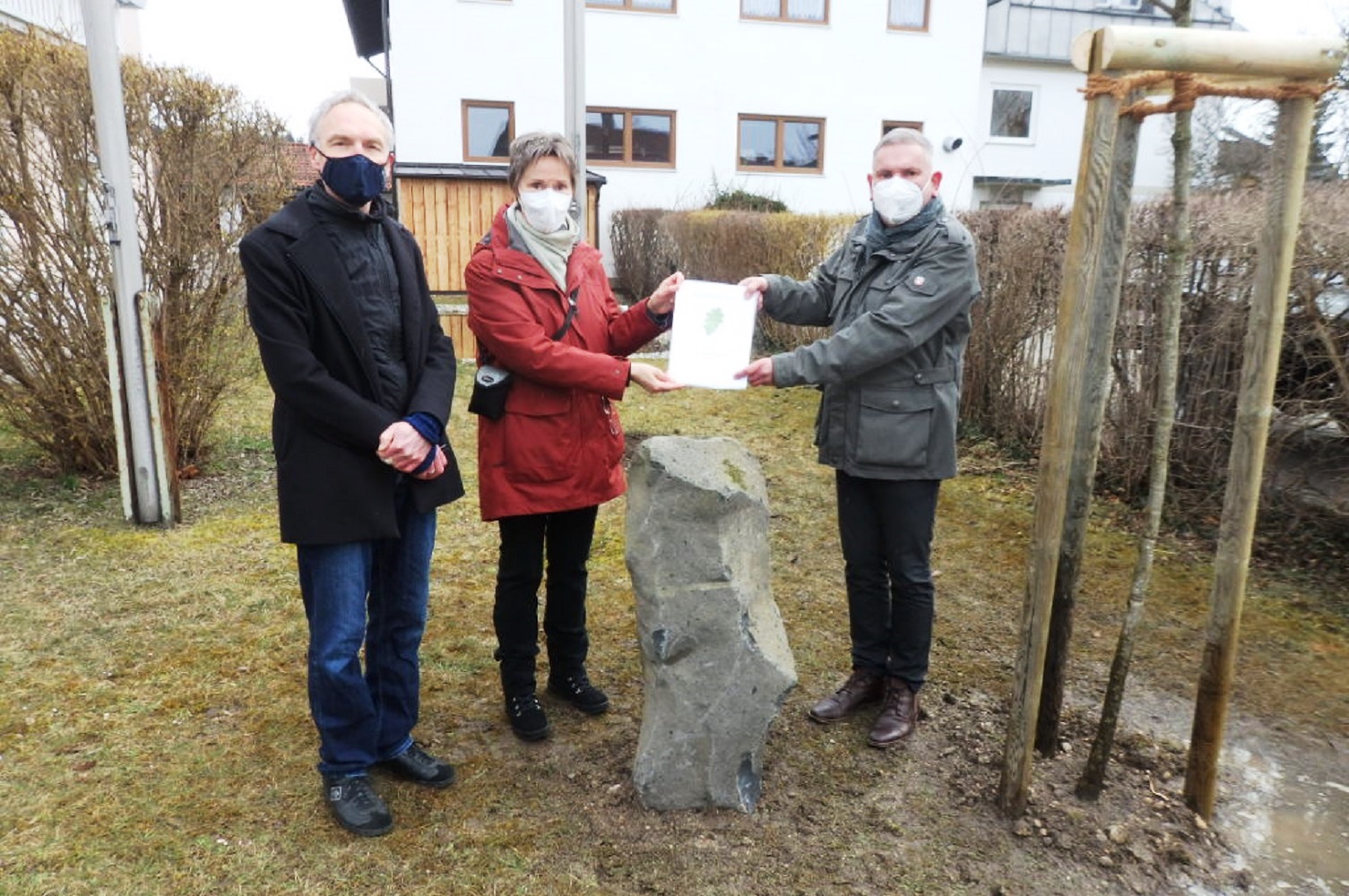 Fig. 1.R.1.B.: First Mayor Stephan Bierschneider (center) and Lothar Müller, Project Manager DASMAXIMUM (left) discuss the location for the planting. 1.R.2.B: Apprentices of the GaLa department of the Traunreut Youth Settlement under the direction of Daniel Hartl (left) dig the planting hole. 1.R.3.B.: Mayor Bierschneider gives a short introduction before the planting action.
2.R.1.u.2.B.: The stele is placed and the tree is planted. 2.R.3.B.:Michael Reich, member of the board of trustees DASMAXIMUM, Dr. Birgit Löffler, director DASMAXIMUM, Daniel Hartl, Lothar Müller and Stephan Bierschneider water the new planting.
3.R.1.B.: Lothar Müller, Birgit Löffler and Stephan Bierschneider present the tree sponsorship certificate for the community of Altenmarkt a.d. Alz.
Photos: Pia Mix (2nd row right), DASMAXIMUM