23.11.2016
OAK PLANTING IN HONOR OF JOSEPH BEUYS
LEBENSHILFE TRAUNREUT

On November 23, there was a joint planting campaign of three important social institutions in Traunreut: Jugendsiedlung, Lebenshilfe and Wilhelm-Löhe-Centre. The tree planting was accompanied by Johannes Stüttgen. As a master student, closest collaborator and artist colleague of Joseph Beuys, he conveys the meaning and the context of the planting in a particularly vivid way. At 2 p.m., he spoke in the auditorium of the Jugendsiedlung about tree planting as a sign of a new idea of the future. After the planting there and at the Wilhelm Löhe Centre, the staff of Lebenshilfe, the members of the TANGO group and the senior citizens of Lebenshilfe Traunstein welcomed the planting team at their home in Salzburger Straße. The DASMAXIMUM museum´s team was particularly pleased to reunite with the TANGO group, which is so regular guest in the museum. The oak tree found a proper place in the garden of the institution, which directly adjoins the forest. Due to the late hour, a particularly charming atmosphere in the evening light distinguished this last of the three oak plantings.
PARTICIPANTS
Tree sponsor: Lebenshilfe Traunstein e.V.
Initiator: Division Manager Andreas Falterer and Georg Mehler, Friends of DASMAXIMUM
Planting: Jugendsiedlung Traunreut, garden and landscape gardening department
Tree: Oak
Basalt: Landsburg Quarry, donated by the Foundation DASMAXIMUM
A project by DASMAXIMUM Foundation with the city of Traunreut
PHOTOS OF THE OAK PLANTING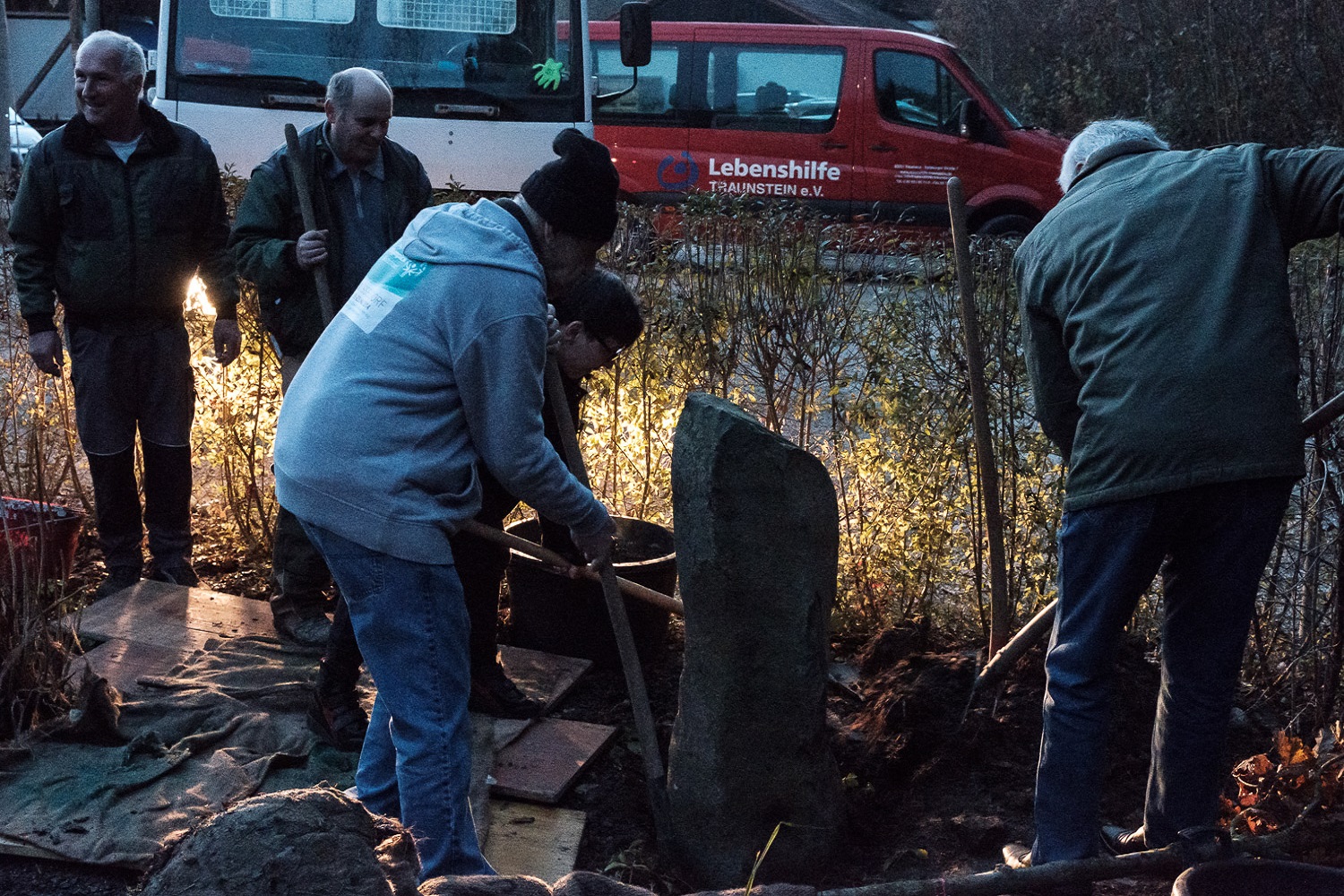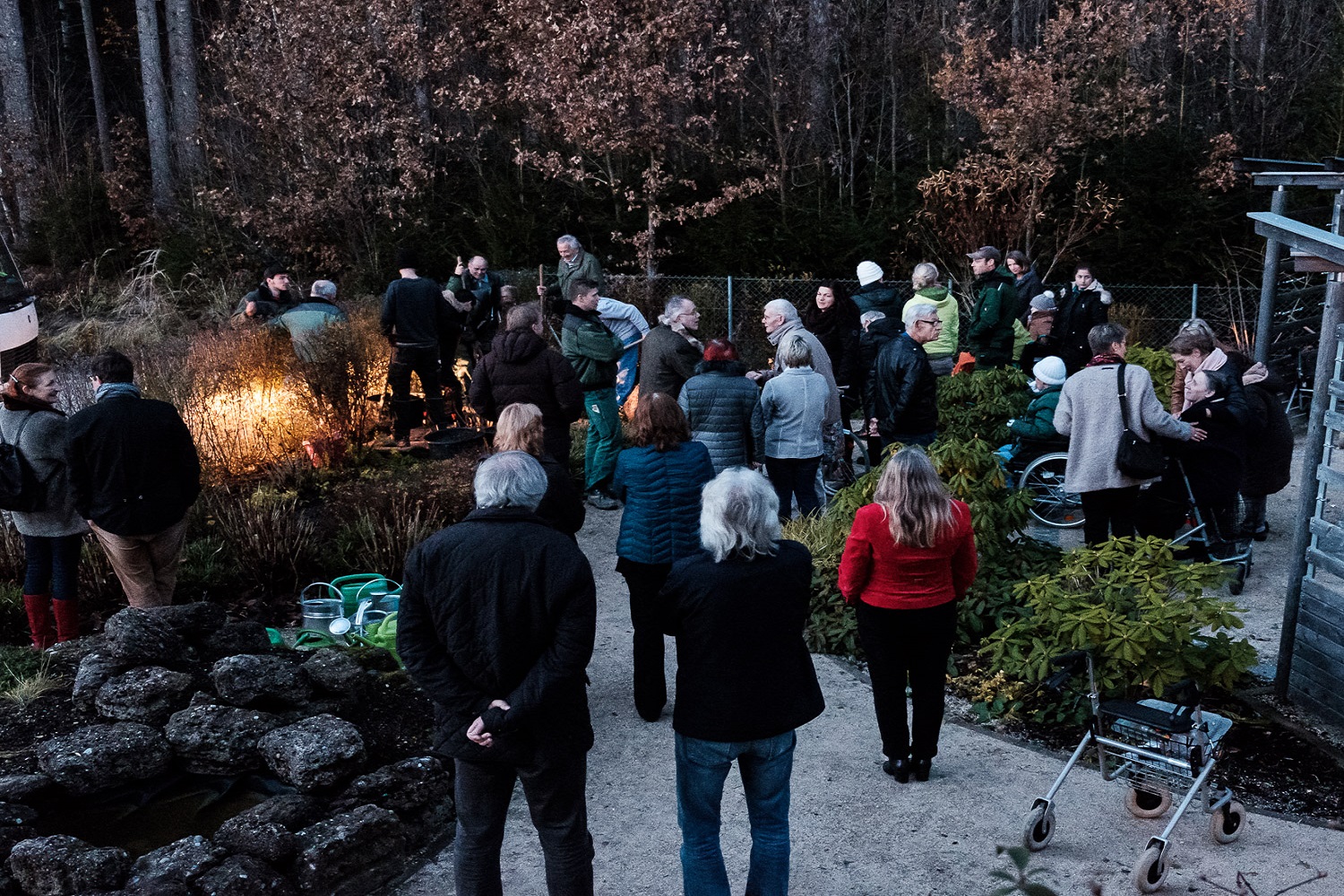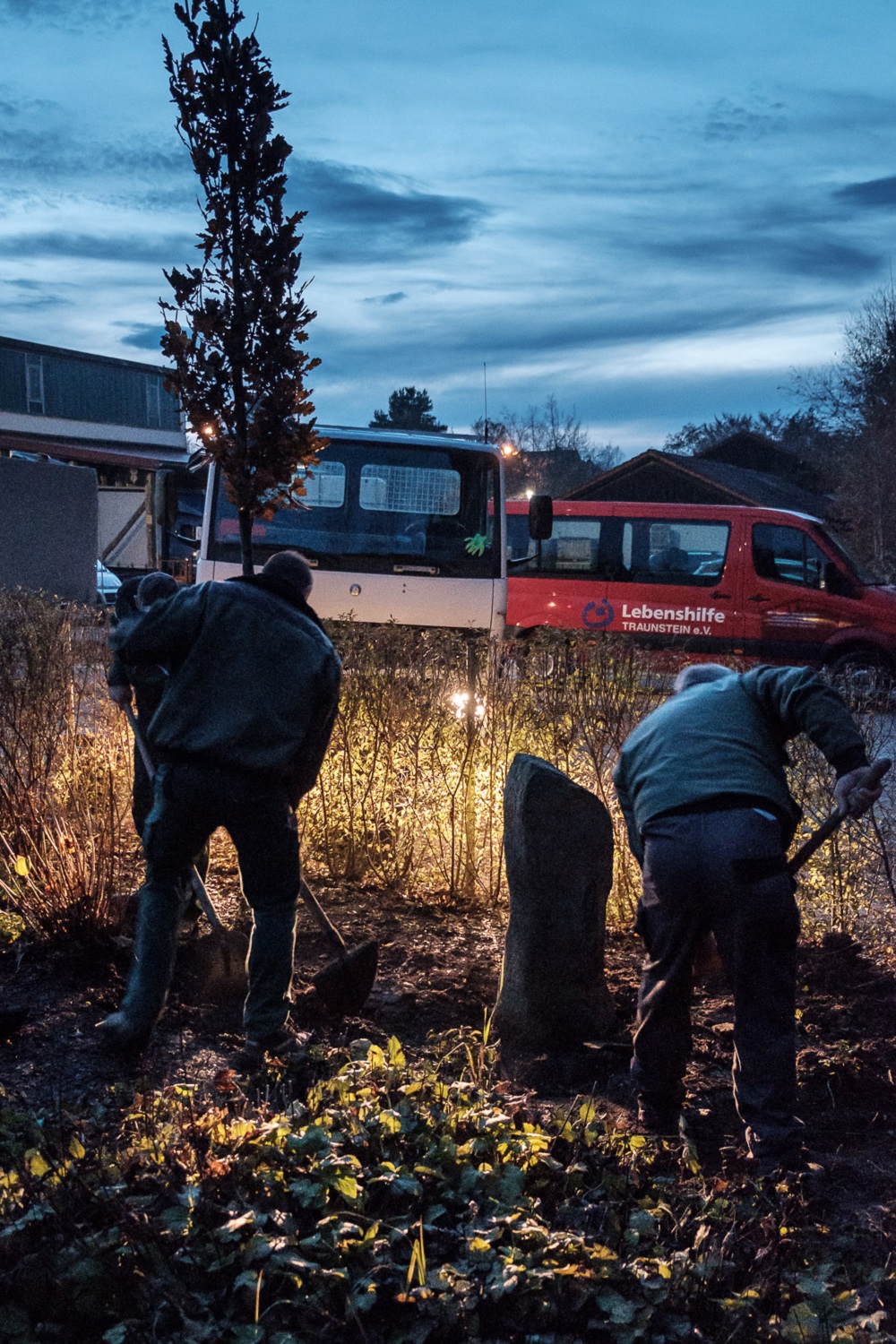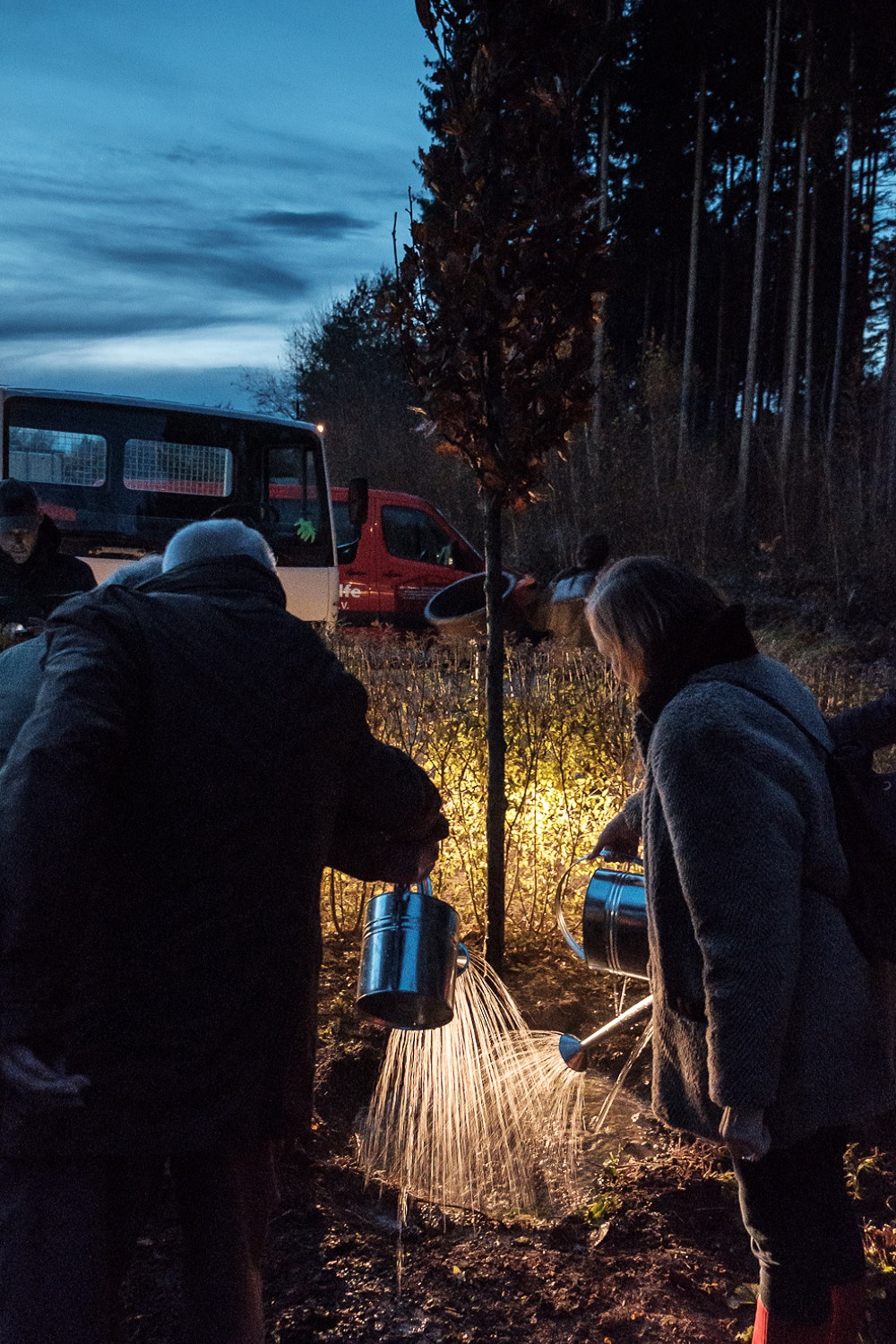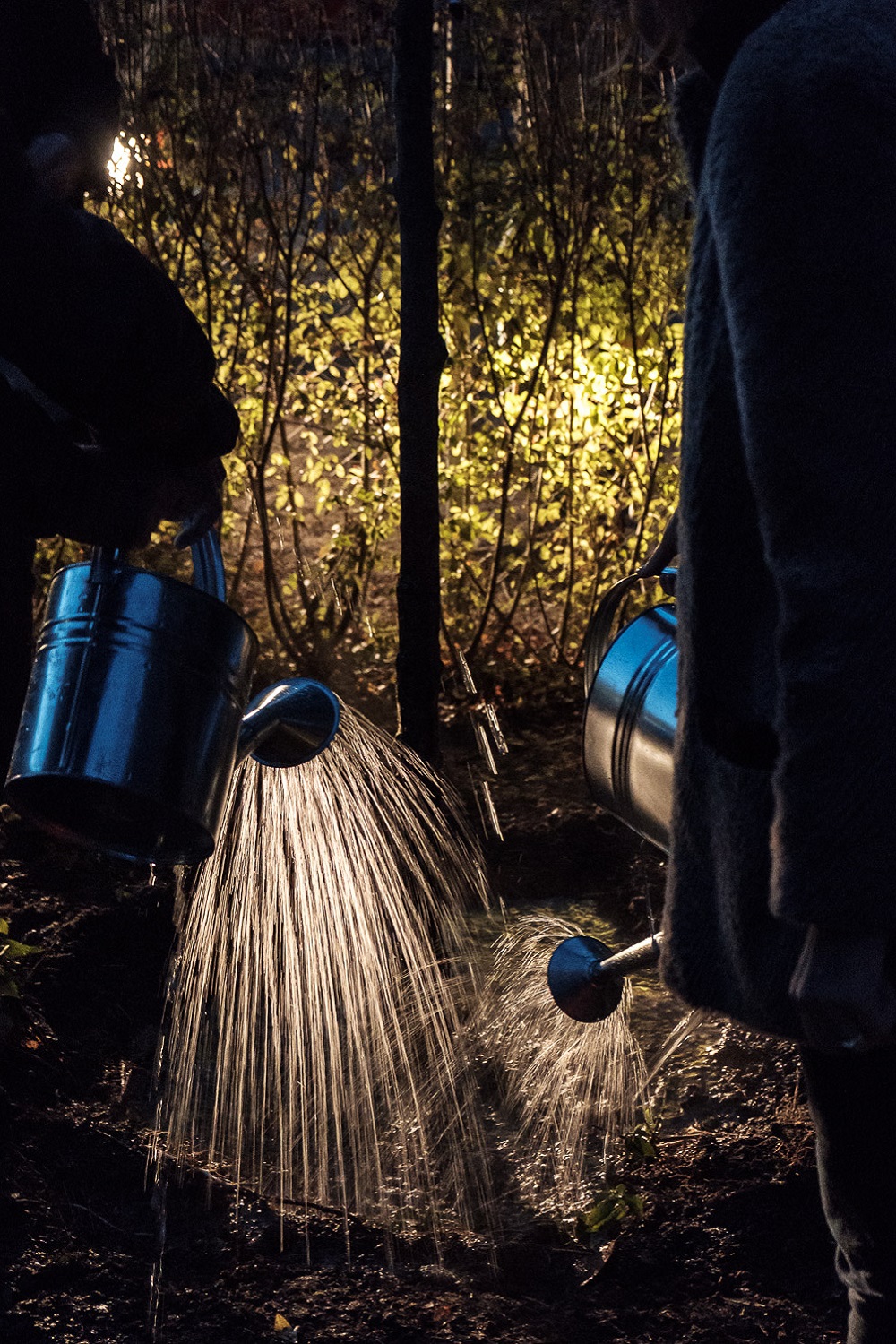 Fig.: Representatives of the Foundation DASMAXIMUM, the Wilhelm Löhe Centre, the Jugendsiedlung and other interested parties plant an oak tree with a basalt stele in the garden of the Lebenshilfe senior citizens' residential home in the late afternoon in an atmospheric ambience. Employees and residents of the Lebenshilfe facility an Johannes Stüttgen amongst others attended the planting.
Photos: Franz Kimmel, DASMAXIMUM