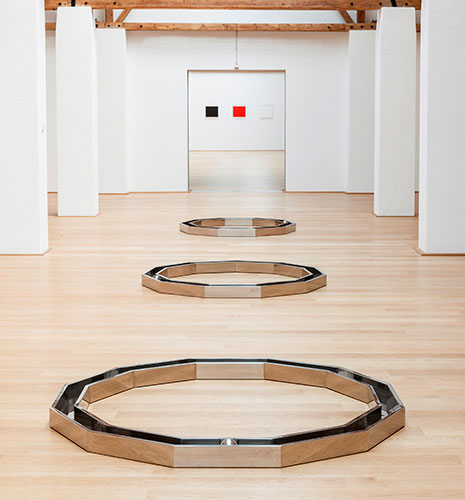 Walter de Maria: 10-, 11-and 12-sided polygon, 1984, Stainless steel,
Blinky Palermo: Black, Red, White, 1975, acrylic on aluminium, each 56.8 x 52 cm,
© the estate of Walter de Maria 2016, and VG Bild-Kunst, Bonn 2016, photo Franz Kimmel
Sunday, 24th Sept. 2016, 11 a.m.
The museum area, which currently comprises five halls, will be expanded by a further 800 m² of exhibition space. There, two essential complexes will be added to the existing works of contemporary art by Georg Baselitz, John Chamberlain, Walter de Maria, Dan Flavin, Imi Knoebel, Uwe Lausen, Andy Warhol and Maria Zerres.
These are a series of key works by the American artist Walter de Maria (1935-2013), who since the 1960s influenced country art, conceptual art and minimalism, and on the other, an internationally uniquely broad overview of the creation of the early Deceased Blinky Palermo (1943-1977), who as "James Dean of Art" (time) remained a deviousness mystery to the art market of his time.
The new hall will now also have the last of the three original buildings of the art of the Muna period and made available to the public.