18.09.2020
OAK PLANTING IN HONOR OF JOSEPH BEUYS
HESSISCHES LANDESMUSEUM DARMSTADT

With his seemingly utopian project "7000 Oaks - City Forestation Instead of City Administration" Beuys set new standards as a pioneer of social-ecological art. In 1982, he stacked 7000 basalt stones as a wedge-shaped triangle on Friedrichsplatz in front of the Fridericianum in Kassel. At the top of the triangle he planted the first oak tree in March 1982. Initially his social sculpture was very controversial. It not only adresses the interplay of becoming, passing and duration - just as important is the social webwork and the commitment of individuals, the shared responsibility to preserve nature. The more trees planted in Kassel, the smaller his sculpture became. "Not building up, not breaking down, but both simultaneously in dependence," fascinated Beuys. The last tree was planted next to the first in 1987 for documenta 8. The action was largely financed at the time by the New York Dia Art Foundation and its co-founder Heiner Friedrich, who also initiated the "Oak Planting in Honor of Joseph Beuys" in Traunreut and again contributed a considerable basalt stele for the planting at the Hessisches Landesmuseum.
The Hessisches Landesmuseum houses the "Block Beuys," the world's largest complex of works by the artist. It comes from the Ströher Collection assembled by Heiner Friedrich and Franz Dahlem in the 1960s. The "Oak Planting in Honor of Joseph Beuys" was part of the supporting program of the special exhibition "Block Beuys Power Plant," for which an interview film with DASMAXIMUM donor Heiner Friedrich will also be shown.
A summer oak (Quercus robur) with a trunk height of about 2.20 metres plus crown was chosen for planting. The circumference of the trunk is about 16 to 18 cm. The basalt stele comes from the Dietrichsberg quarry in the Rhön. It is 140 cm high, 45 thick and weighs about 500 kilograms. One third of it is planted in the earth without foundation, so that in the future the tree and stele will grow together as one unit.
PARTICIPANTS
Tree sponsor: Hessisches Landesmuseum Darmstadt
Initiator: Dr. Gabriele Mackert, Custodian of Art of 18th to 21st Century
Planting:
Basalt stele: Dietrichsberg Quarry, donated by the DASMAXIMUM Foundation / Heiner Friedrich
A project by DASMAXIMUM Foundation with Hessisches Landesmuseum Darmstadt
PHOTOS OF THE OAK PLANTING

Mayor Jochen Partsch (left) and General Director of the Hessisches Landesmuseum Dr. Martin Faass (right) at the tree planting ceremony at the Hessisches Landesmuseum, Photo: Anne Sophie Ebert (HLMD)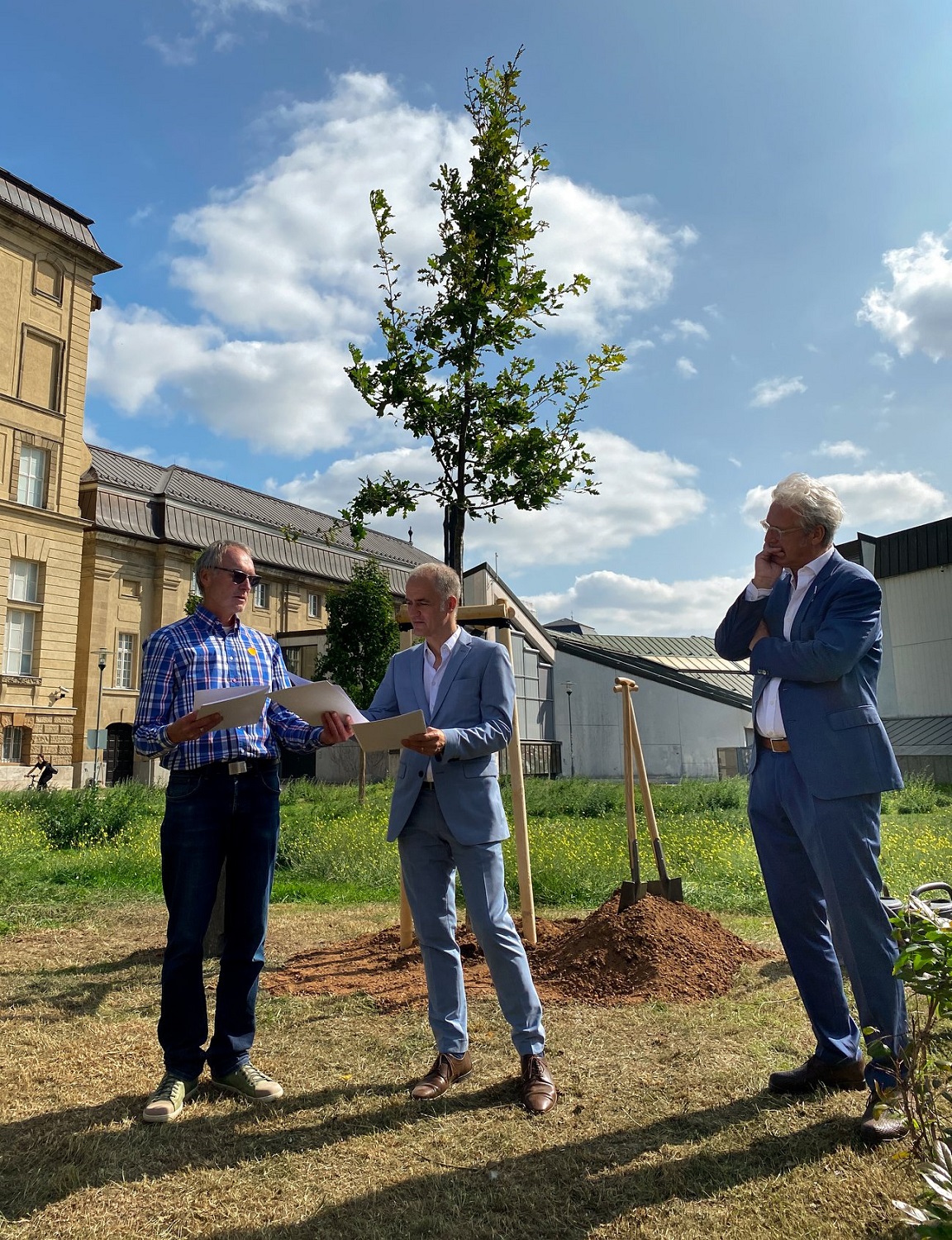 Lothar Müller, Project Manager DASMAXIMUM, Dr. Martin Faass and Mayor Jochen Partsch handing over the tree sponsorship certificate, Photo: Anne Sophie Ebert (HLMD)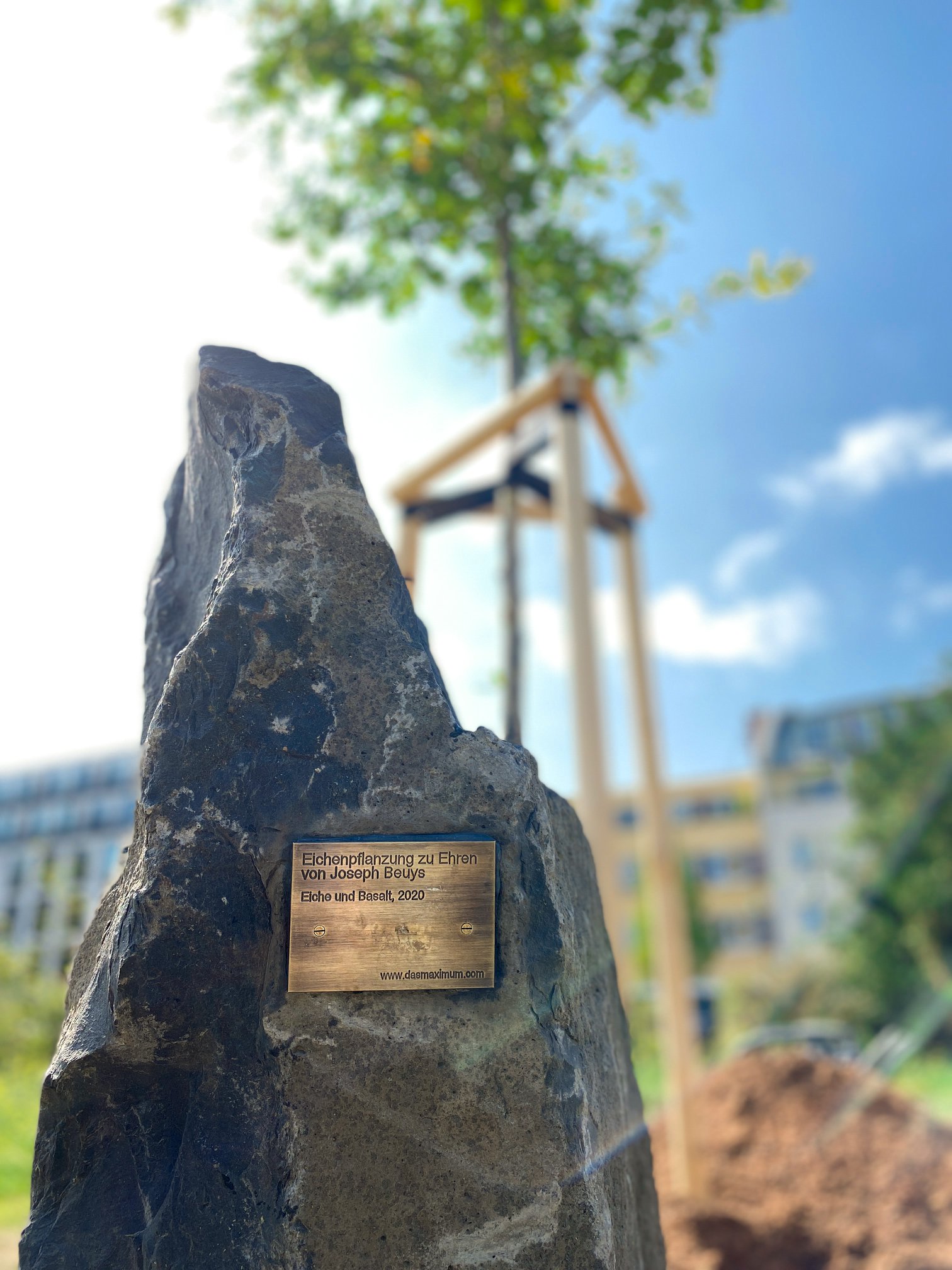 Oak tree and basalt stele after planting. Photo: Anne-Sophie Ebert (HLMD)