13.11.2021
OAK PLANTING IN HONOR OF JOSEPH BEUYS
SIEGSDORF, HAMMER
The museum is closed, outside it is grey and dark. Time to remember a beautiful event: a good a fortnight ago, the last oak planting in honour of Joseph Beuys took place this year in Siegsdorf/Hammer.
The municipality of Siegsdorf, represented by First Mayor Thomas Kamm, and the sculptor and collector Franz Xaver Angerer, who runs the Kunstgetriebe exhibition venue in Hammer, acted as tree sponsors.
Just in time before the Corona measures were tightened again, numerous interested people gathered at the square between the Kunstgetriebe gallery and the church of St. Rupertus in the Hammer district.
Young and old shovelled and watered with great enthusiasm and supported the team of the gardening and landscaping department of the Traunreut Youth Settlement, which carried out the planting campaign in a tried and tested manner.
This planting marks the end of an eventful planting season with a total of 8 "Oak plantings in honour of Joseph Beuys".
PARTICIPANTS
Tree sponsors: Siegsdorf community and Franz Xaver Angerer
Initiator: Franz Xaver Angerer
Planting: Jugendsiedlung Traunreut gGmbH
Tree: English oak
Basalt stele: Dietrichsberg Quarry, Rhön
PHOTOS OF THE OAK PLANTING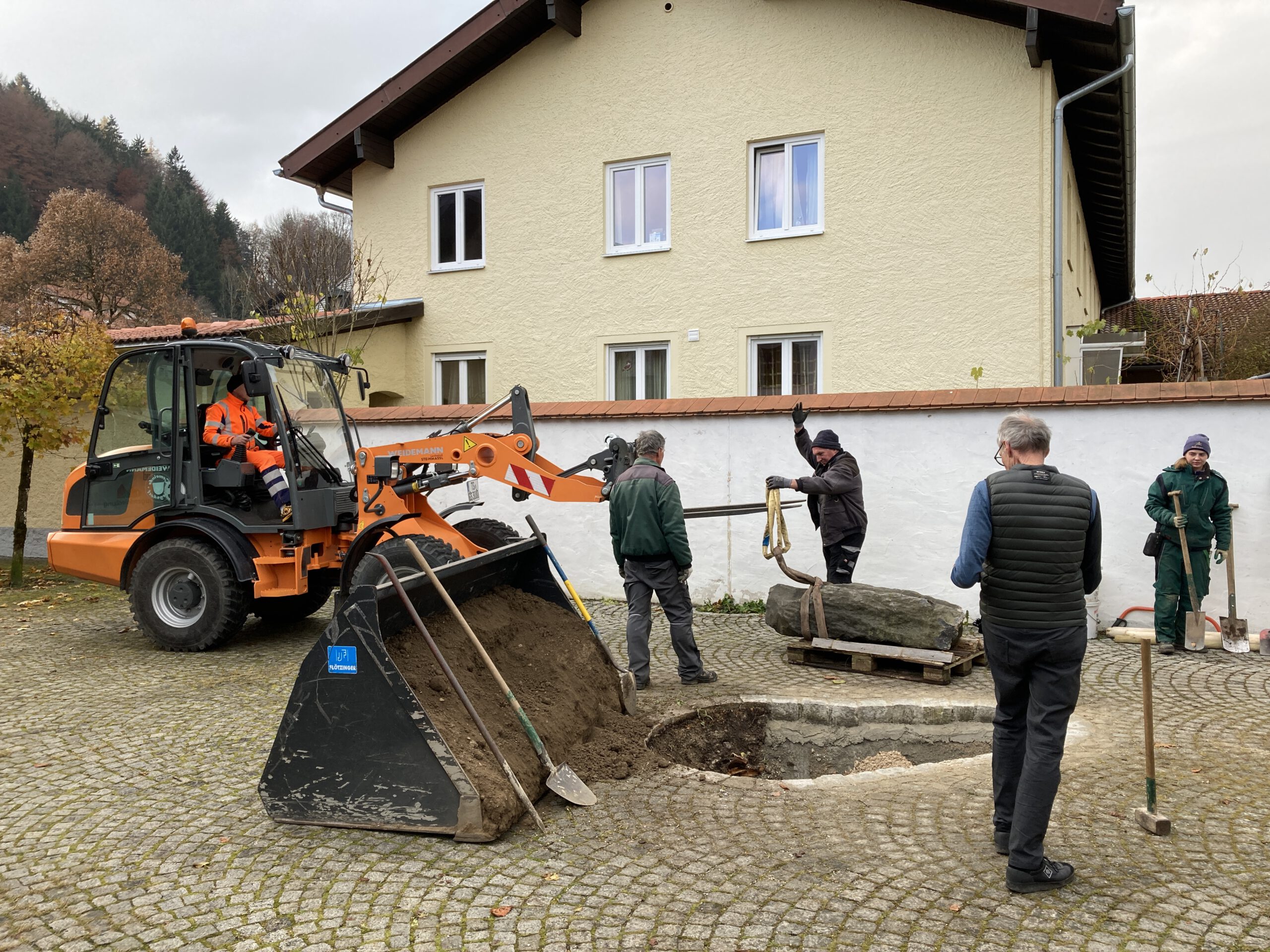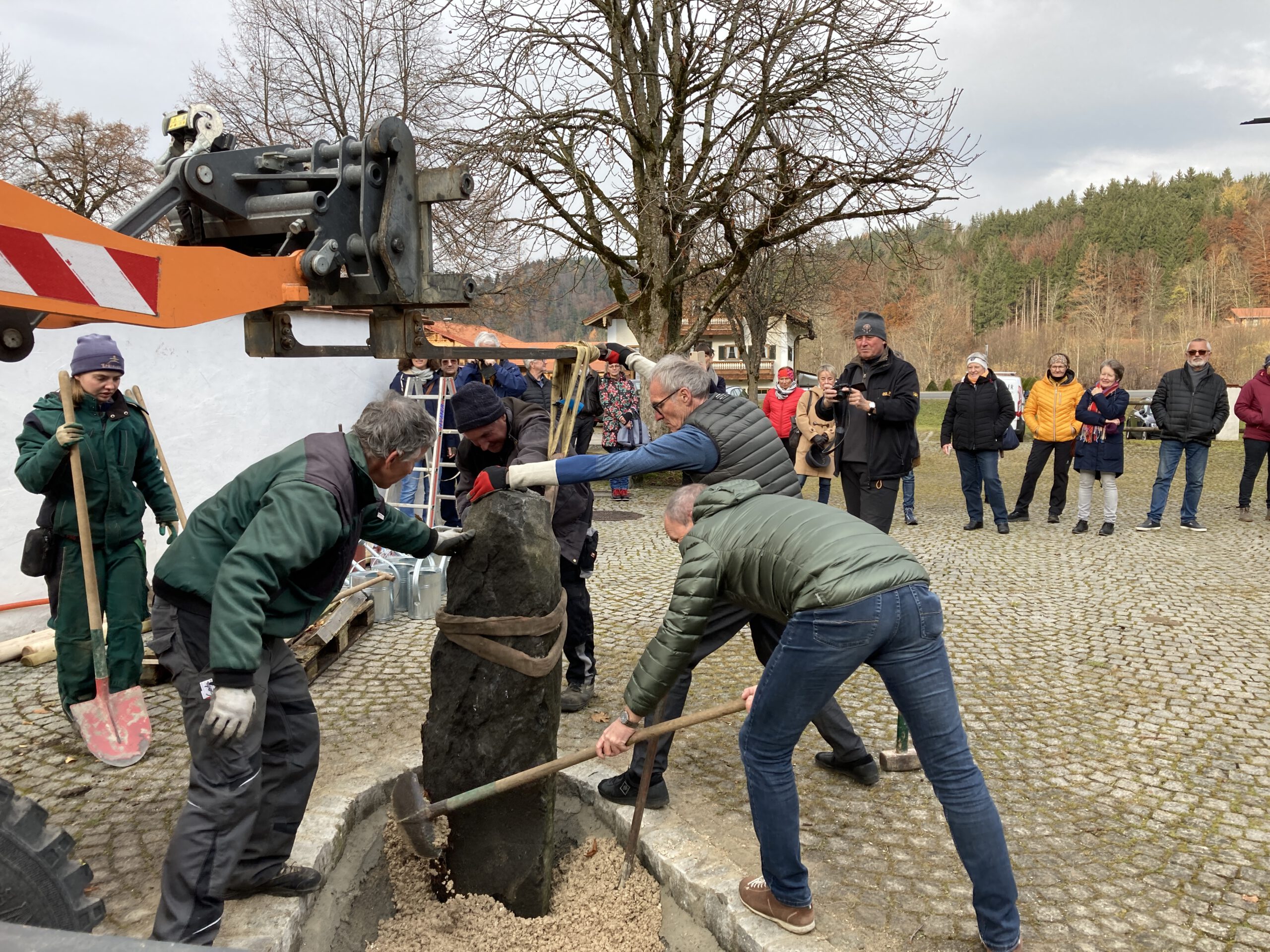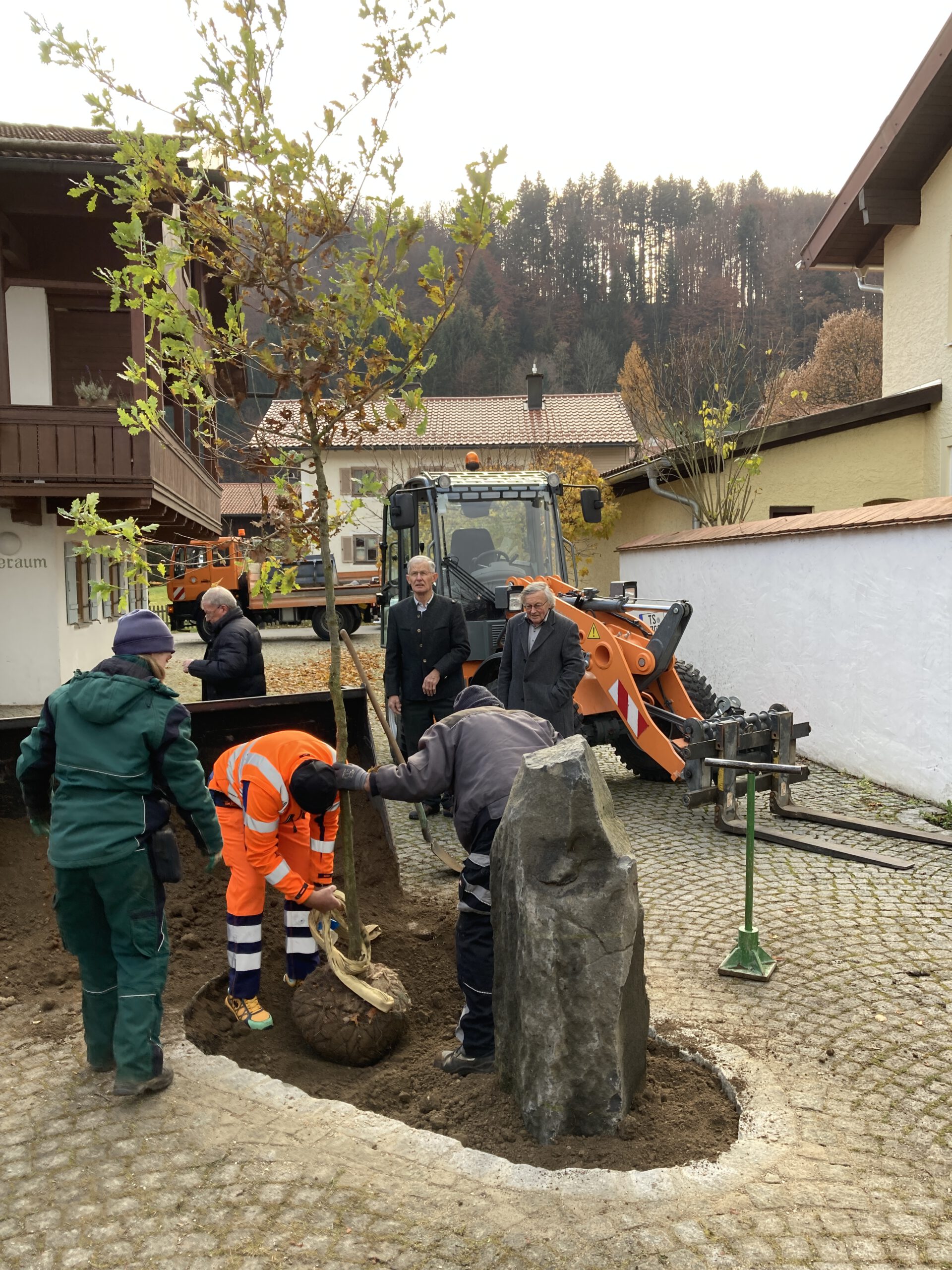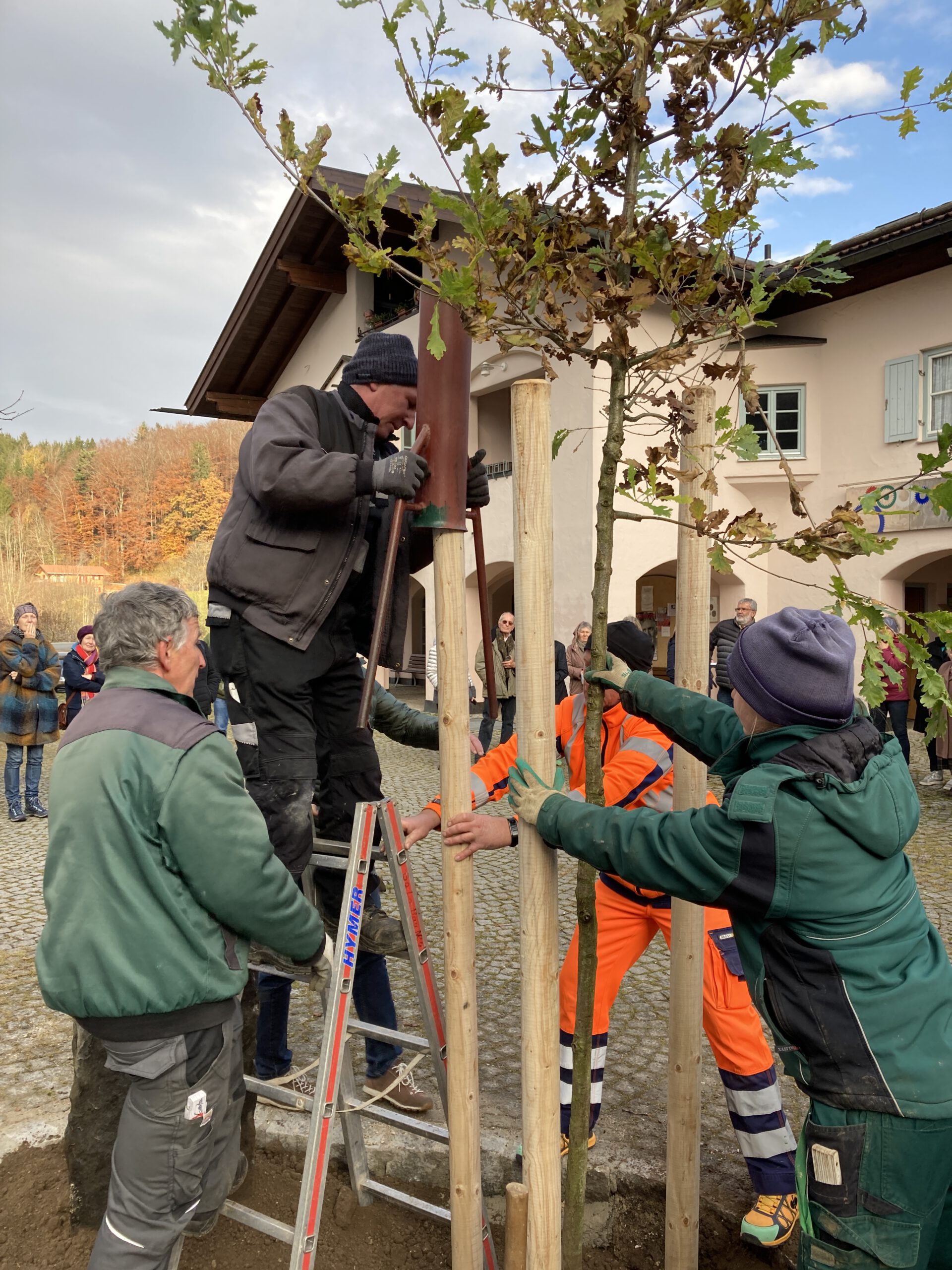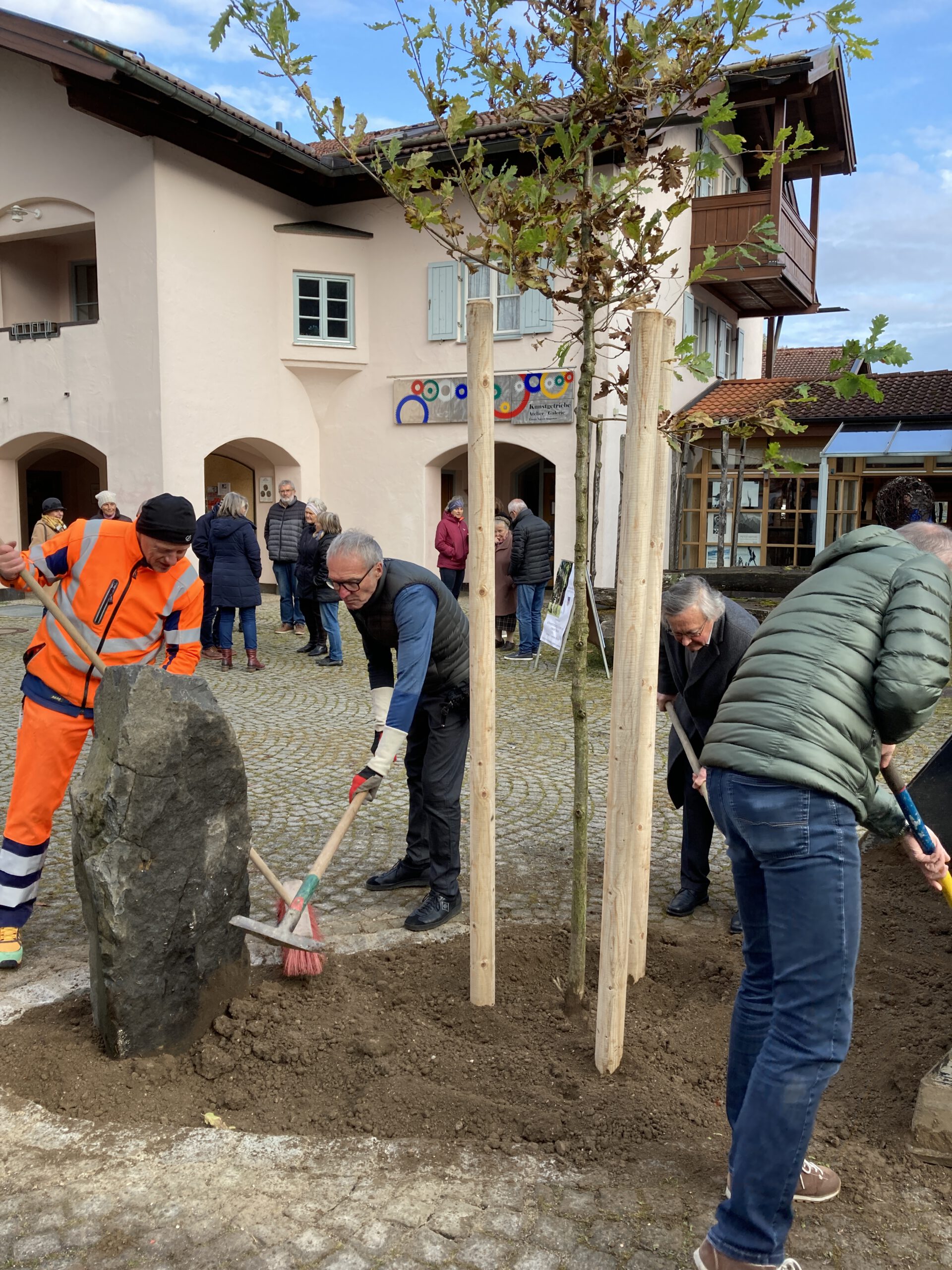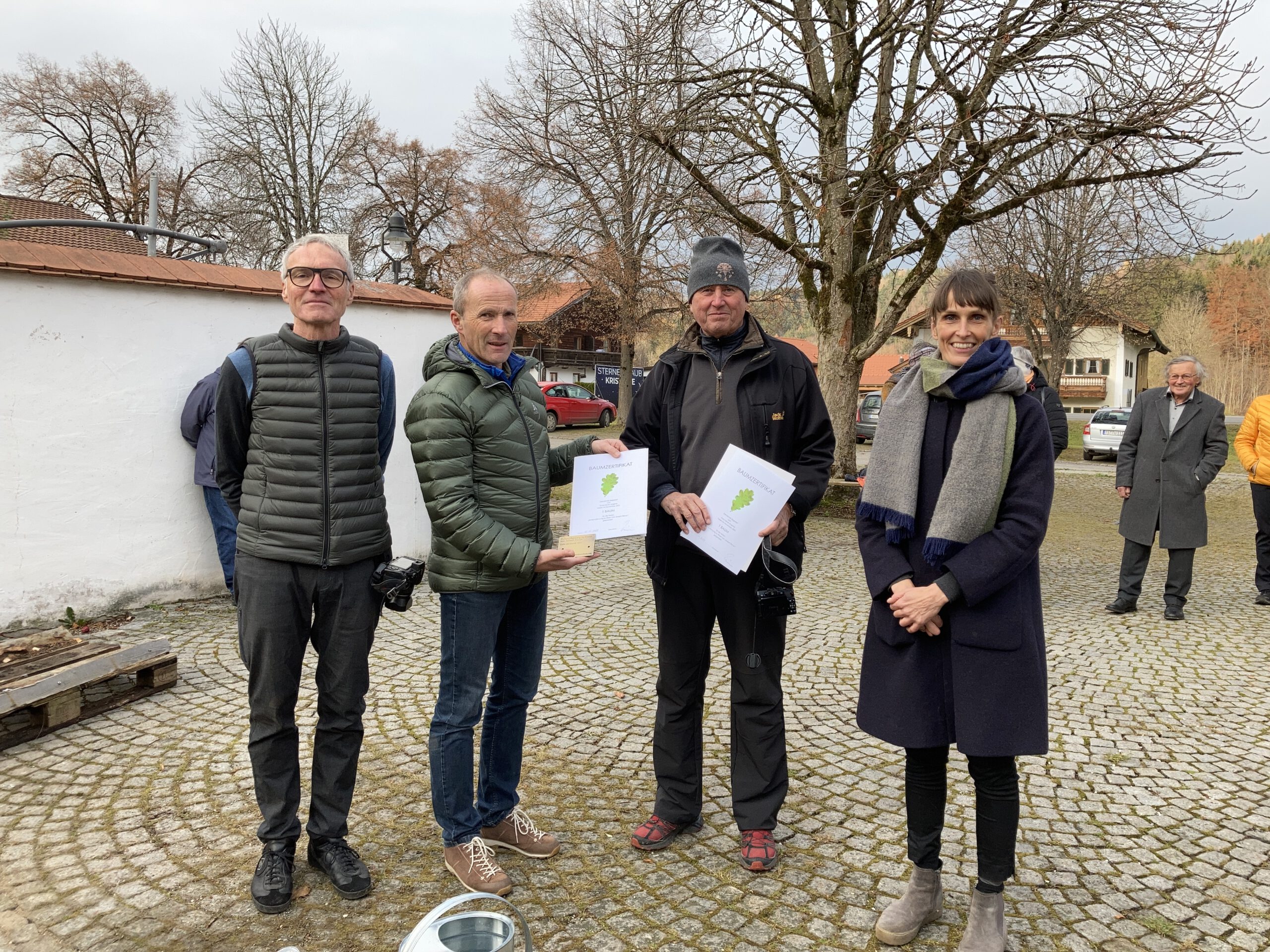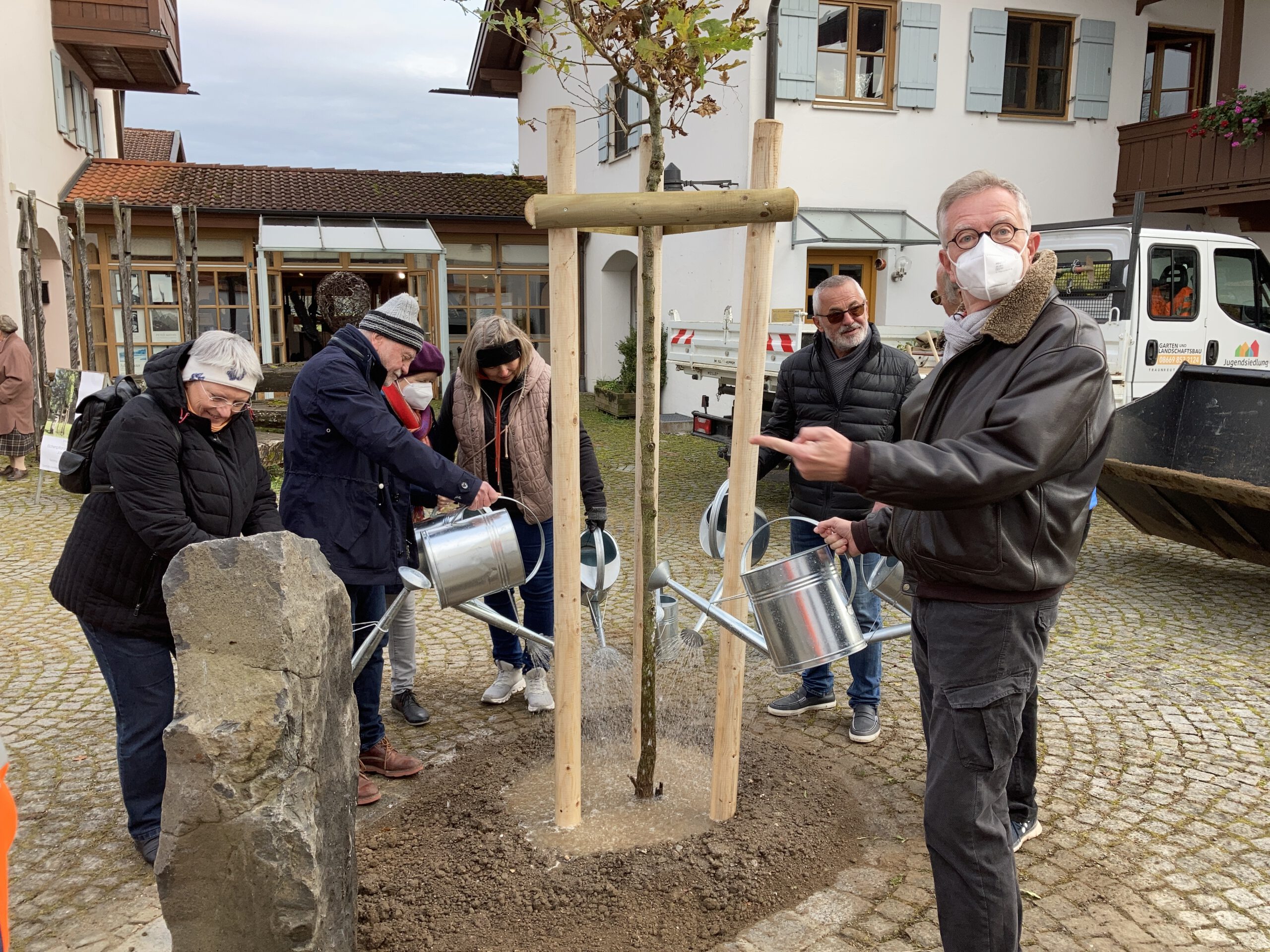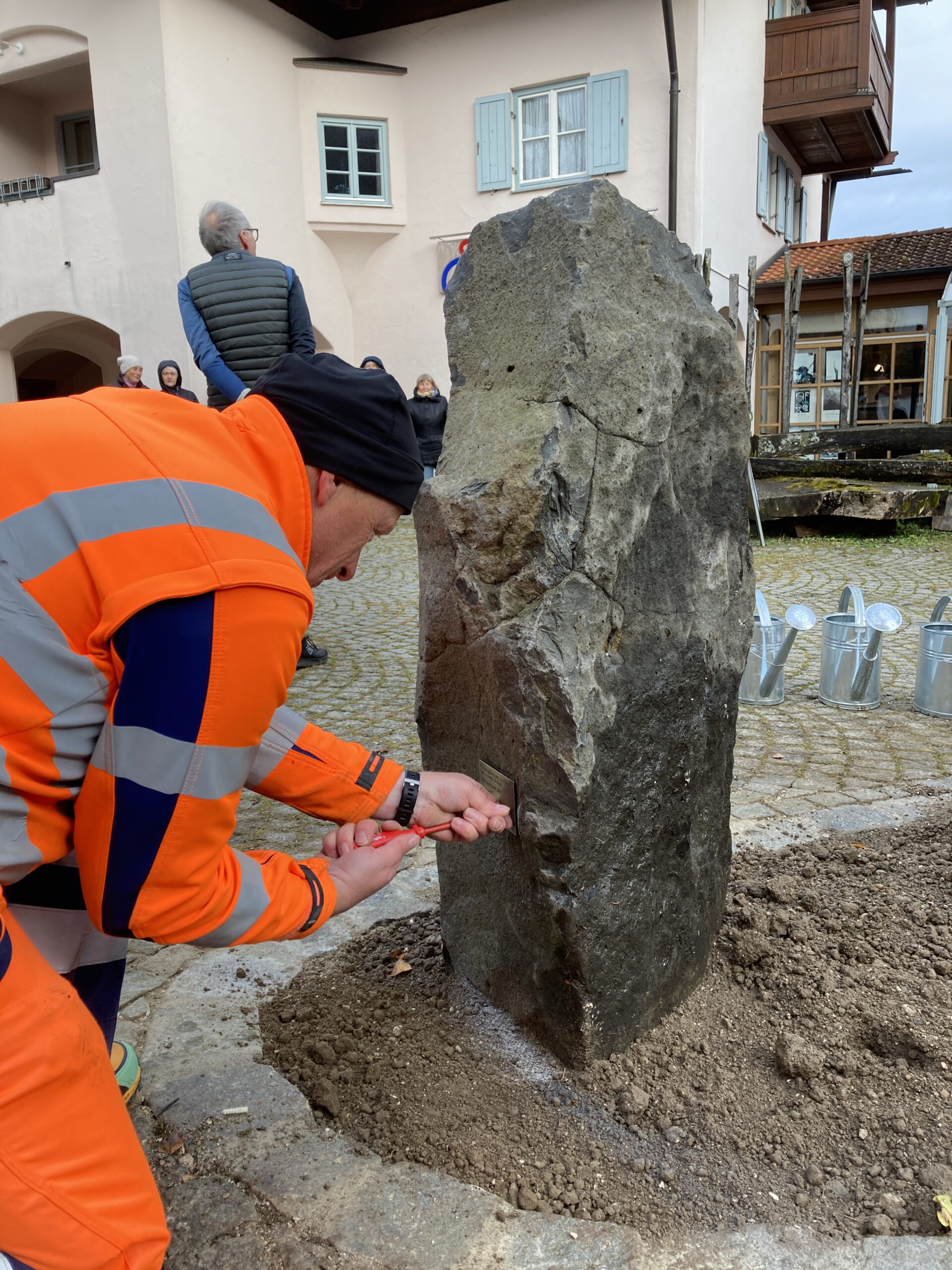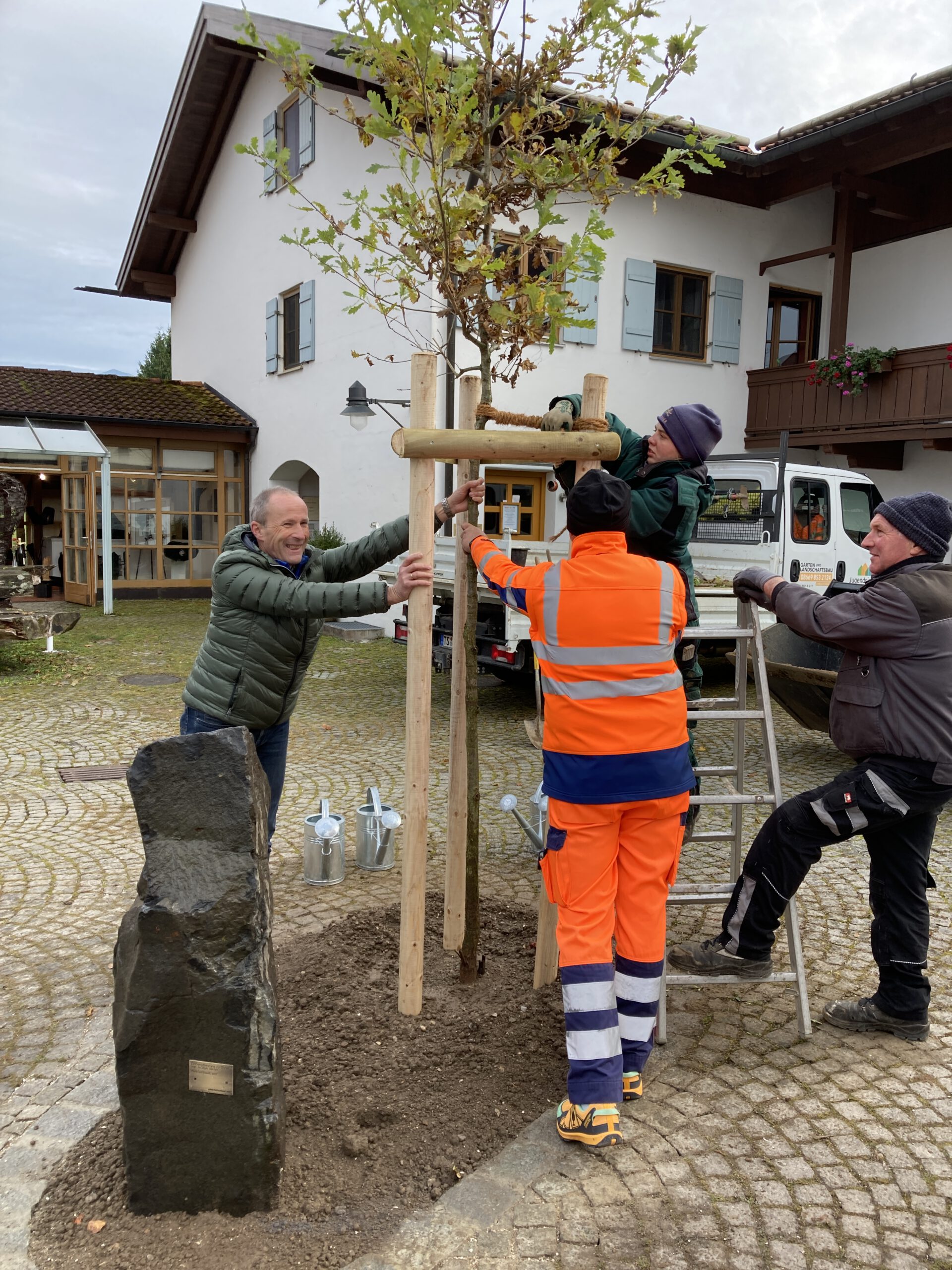 Fig:
1.R.f.l.t.r.: Preparation of the hole in the ground on the village square in Hammer by the staff of the Traunreut Youth Settlement and setting of the basalt stele.
2.R.f.l.t.r.: The English oak is lifted into the hole provided for it, secured with planting stakes and dug in by the participants.
3.R.f.l.t.r.: Thomas Kamm, 1st Mayor of Siegsdorf (2nd from left) and the artist Franz Xaver Angerer (2nd from right) receive the tree sponsorship certificate from project manager Lothar Müller (1st from left) and museum director Dr Maria Schindelegger. Afterwards, the planted oak tree is watered by the participants.
4.R.f.l.t.r.: The brass plate is fixed to the basalt and final fixings are made to the oak.
Photos: DASMAXIMUM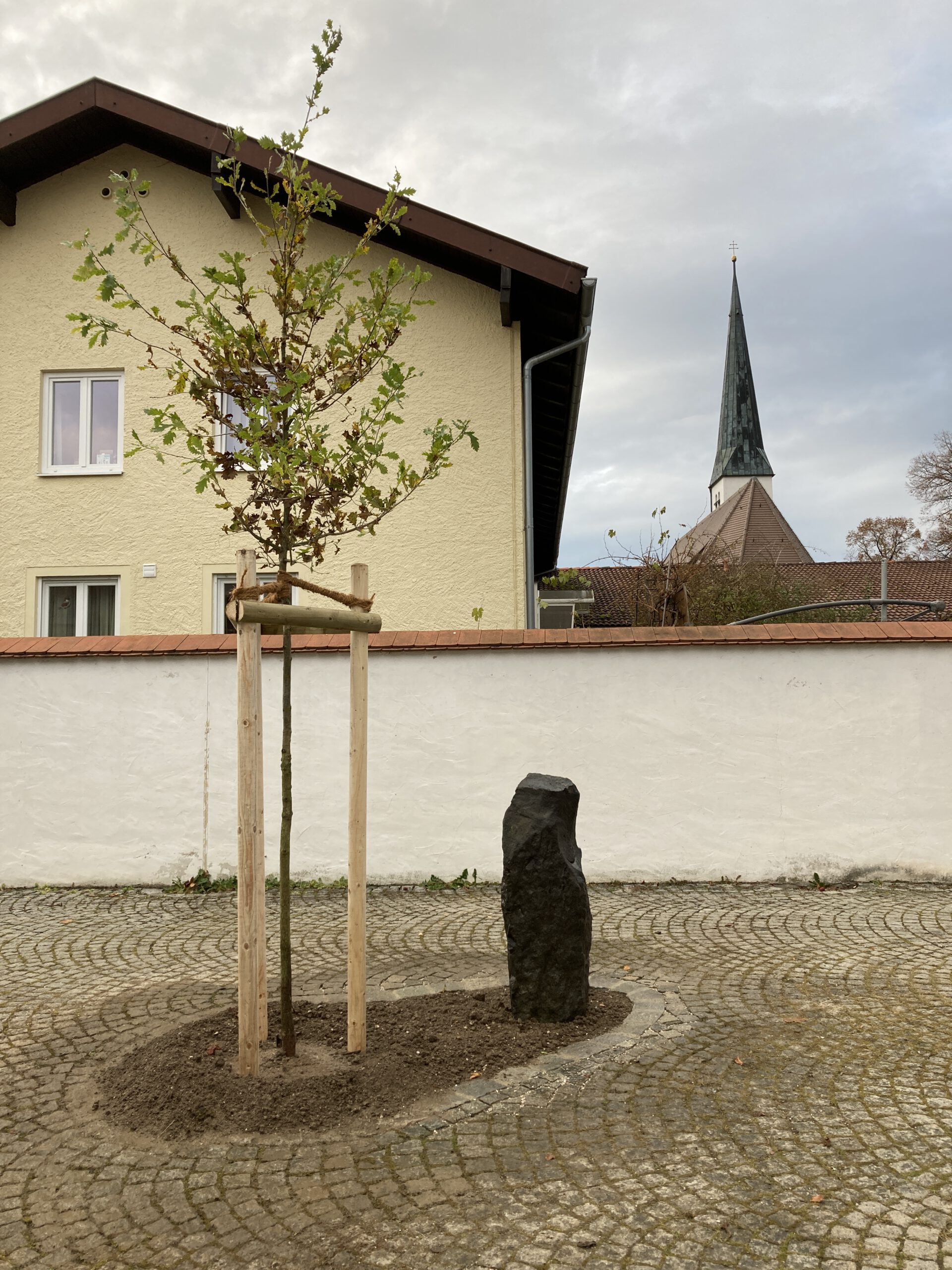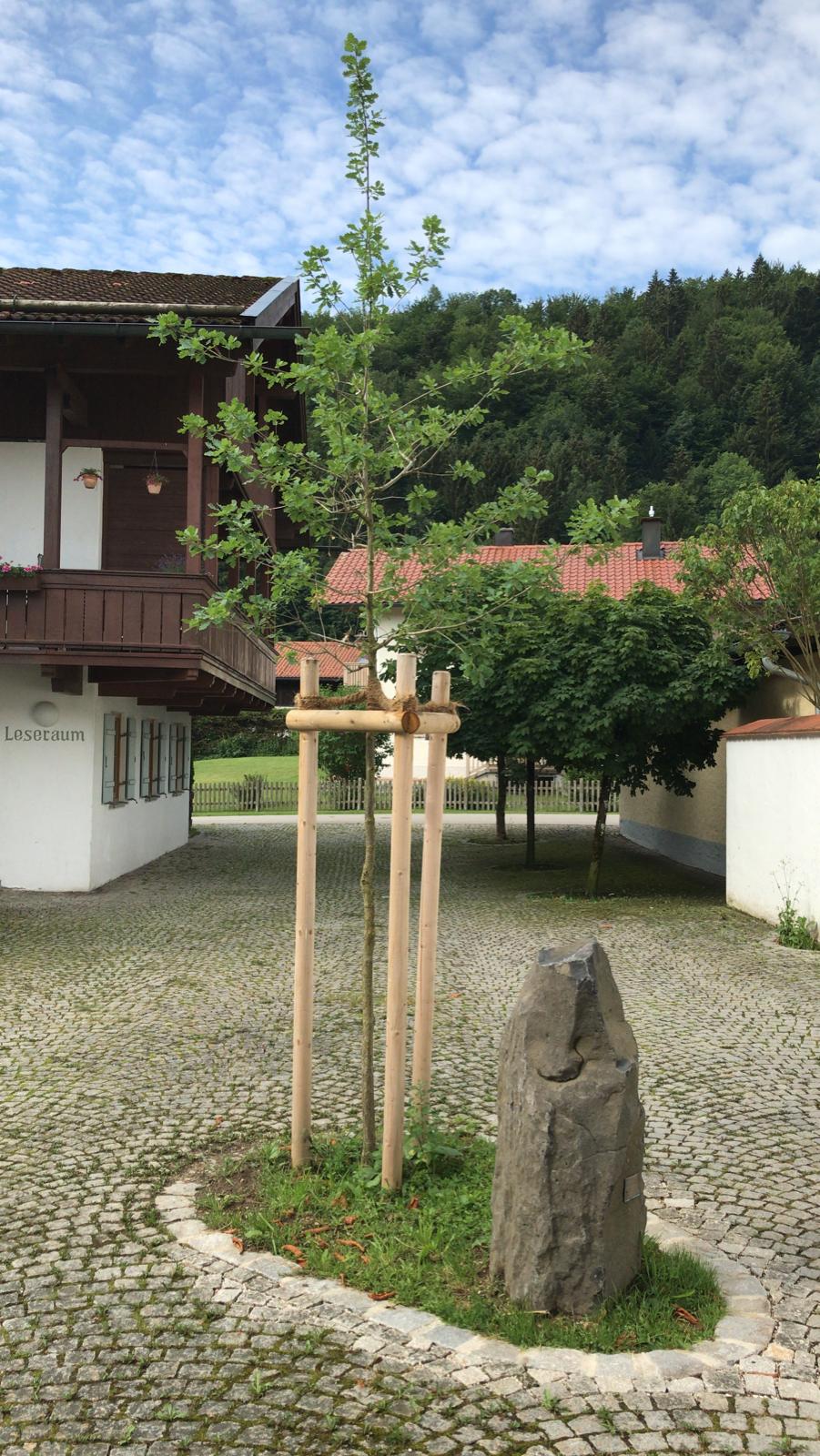 Status 04.07.2022
Photo: Klaus Gimpl