22.10.2021
OAK PLANTING IN HONOR OF JOSEPH BEUYS
TRIEFENSTEIN, HOMBURG CASTLE
The first talk of an "oak planting in honour of Joseph Beuys" in Triefenstein on the occasion of the 100th birthday of Joseph Beuys came up in 2018. It has finally been standing since 22.10.2021.
Around 70 guests gathered on the occasion of the planting campaign along the Main cycle path below Homburg Castle to ceremoniously plant the English oak and basalt stele in honour of the artist.
Initiated and carried out by Elvira Lantenhammer (Kunst im Schloss Homburg), as well as the Free International University founded by Beuys and Beuys' former assistant, artist and writer U We Claus, the guests were offered a lot besides the central oak planting:
The planting action was introduced by the dance performance "SteinEiche" by Lisa Kuttner and Thomas Hupp. In addition to an abundance of food and a comprehensive introduction to the theme of "social sculpture" by U We Claus and DASMAXIMUM project manager Lothar Müller, the guests also had the opportunity to take their own oak cuttings home with them, thus assuming the responsibility for this tree demanded by Beuys, as a representative of society.
The oak planting in honour of Joseph Beuys in Triefenstein is part of the cooperation between STADTKULTUR Netzwerk Bayerischer Städte e.V. and the museum DASMAXIMUM KunstGegenwart Traunreut.
PARTICIPANTS
Tree sponsor: Municipal Alliance, HeidelbergCement, Art in Homburg Castle, Elvira Lantenhammer
Initiators: Elvira Lantenhammer, Kunst in Schloss Homburg,
U We Claus, FIU
Planting: Bauamt Markt Triefenstein
Tree: English oak
Basalt stele: Dietrichsberg Quarry, Rhön
A cooperation project of the DASMAXIMUM Foundation with Stadtkultur-Netzwerk Bayerischer Städte e.V.
PHOTOS OF THE OAK PLANTING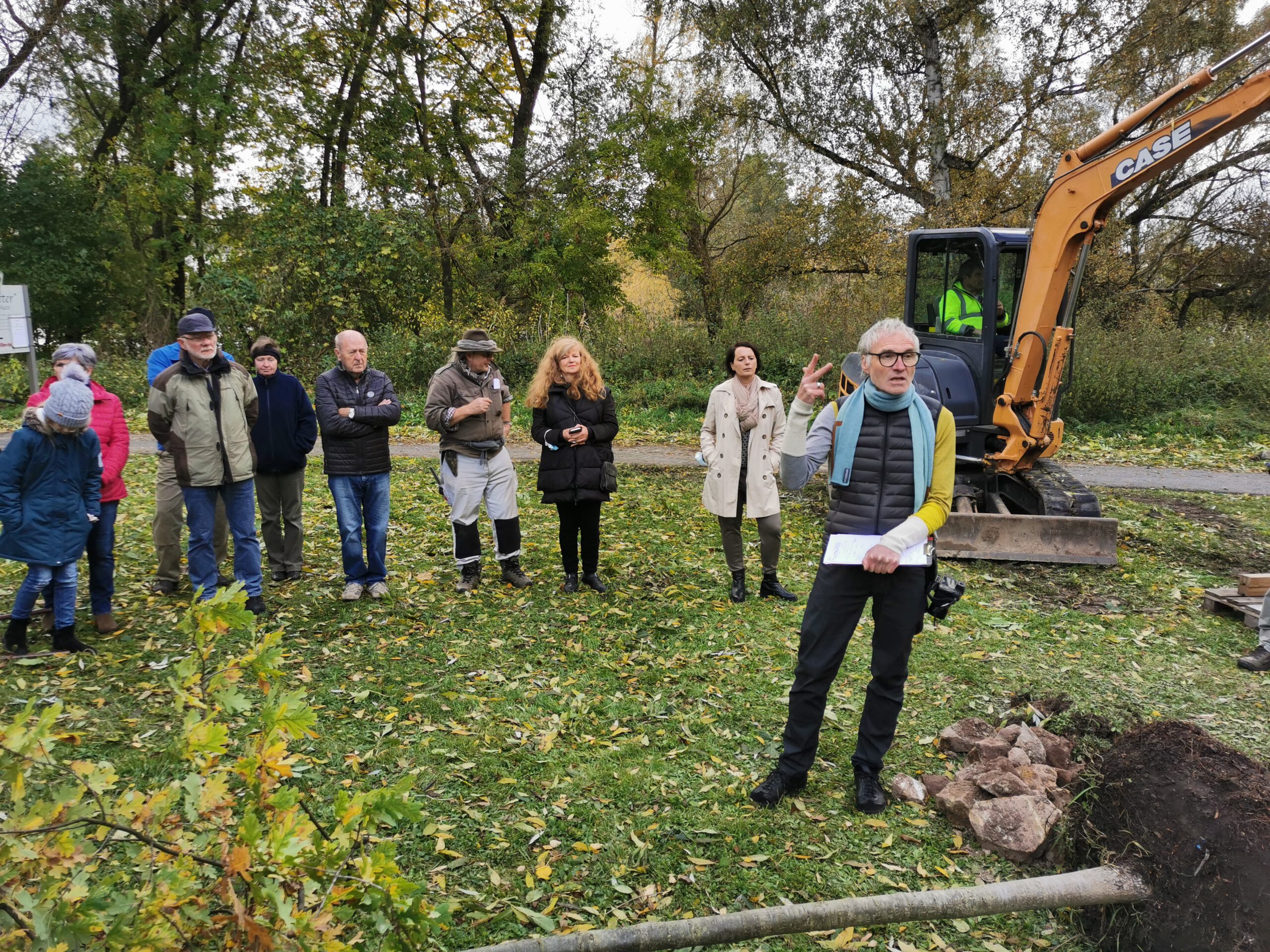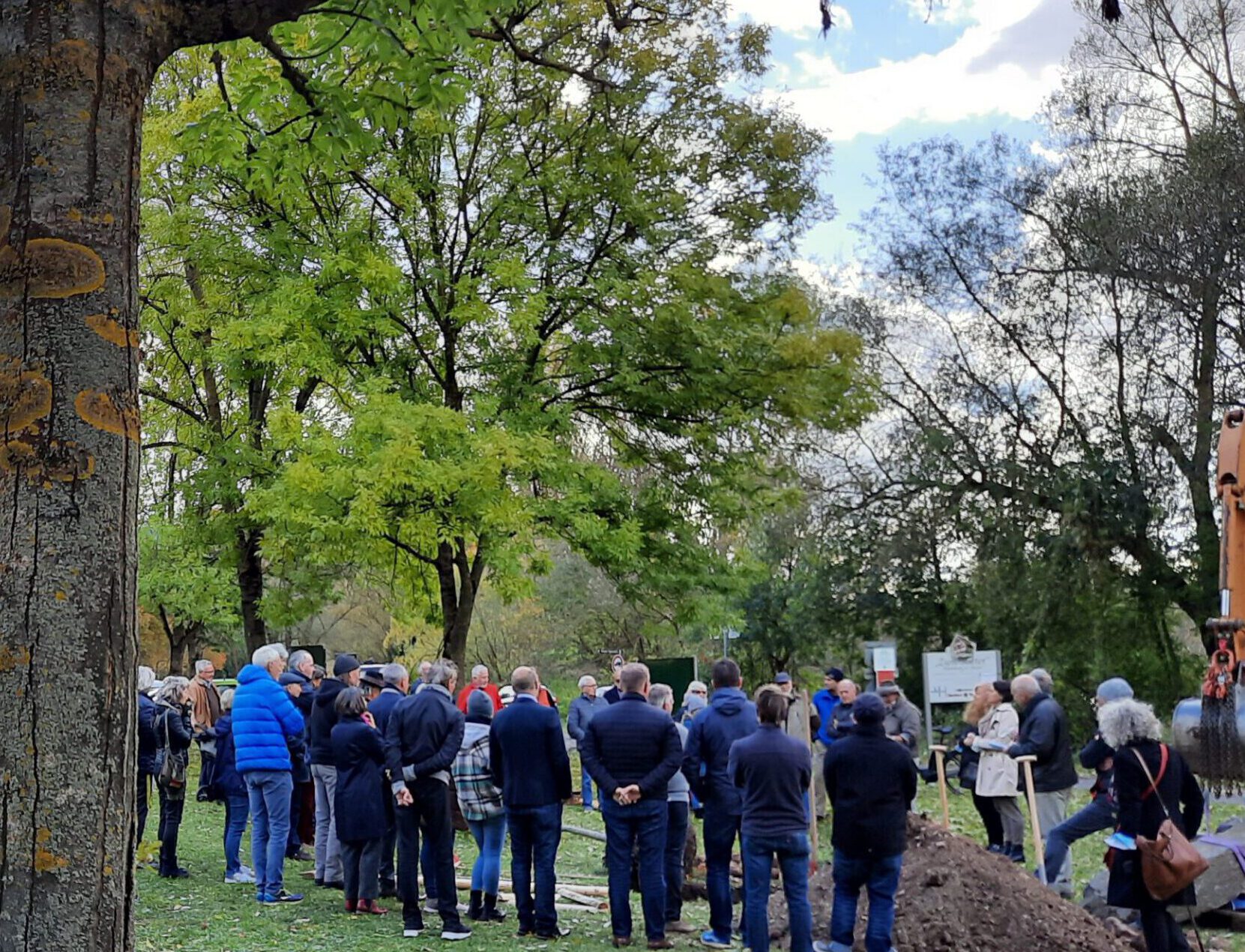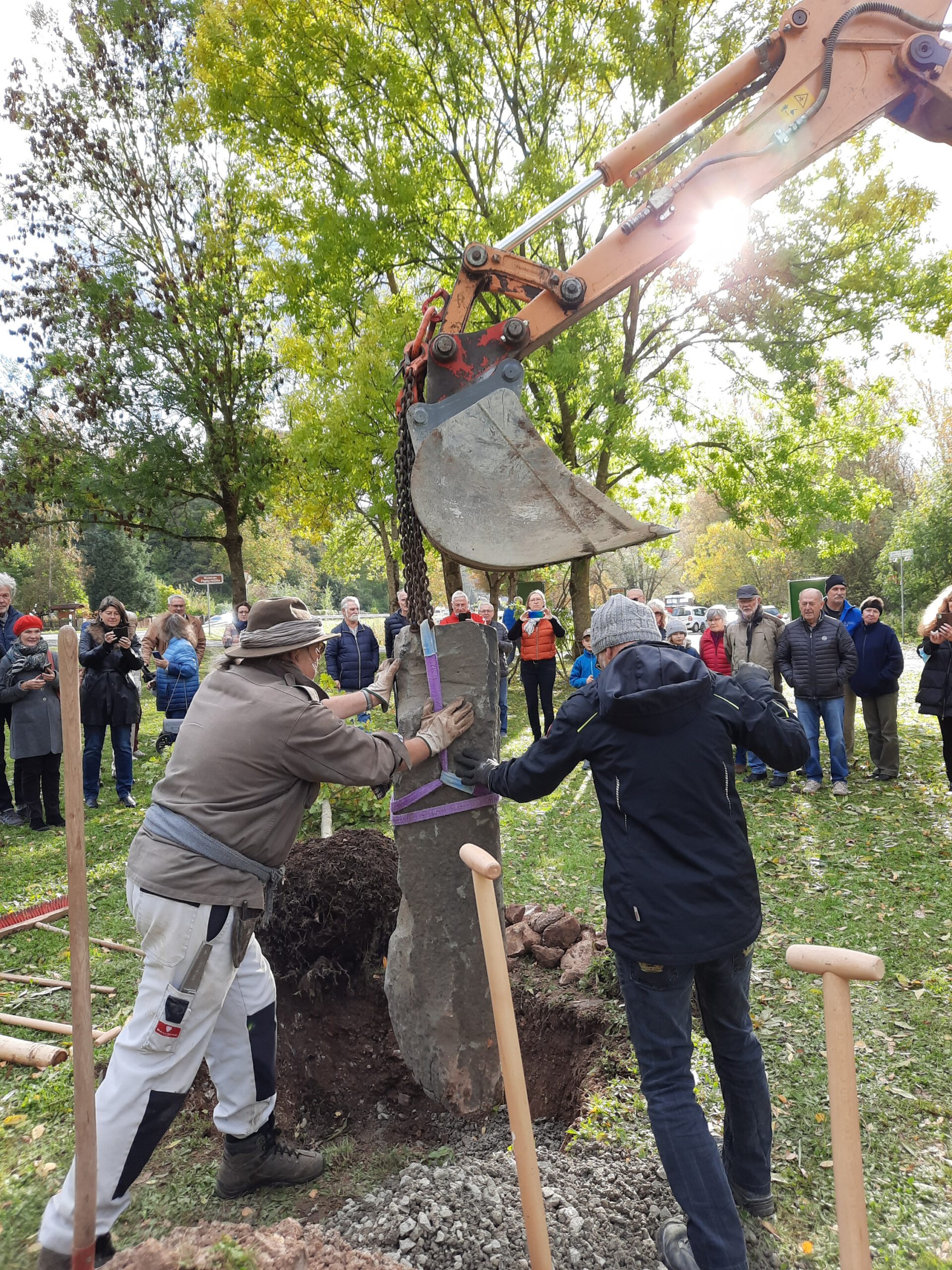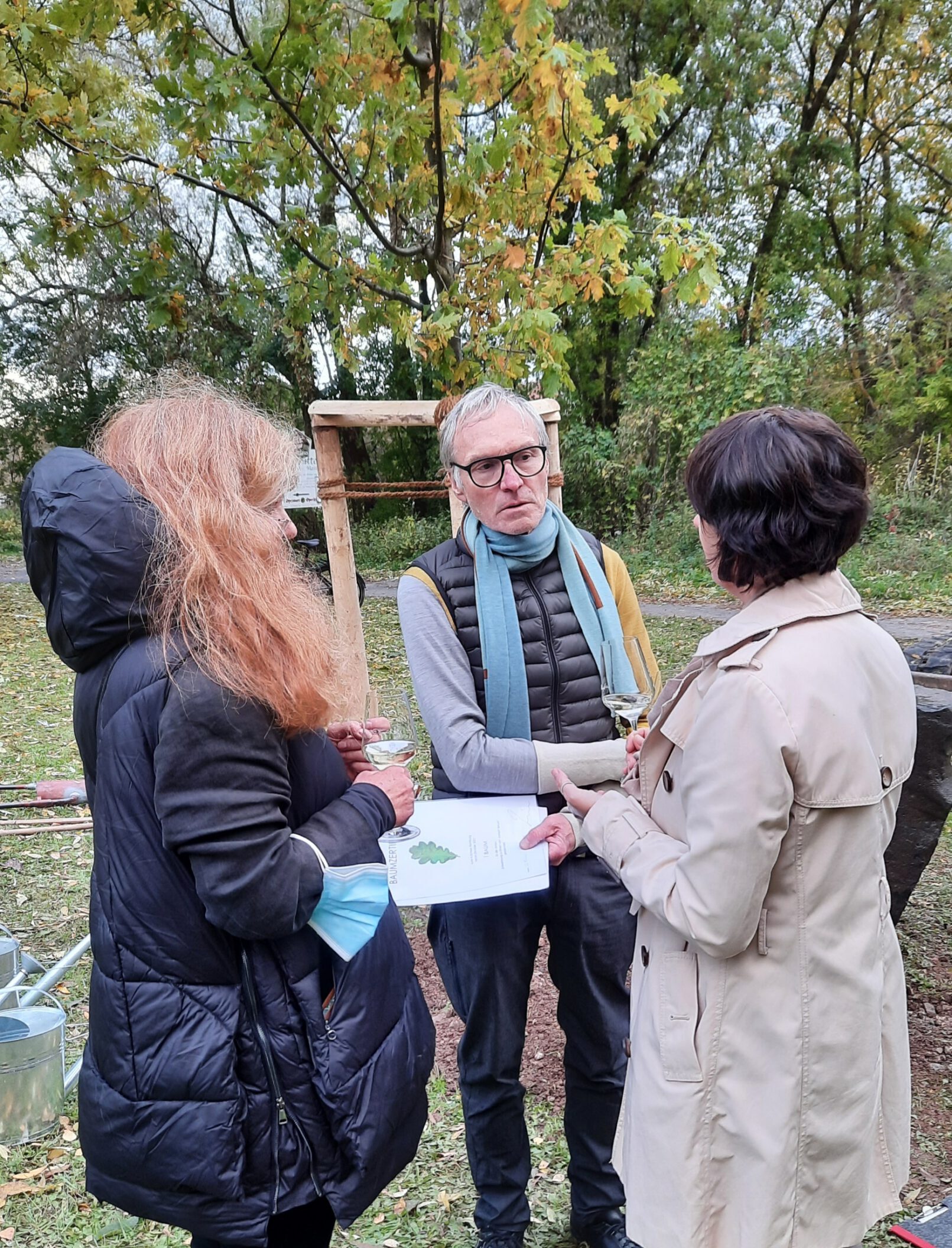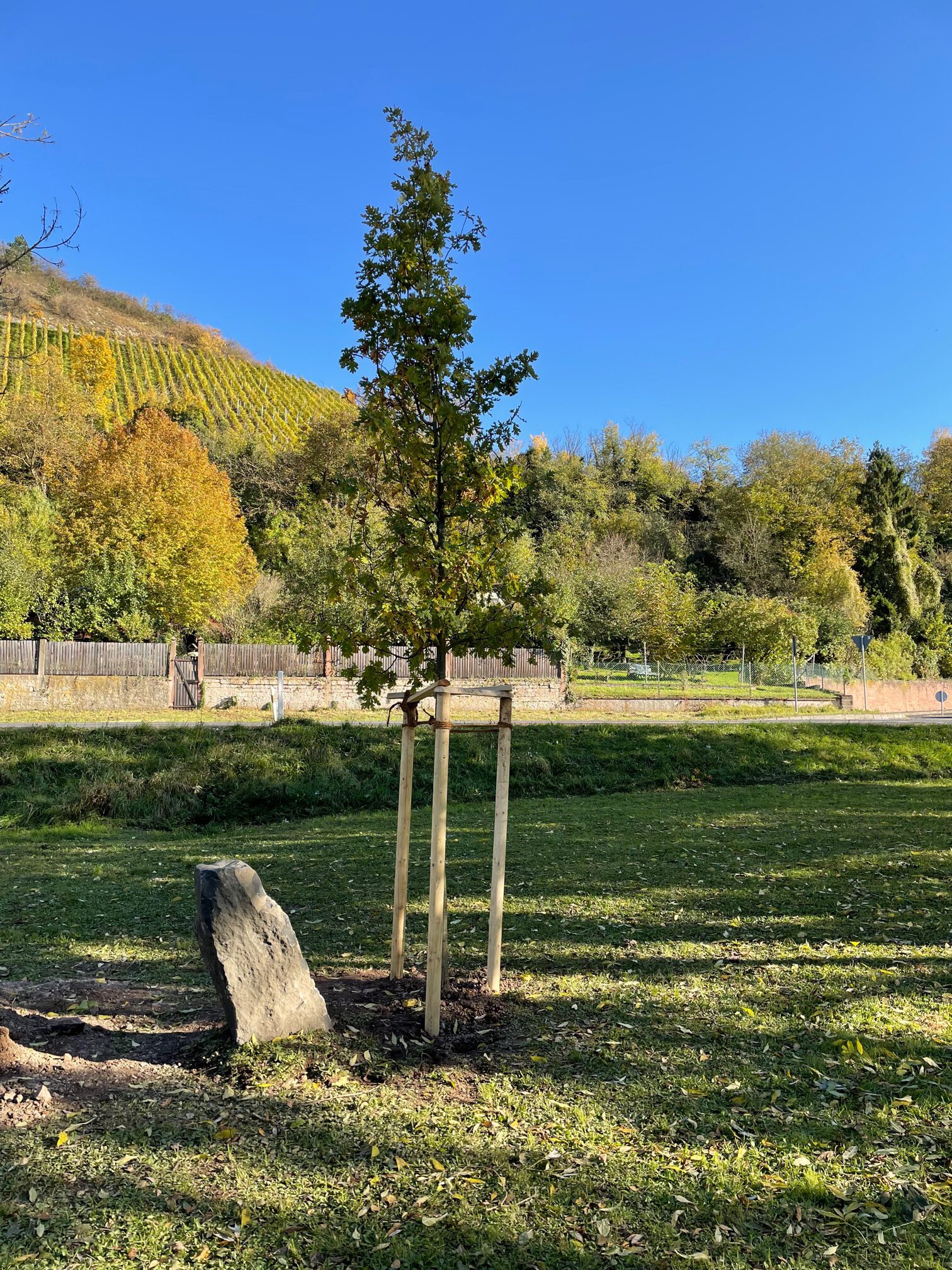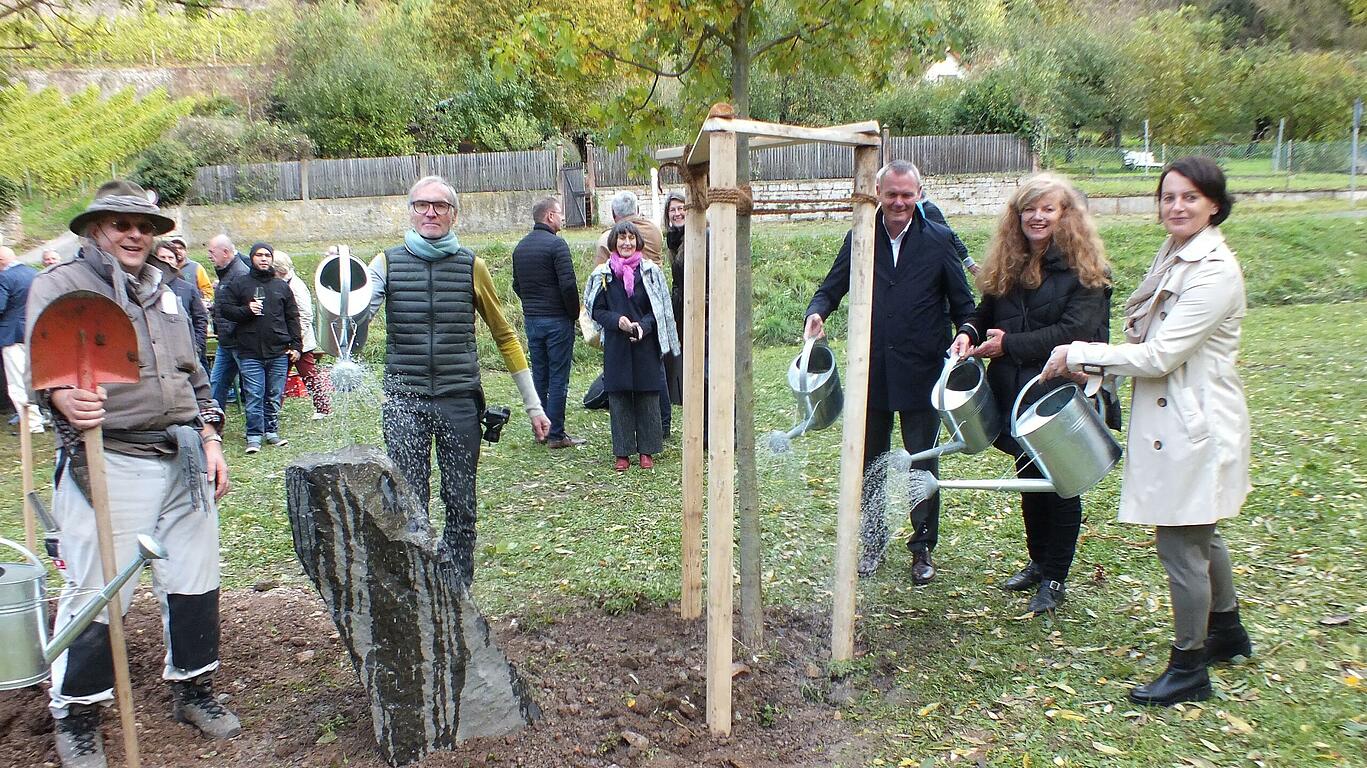 E Fig:
1st R.f.l.t.r.: Before the planting action, the numerous participants gather around DASMAXIMUM project manager Lothar Müller, who explains the concept of the oak planting according to Joseph Beuys.
2nd R.f.l.t.r.: After the basalt stele and tree have been placed, and while the young oak shines in the most beautiful weather, Lothar Müller hands over the tree sponsorship certificates to the initiator Elvira Lantenhammer and Mayor Kerstin Deckenbrock.
3rd R.f.l.t.r.: Now the stele and tree are being watered by (f.l.t.r.) U We Claus (former assistant of Beuys), Lothar Müller (project manager DASMAXIMUM), Thomas Stamm (mayor of Marktheidenfeld), Elvira Lantenhammer (initiator) and Kerstin Deckenbrock (mayor of Markt Triefenstein).
Photos: Elvira Lantenhammer