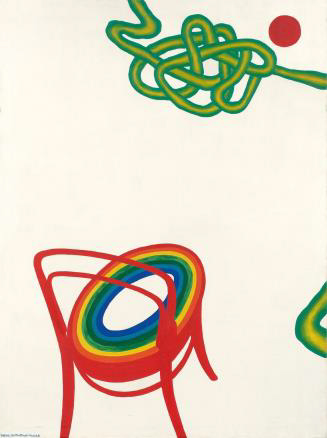 Uwe Lausen "My Time Machine" (1968), oil on canvas, 160 × 120 cm © VG Bild-Kunst, Bonn 2019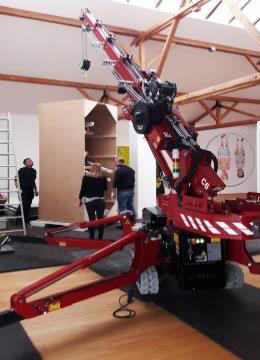 A bigger action was the transport of "Frau Ultramarin", 2004, a monumental cedar wood sculpture by Georg Baselitz, which is back again, Photo: DASMAXIMUM
New Lausen Works, Baselitz Relocation
In December, the museum year at MAXIMUM came to an end with a major campaign: behind the scenes it was rumbling when, after a year and a journey to Basel and Washington, Georg Baselitz's monumental cedar wood figure "Frau Ultramarin" returned to the delight of all employees and regular guests. In an elaborate action with a gantry crane and a large contingent of skilled workers, it was freed from its more than four-metre-long transport box and set up again. In the Baselitz-Saal a new hanging became due; Georg Baselitz generously continues to lend his sculpture "Winter Sleep" to the MAXIMUM. The crane was also used for this 1.5 ton bronze.
Since the end of December Fridtjof-Nansen-Straße is usable again, but now more spacious and with a wide walkway. For over six months, the Nansenstrasse construction site had left access to the MAXIMUM only through a back door in Gartenstrasse, making mail, rubbish collection, mat changes and transport almost impossible. Almost 4,000 visitors nevertheless found their way to DASMAXIMUM in 2018, including over 100 groups in guided tours. Barriers next to the gate currently mark the sites for new "oak plantings in honour of Joseph Beuys" planned for April 2019.
After several new acquisitions of works of art in 2018 - especially by ¬ - the Lausen-Saal was re-hung for 2019: for the first time now the two large formats "Jagd auf das letzte Fleisch" from 1967 and "Meine Zeitmaschine" from 1968 [(c) VG Bild-Kunst, Bonn, Repro: DASMAXIMUM], as well as a whole series of late crayon drawings can be seen in Traunreut.