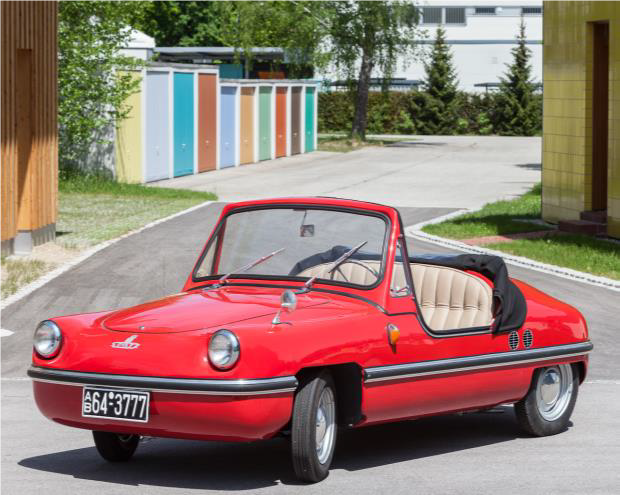 The "Sparrow" from the production Harald Friedrich on the premises of the museum DASMAXIMUM KunstGegenwart. Other vintage cars - including the coupe and racing car versions of the "Spatz" - are currently on display at "Brüderl. Schöne Räume" and can be viewed as part of the trilogy tours. Photo: Franz Kimmel
With the DASMAXIMUM KunstGegenwart Foundation, art patron Heiner Friedrich donated an art collection of international standing to the Chiemgau region. His father Harald Friedrich had founded the Alzmetall company in Altenmarkt after the war and produced the "Spatz" small car in the 1950s on what is now the museum site in Traunreut. In his private life, too, he had a passion for noble vehicles. A small selection from Harald Friedrich's classic car collection, including the Spatz and its racing car version, is currently being presented by the company "Brüderl. Schöne Räume" in connection with examples from Traunreut's industrial history.
The exhibition is a private initiative in cooperation with the estate of Harald Friedrich and the DASMAXIMUM foundation. It combines Harald Friedrich's vision of a car museum for Traunreut with the idea of a museum for local and industrial history. The desire for such a museum was one of the results of a participatory citizens' and integrated urban development concept (ISEK) for Traunreut in cooperation with the Munich office "Beer Architektur Städtebau". Thus, the exhibition can also be seen as a vivid initial spark for the municipal planning of a museum, which would set an attractive cultural accent for the city and the district.
The tour with Dr. Birgit Löffler, director of the museum DASMAXIMUM, and Georg Brüderl, owner of the Brüderl company and organizer of the classic car exhibition, tells the story of the MAXIMUM site, presents its current use as a museum and provides a rare insight into the two so different collection focuses of father and son Friedrich.