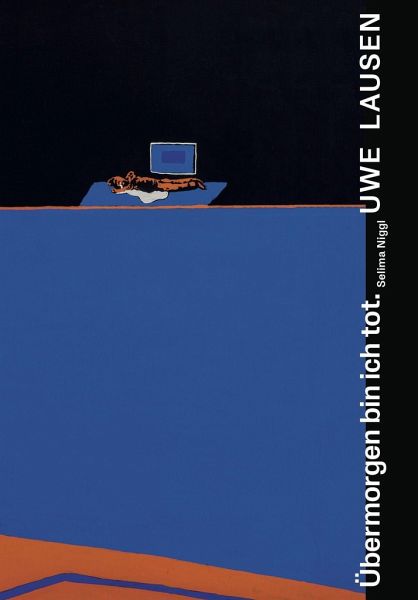 Fig.: Book cover of Niggl, Selima: UWE LAUSEN. Übermorgen bin ich tot, Verlag der Buchhandlung Walther und Franz König, Cologne, 2021.

Book launch and guided tour UWE LAUSEN. The day after tomorrow I will be dead:
Sunday, 14.11.2021 at 2:00 pm
Pre-registration required: Mail@dasmaximum.com
For the participation in the event only the Entrance fees (8€/5€) for the museum visit an.
Please note that the event and the museum visit are subject to the 2G control are subject to.
The art world and Lausen lovers had to wait a long time for it, but now it is finally here:
With UWE LAUSEN. ÜBERMORGEN BIN ICH TOT (Tomorrow I'm Dead), SPUR connoisseur and Lausen specialist Selima Niggl presents the first comprehensive monograph on the life and work of this remarkable German painter of the 1960s.
"It may be considered a standard work on Uwe Lausen and will expand our knowledge of the recent history of art and the art market in the Federal Republic of Germany." writes Philipp Ursprung, Professor of Art and Architectural History at ETH Zurich.
Published by the Walther & Franz König bookshop, the book impresses with its generous layout and outstanding design, for which Selima Niggl was able to enlist the Karlsruhe art professor and artist Axel Heil. In productive interaction, they developed a parallel story in illustrations that invites close observation.
The DASMAXIMUM Foundation in Traunreut houses the world's largest collection of paintings by Uwe Lausen. Its benefactor Heiner Friedrich was an early supporter of the artist and showed his work in solo exhibitions at the Galerie Friedrich+Dahlem in Munich as early as 1964 and 1966. For this reason, the promotion and financial support of the publication was a great concern to us from the very beginning. All the more reason for us to be delighted with the wonderful result.
Next Sunday, on the occasion of the publication, there will be a book presentation and guided tour of UWE LAUSEN. ÜBERMORGEN BIN ICH TOT with the author Selima Niggl at DASMAXIMUM KunstGegenwart, to which we cordially invite you.
The publication is now available for purchase in our museum shop, among other places.