Planting at the Hessian State Museum Darmstadt with Mayor Jochen Partsch (right) and Dr.Martin Faass (left), Photo: Anne-Sophie Ebert (HLMD)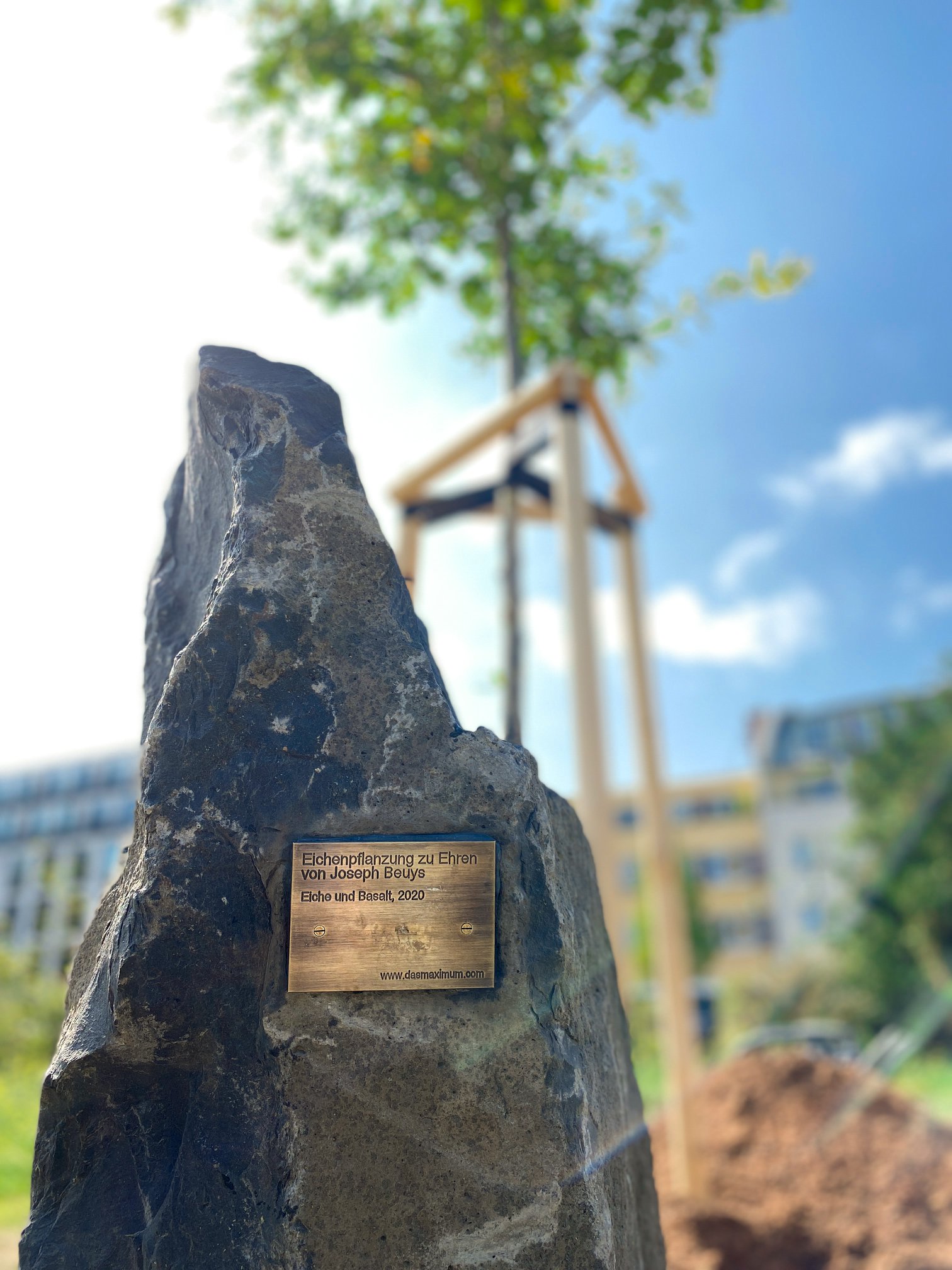 Oak with basalt stele at the Hessian State Museum Darmstadt, Photo: Anne-Sophie Ebert (HLMD)
At the Hessisches Landesmuseum Darmstadt, an oak tree was planted and a basalt stele was erected in the presence of Lord Mayor Jochen Partsch and Director Dr. Martin Faass.
The Hessisches Landesmuseum houses the "Block Beuys," the world's largest complex of works by the artist. It comes from the Ströher Collection assembled by Heiner Friedrich and Franz Dahlem in the 1960s. The "Oak Planting in Honor of Joseph Beuys" is part of the supporting program of the special exhibition "Power Plant Block Beuys," for which an interview film with DASMAXIMUM donor Heiner Friedrich will also be shown. For the Beuys action "7000 Oaks" in Kassel 1982-1987, the New York Dia Art Foundation financed the 7000 basalt stelae. Dia co-founder Heiner Friedrich was also the initiator of the "Oak Planting in Honor of Joseph Beuys" that started in Traunreut and donated a respectable basalt stele for the planting at the Hessisches Landesmuseum.
The tree chosen was a summer oak (Quercus robur) with a trunk height of about 2.20 metres plus crown. The circumference of the trunk measured at a height of one meter was about 16 to 18 cm. The basalt stele comes from the Dietrichsberg quarry in the Rhön. It is 140 cm high, 45 thick and weighs about 500 kilograms. One third of the stele is set into the ground without a foundation, so that the tree roots and stele grow together as one unit.
The organic company Alnatura, cooperation partner of the Hessisches Landesmuseum Darmstadt, planted another oak with basalt stele in the green area of the company headquarters.