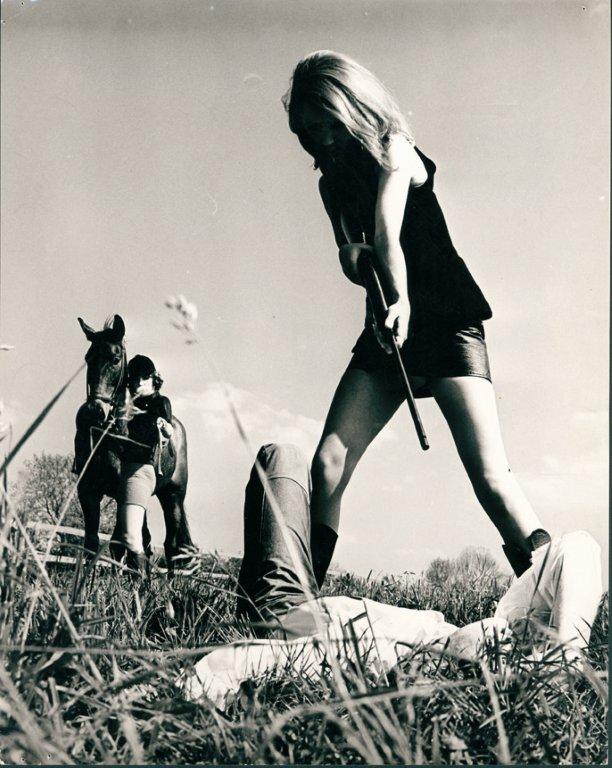 Heide Stolz, Untitled [from a series on the keyword "energy"], c. 1965-1967
"The staged provocation" - photography by Heide Stolz from the 60s, exhibition at the Städtische Galerie Traunstein: 28 June to 28 July 2013.
The photographs of Heide Stolz (1939-1985) have so far often been seen in the context of the painterly work of her husband Uwe Lausen , who as a Pop Art genius of the 1960s has only recently been rediscovered in retrospective exhibitions in Frankfurt (2010), Munich (2010) and Hamburg (2011).
The exhibition "Die stzenierte Provokation" with black and white photographs by Heide Stolz dedicates a large solo exhibition to her photographic work and reveals the outstanding quality and powerful influence of these works on painting. In addition to sensitive portraits that place the human being as a vulnerable being damaged by his socialization at the center of the pictorial statement, there is an impressive fund of photographs that were taken in thematic groups and as motif series. Man and society are at the center and are dominated by violence, oppression, dependence and aggressiveness on the one hand and rebellion and resistance on the other.
They are photographed stills from carefully choreographed and staged performances in which provocation is used in an aesthetically radical way as an artistic means of enlightenment. Aesthetics and a media-critical approach elevate Heide Stolz's black-and-white photographs beyond the status of contemporary documents and give them the status of explosive and highly topical artistic works. The photographer Heide Stolz: a discovery!
Contribution to the Upper Bavarian Culture and Youth Culture Days 2013
Vernissage: DO, 27 June 2013, at 7 pm
Guided tour: DI, 16 July, at 10 a.m.
Lecture: MI, July 17, at 8 p.m,
each time in the Städtische Galerie