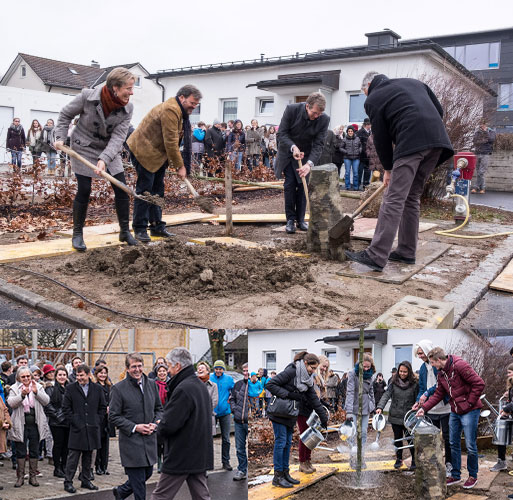 When the sculptor and action artist Joseph Beuys was in the
When the first of "7000 Oaks" was planted in 1982 in Kassel for documenta 7, this was the beginning of the realization of a utopian-looking gesamtkunstwerk of hitherto unknown dimensions. Contrary to all resistance to the "city foresting instead of city administration" and with the help of numerous foundations, donations and individual sponsorships, the last oak could be set for documenta 8 in 1987.
Next to each of the growing, living trees there is a crystalline basalt, millions of years old, which provides minerals and is a stable "guardian". Over time, the proportions are reversed and the stone is overhauled and "guarded" by the oak. The "7000 Oaks" are today regarded as the embodiment of "social sculpture". With this term Beuys extended the current art forms by aesthetic, ecological, economic and philosophical aspects, but above all by a social point: the necessary constructive cooperation of all citizens from politicians to residents.
Already in the context of the Kassel project, Joseph Beuys developed the vision of a global planting campaign. Heiner Friedrich, co-founder of the Dia Art Foundation and founder of the DASMAXIMUM museum in Traunreut, had been closely associated with Beuys since the 1960s. He helped the Kassel oak project to become a reality by financing the associated 7000 basalt steles through his Dia Art Foundation. This continued the project "7000 Oaks" in the middle of New York. Private individuals, schools and companies joined in.
Today, the "oak plantations in honour of Joseph Beuys" in cooperation with the DASMAXIMUM Foundation in and around Traunreut remind us of one of the most important artists of our time, for whom the positive, meaningful - and healing - work for society and nature was an essential concern. "...because we never want to stop planting!" Joseph Beuys