19.03.2021 OAK PLANTING IN HONOUR OF JOSEPH BEUYS INGOLSTADT, MEADOW IN FRONT OF THE CITY MUSEUM
As a prelude to the cooperation project between the museum DASMAXIMUM and STADTKULTUR Netzwerk Bayerische Städte e.V. on the occasion of the 100th birthday of Joseph Beuys, the first oak tree was planted in front of the City Museum in honour of the artist. The nearby Freiherr-von-Ickstatt Realschule, whose staff and pupils were also actively involved in the spirit of a "social sculpture", became the tree sponsor. In the run-up to the event, the pupils contributed the templates for three banners in which they drew the planting action and developed ideas about what would happen to the plantation in 200 years' time.
Actually, all 637 students would also have liked to participate in the planting, but due to the current Corona restrictions, only two student representatives were able to take part in the action, which took place in a small circle and in frosty temperatures. Nevertheless, the planting sends a strong signal; the questions posed by Joseph Beuys - as cultural officer Gabriel Engert emphasized - are more relevant than ever. In addition to the "Social Sofa" and Alf Lechner's "Ring Sculpture", the oak in honor of Joseph Beuys is now the third work of art on the open space in front of the City Museum, which - so hopes 2nd Mayor Dorothea Deneke-Stoll - should also soon experience a revival.
PARTICIPANTS
Tree sponsor: Freiherr-von-Ickstatt Secondary School
Initiator: Director Johanna Mödl
Planting: Ingolstadt Garden Department
Tree: Red oak
Basalt Stele: Dietrichsberg Quarry, Rhön A cooperation project of the DASMAXIMUM Foundation with Stadtkultur-Netzwerk Bayerischer Städte e.V. and the City of Ingolstadt
PHOTOS OF THE OAK PLANTING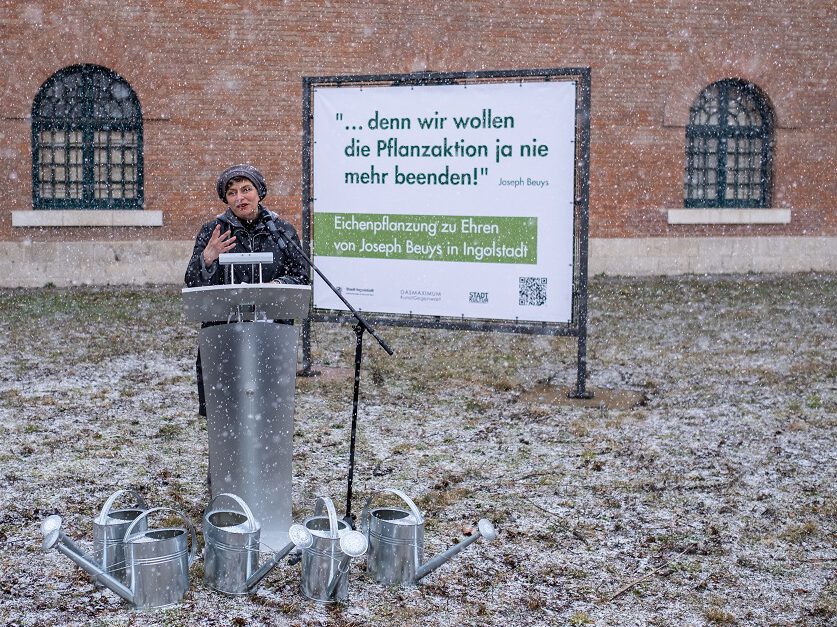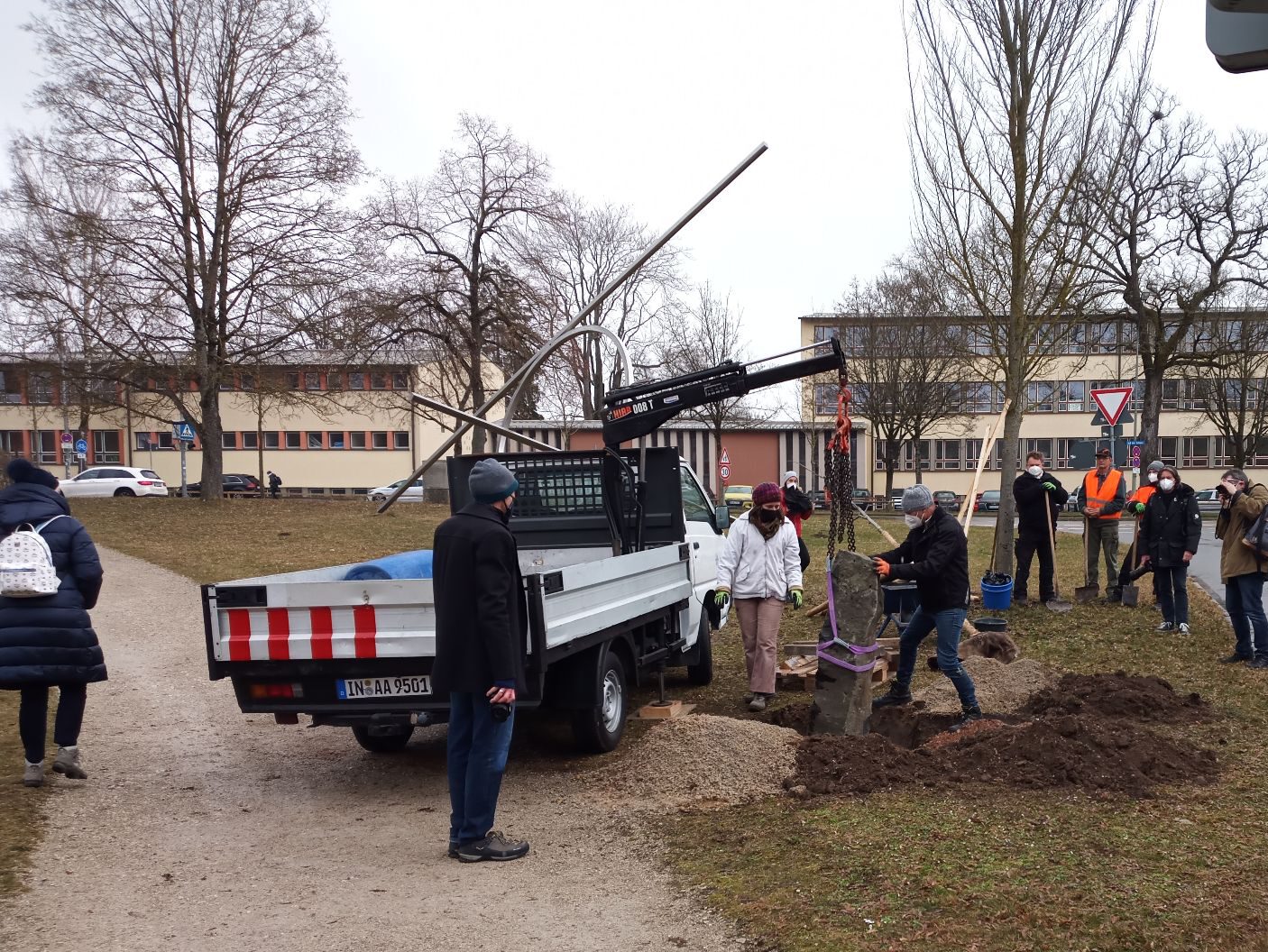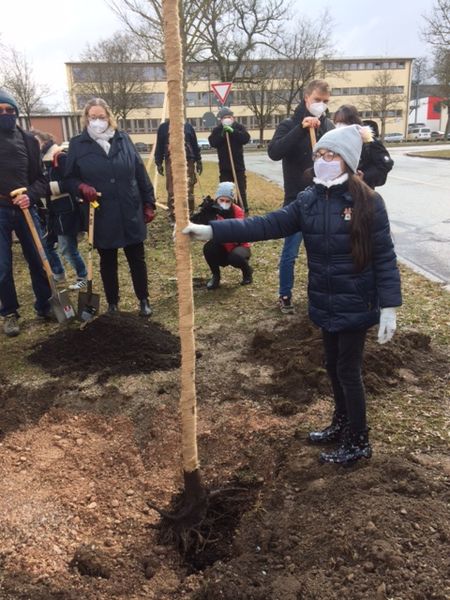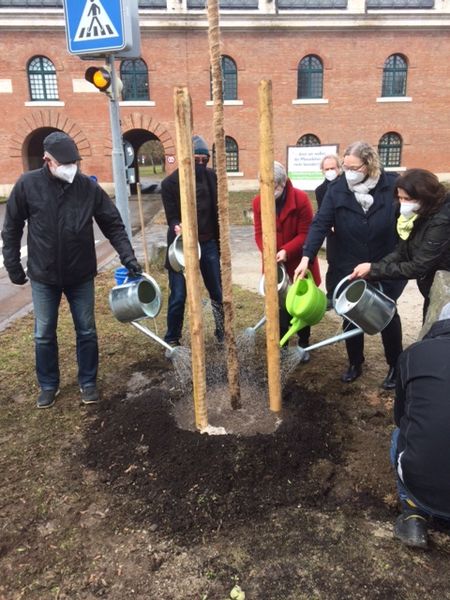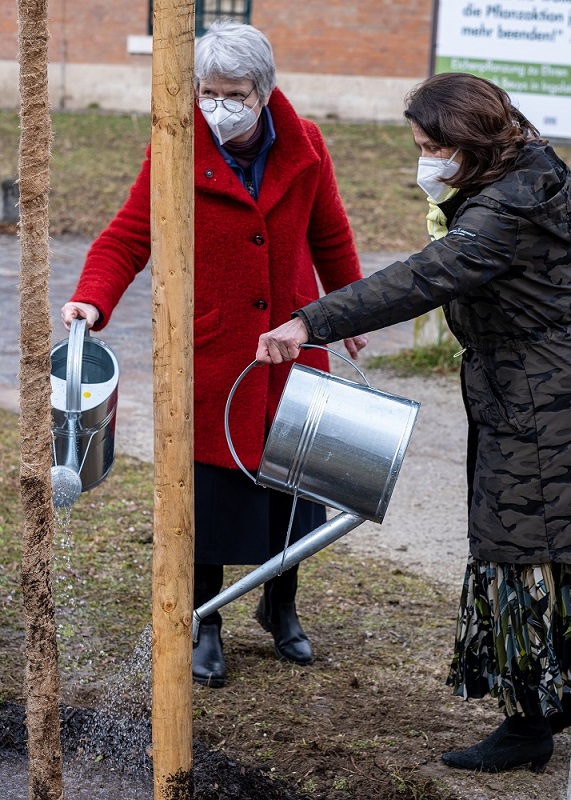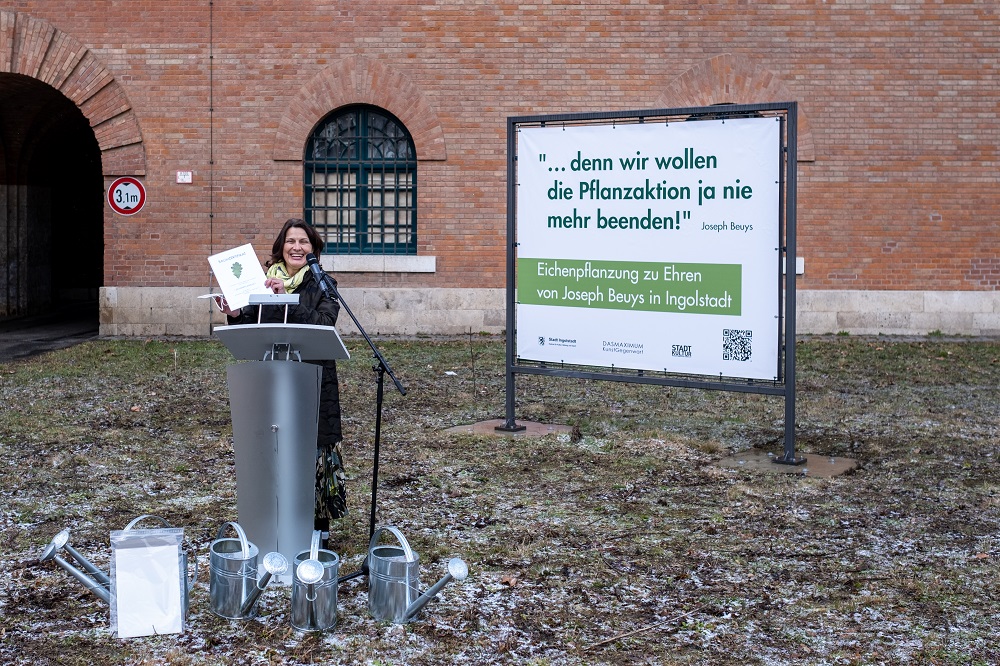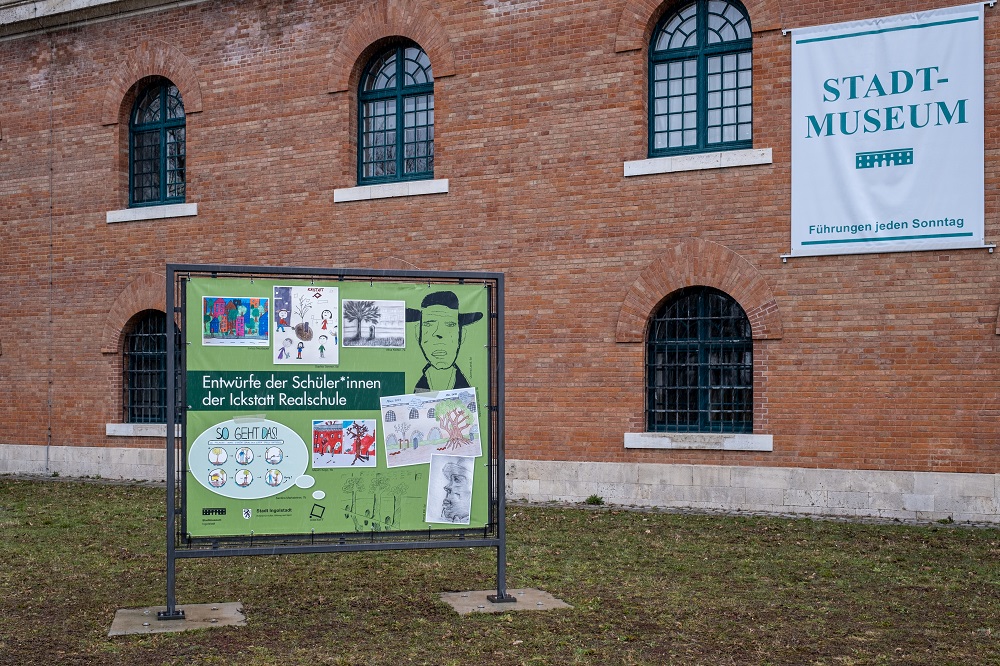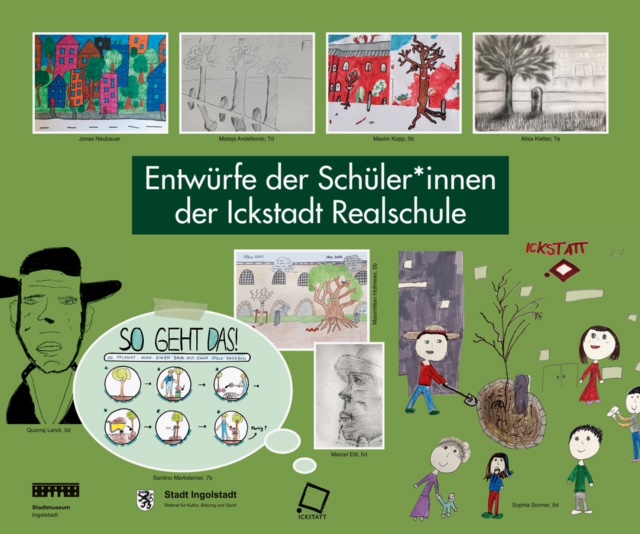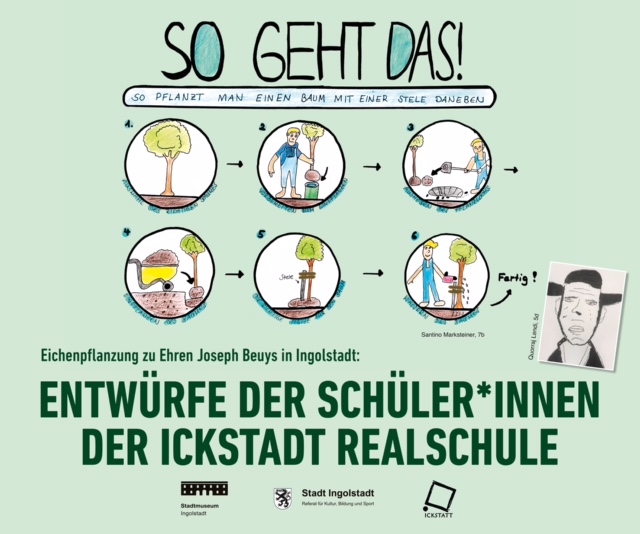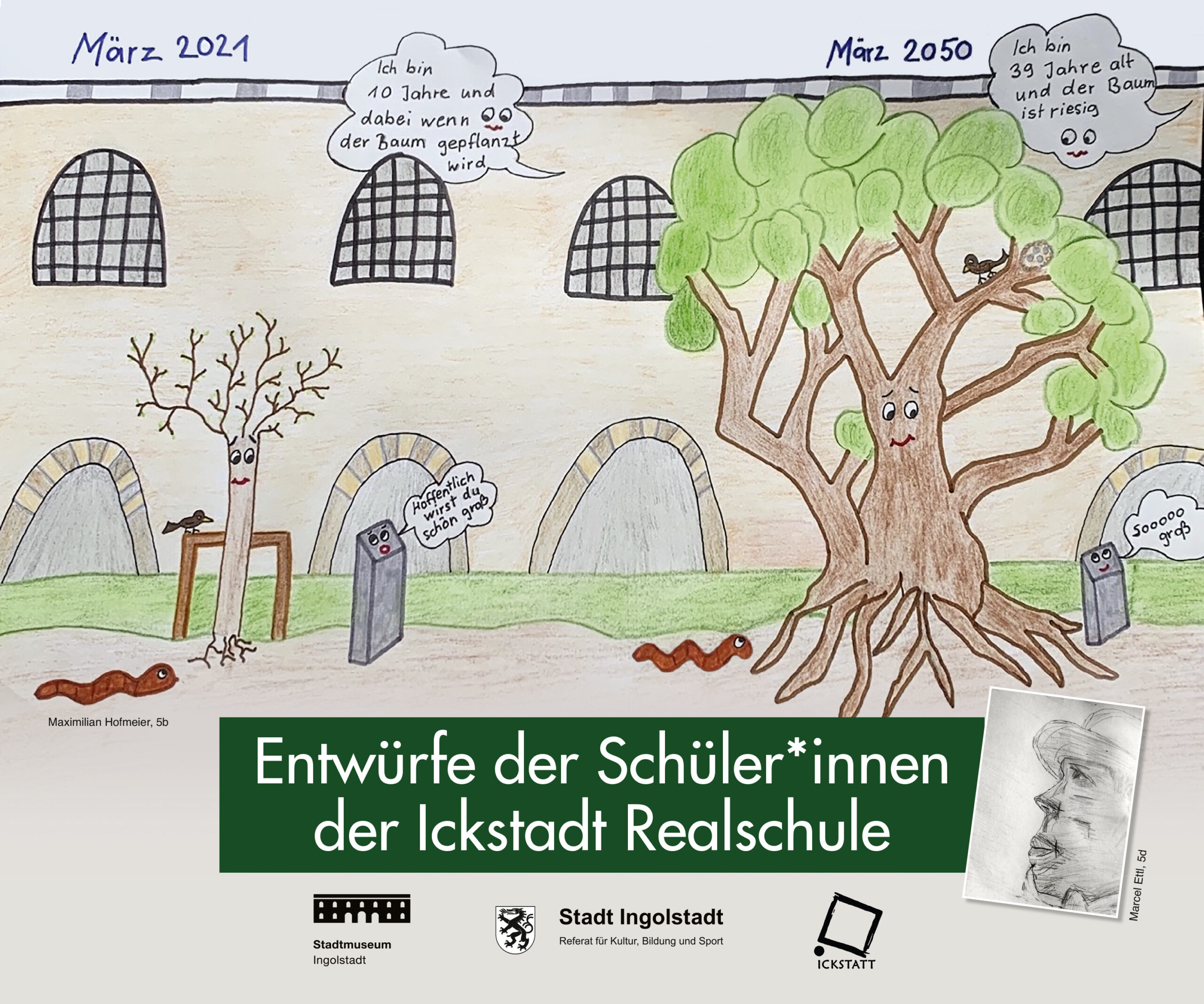 Fig. 1.R.: Dr. Christine Fuchs, Head of STADTKULTUR Netzwerk Bayerischer Städte e.V. speaks introductory words before the planting; employees of the Ingolstadt Garden Department setting the basalt stele. 2.R.1.B.: A student representative of the Freiherr-von-Ickstatt Realschule holds the oak tree for better positioning; to the left, Lothar Müller, project manager of the DASMAXIMUM oak planting, and Petra Kleine, 3rd Mayor of Ingolstadt. 2.R.2.B: Ulrich Linde, former Head of the Ingolstadt Garden Department, Lothar Müller, Dr. Dorothea Deneke-Stoll, 2nd Mayor of Ingolstadt, Petra Kleine and Johanna Mödl, Principal of Freiherr-von-Ickstatt Realschule, water the freshly planted tree. In the background Gabriel Engert, Cultural Officer of the City of Ingolstadt. 2.R.3.B.: Dr Dorothea Deneke-Stoll and Johanna Mödl watering the planting. 3.R.1.B.: Headmaster Johanna Mödel proudly presenting the tree sponsorship certificate after successful planting. 3.R.2.B and 4.R.: Posters with pupils' work from the Freiherr-von-Ickstatt Realschule on the oak planting in honour of Joseph Beuys.
Photos: Siegfried Dengler and Freiherr-von-Ickstatt Realschule