14.12.2018
OAK PLANTING IN HONOR OF JOSEPH BEUYS
TOWN HALL SQUARE TRAUNREUT
The most prominent place for an "Oak Planting in Honor of Joseph Beuys" to date is the Traunreut town hall square. The citizens' wish for more greenery on the square played a central role in the choice of this location, but also the idea that the planting campaign, which has its starting point in the city, should also be visible in a central location. Despite the icy cold on the day of planting, numerous people in charge, members of the DASMAXIMUM Circle of Friends and citizens came and were carried away by the positive mood.
PARTICIPANTS
Tree sponsor: City of Traunreut
Initiator: First Mayor Klaus Ritter
Coordination: Municipal architect Thomas Gätzschmann
Planting: City of Traunreut, Civil Engineering - Parks, Master Gardener Robert Kratzer
Earthworks: Swietelsky Gmbh
Oak: Hungarian oak
Basalt: Landsburg Quarry, donated by the Foundation DASMAXIMUM
A project by DASMAXIMUM Foundation with the city of Traunreut
PHOTOS OF THE OAK PLANTING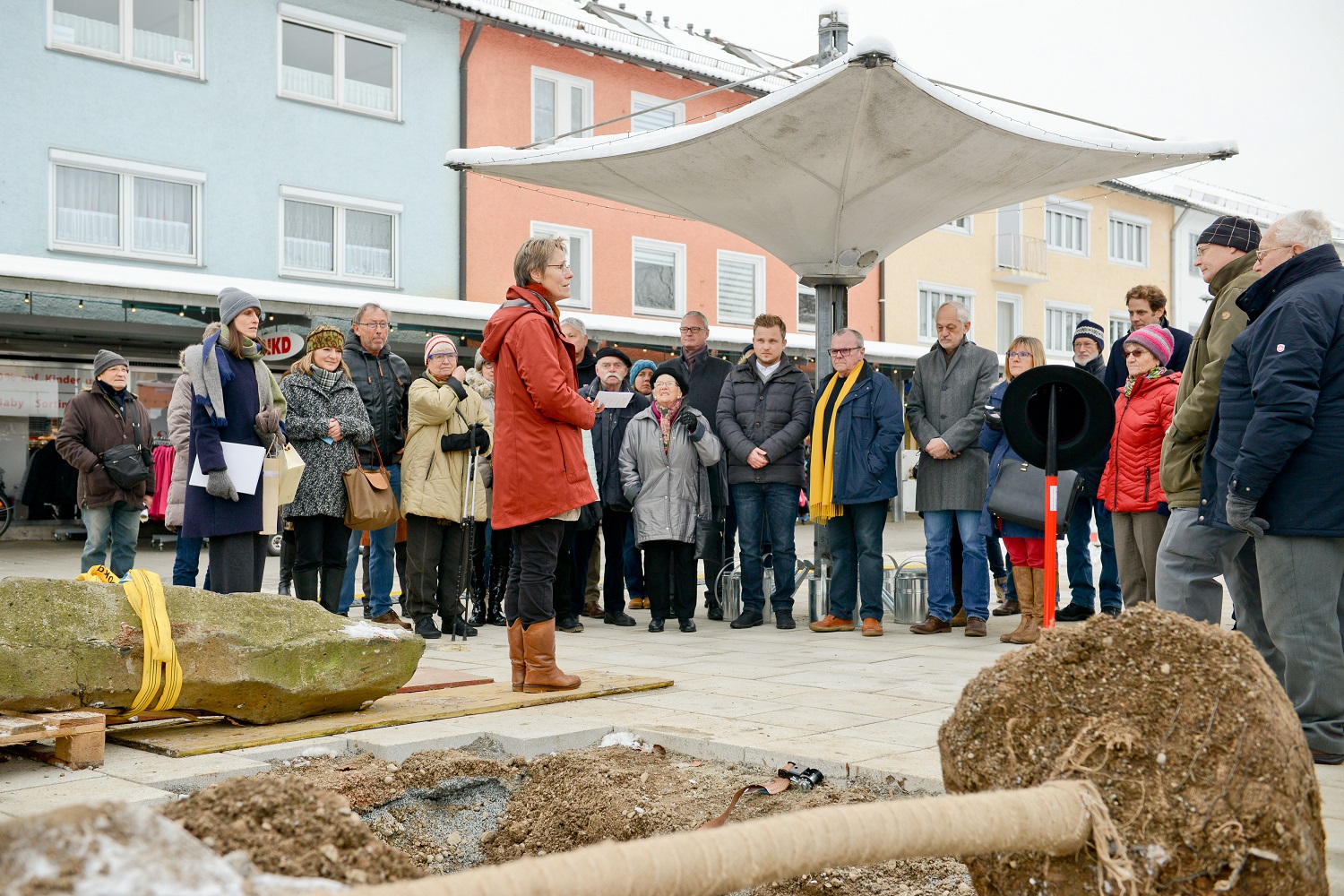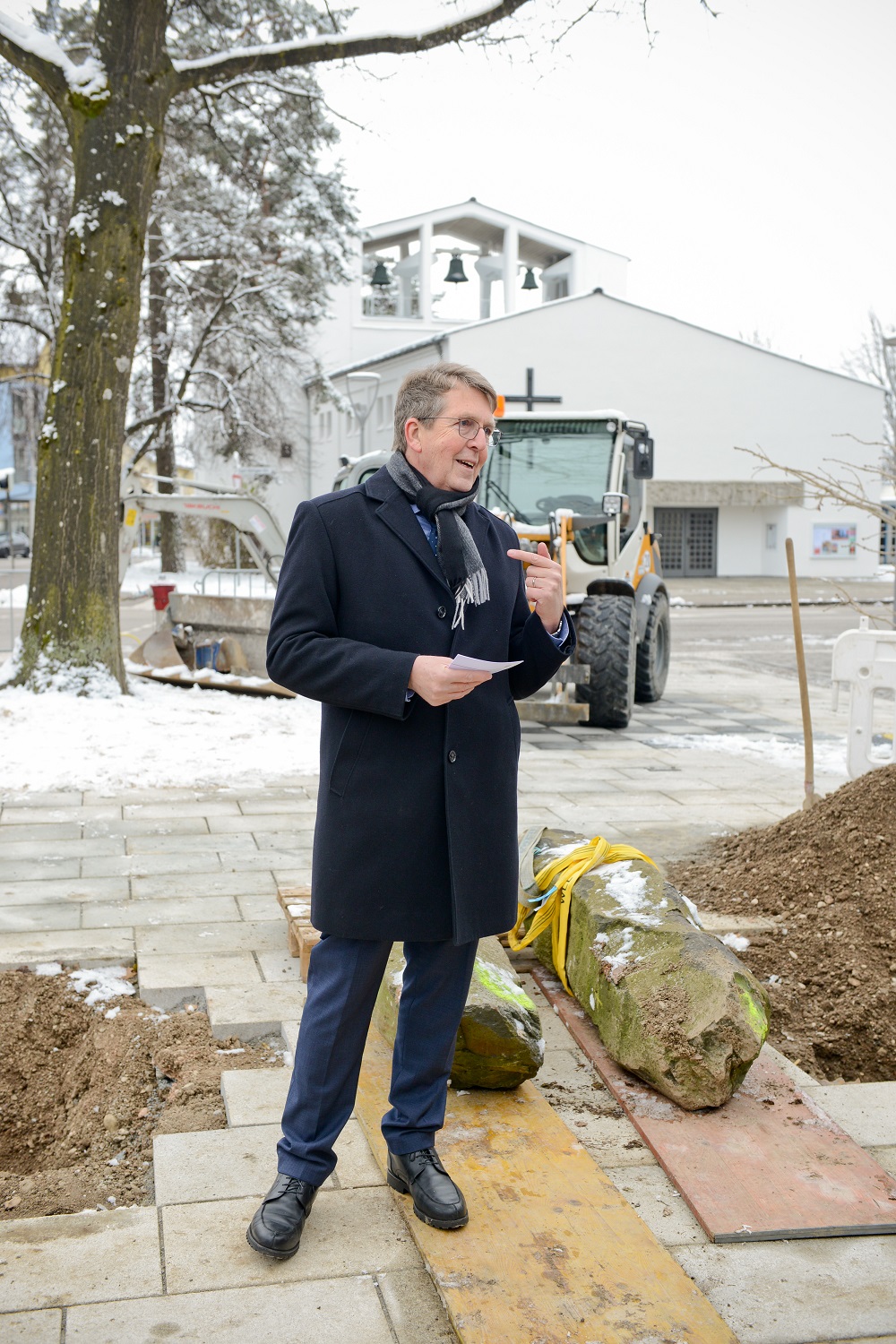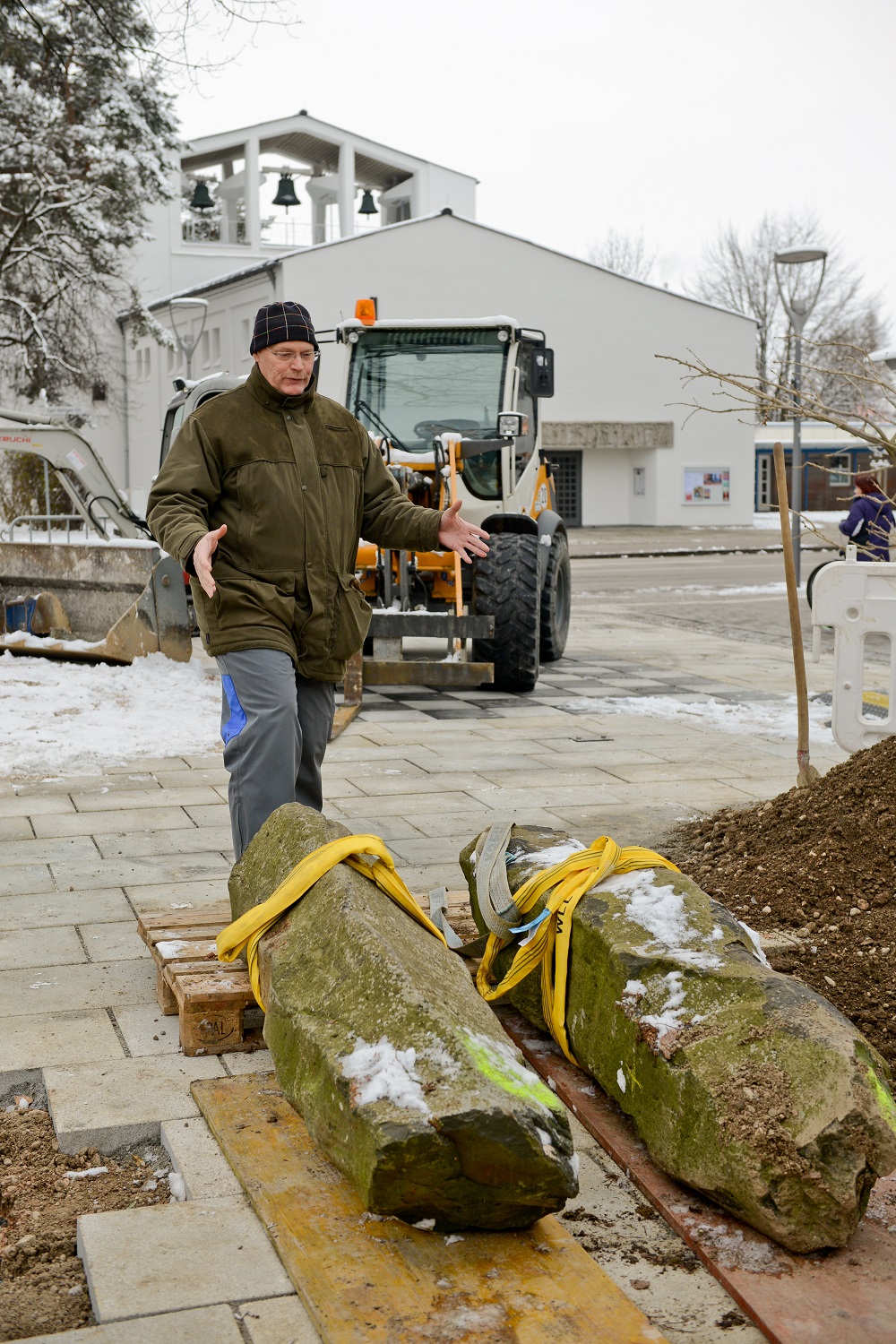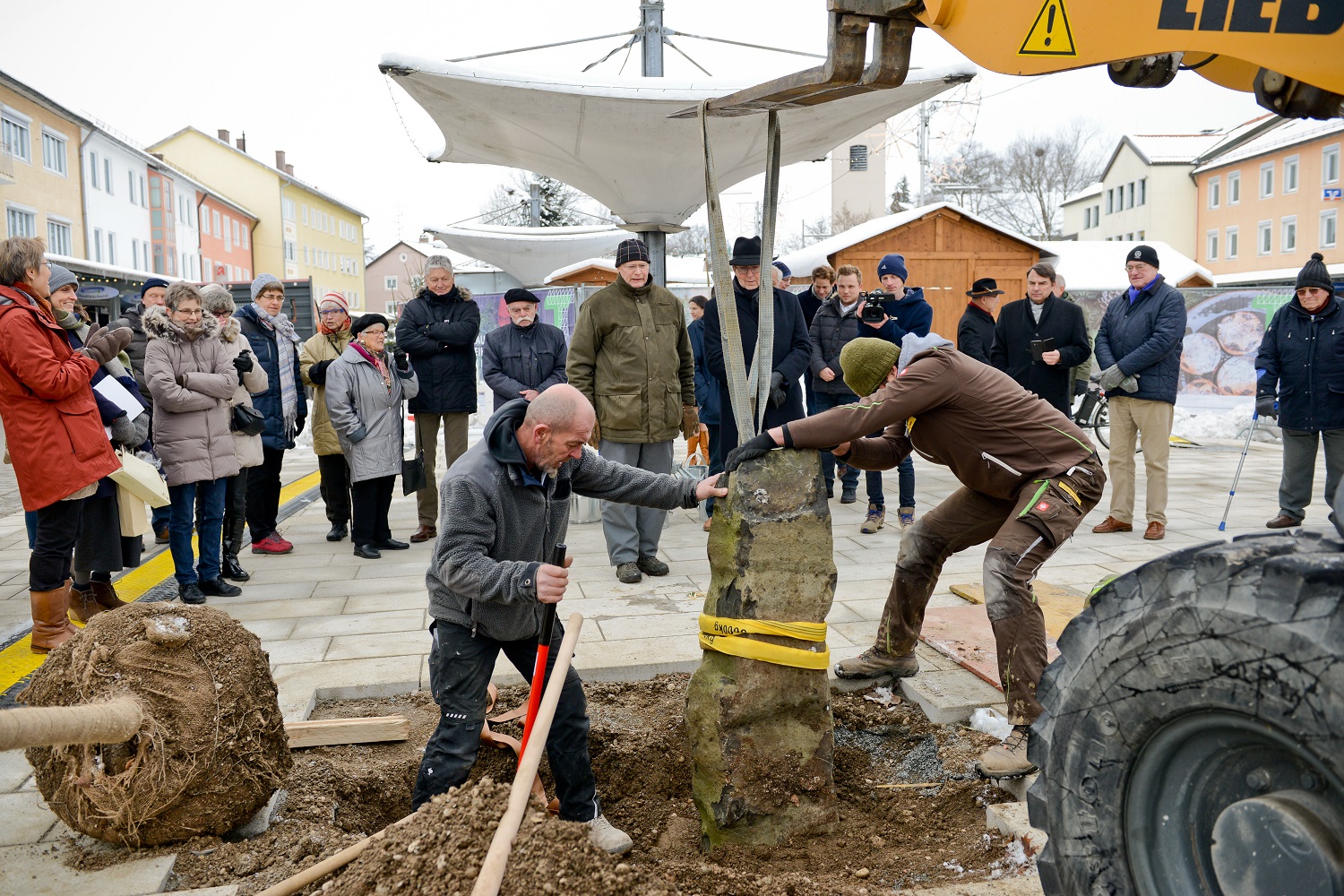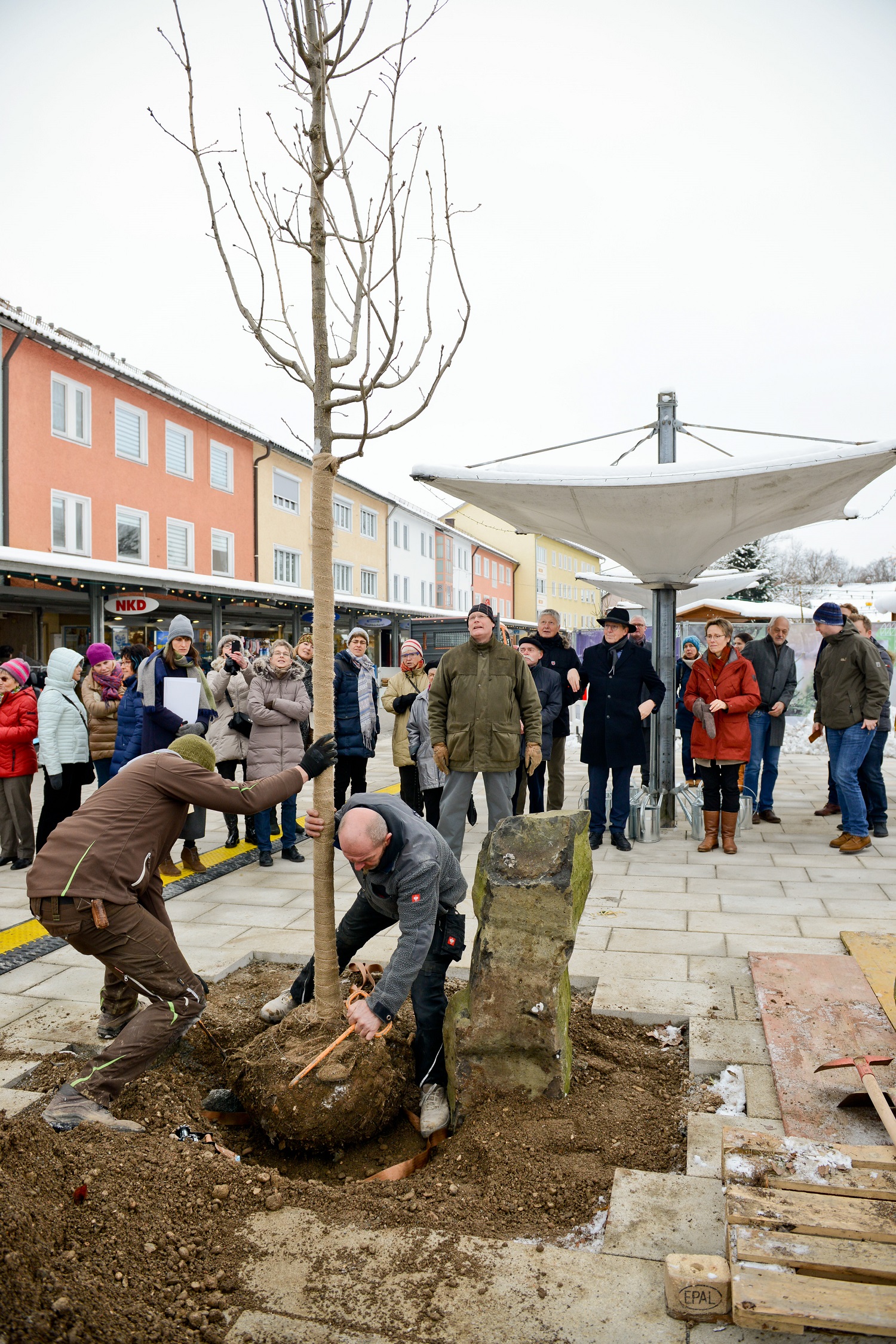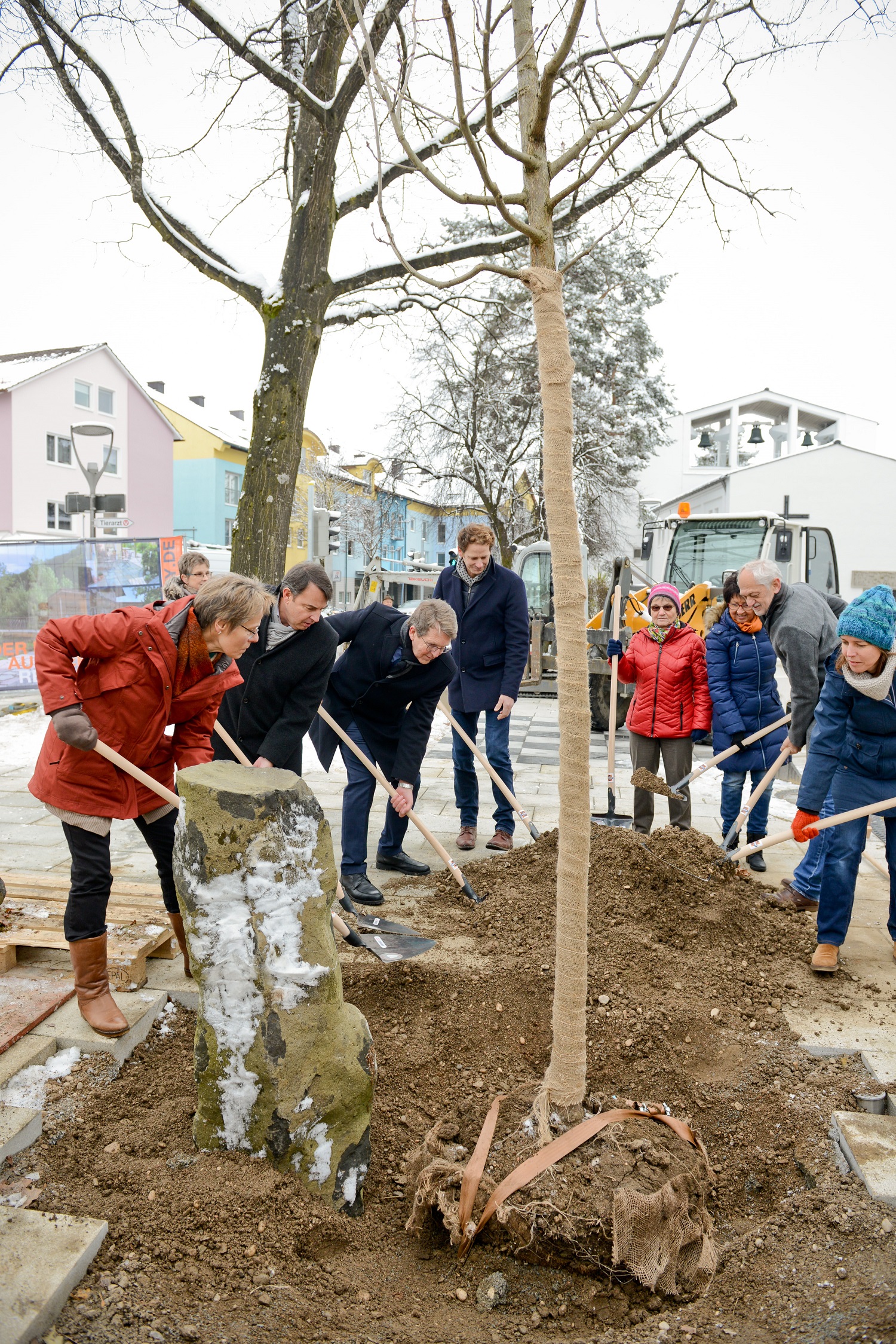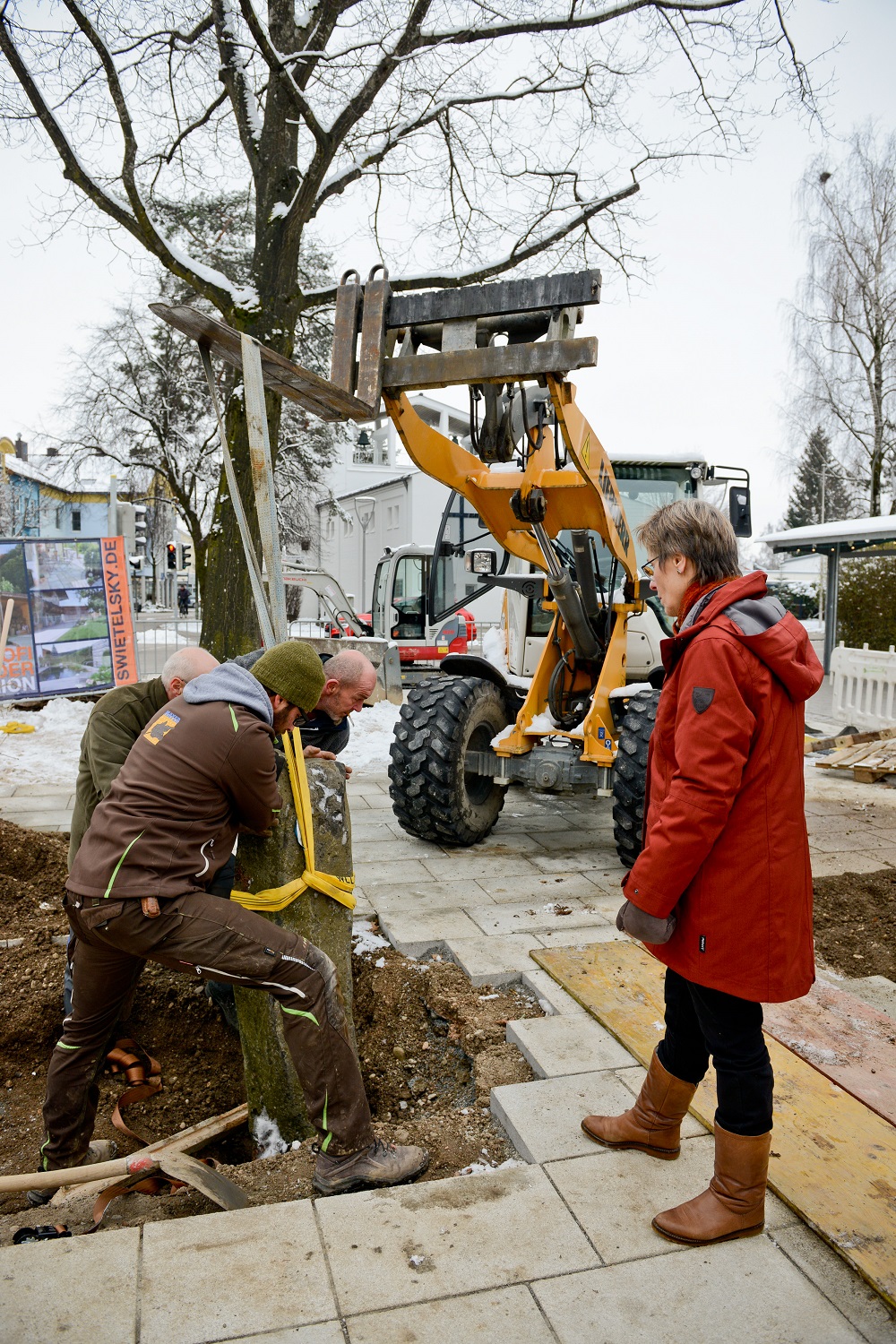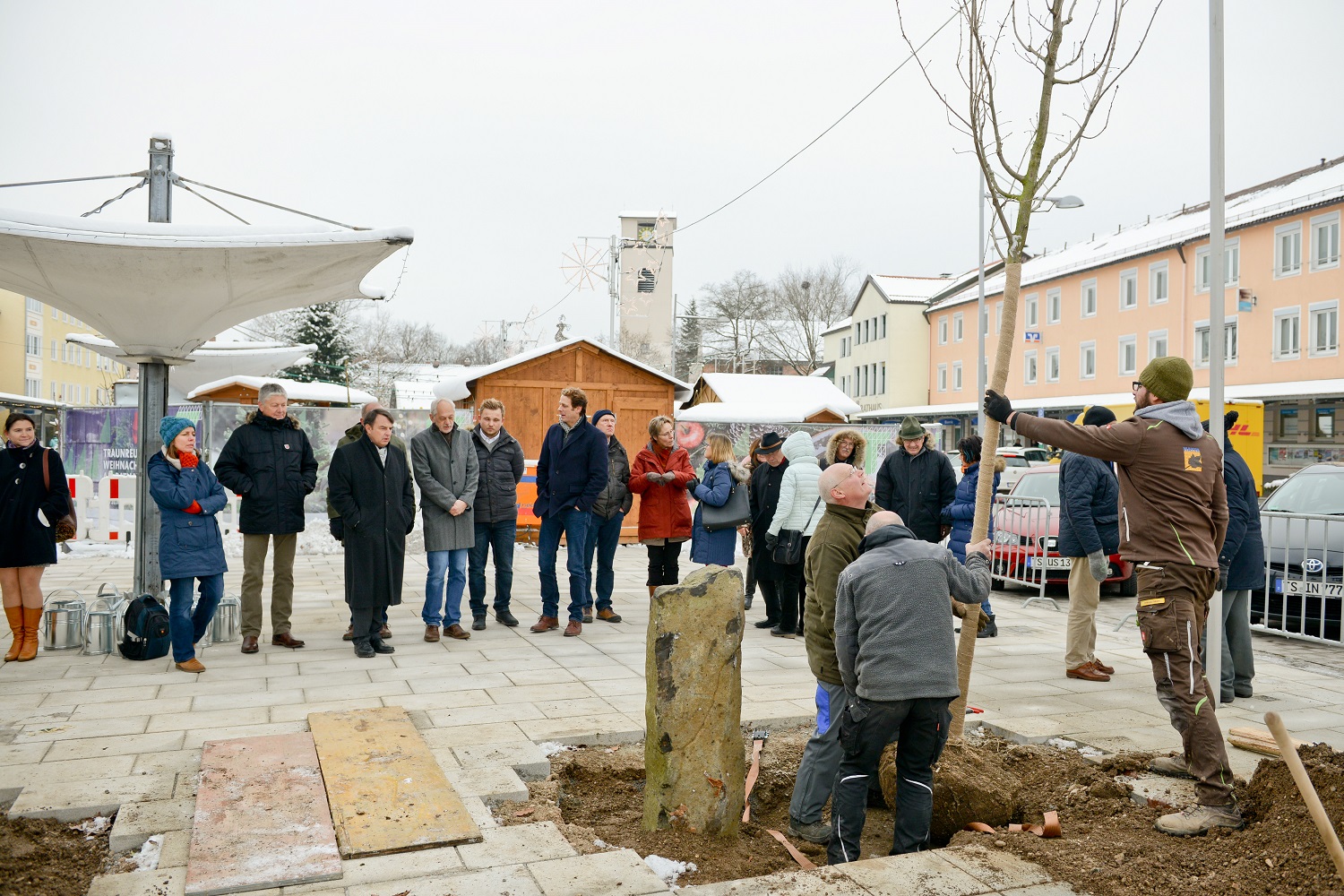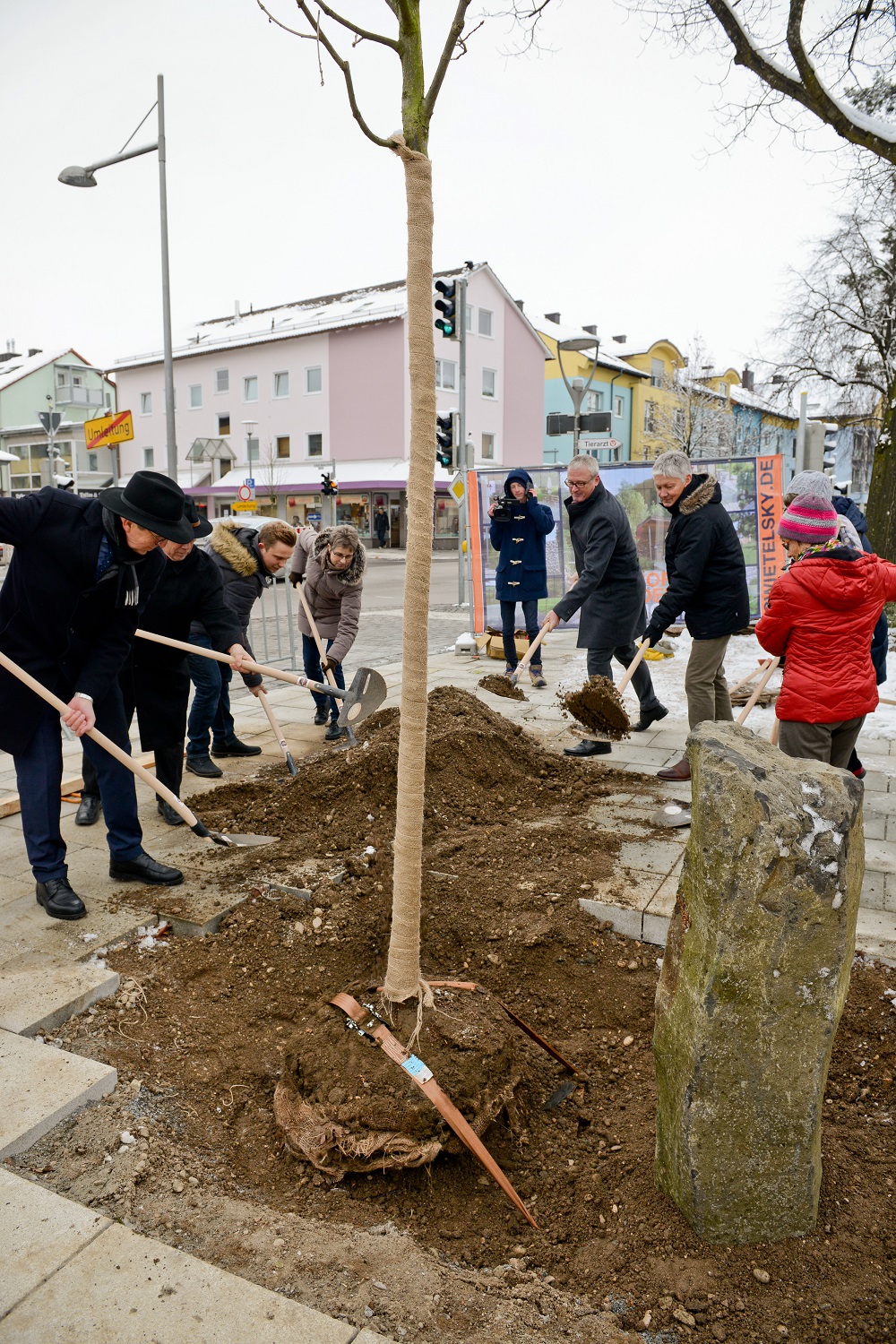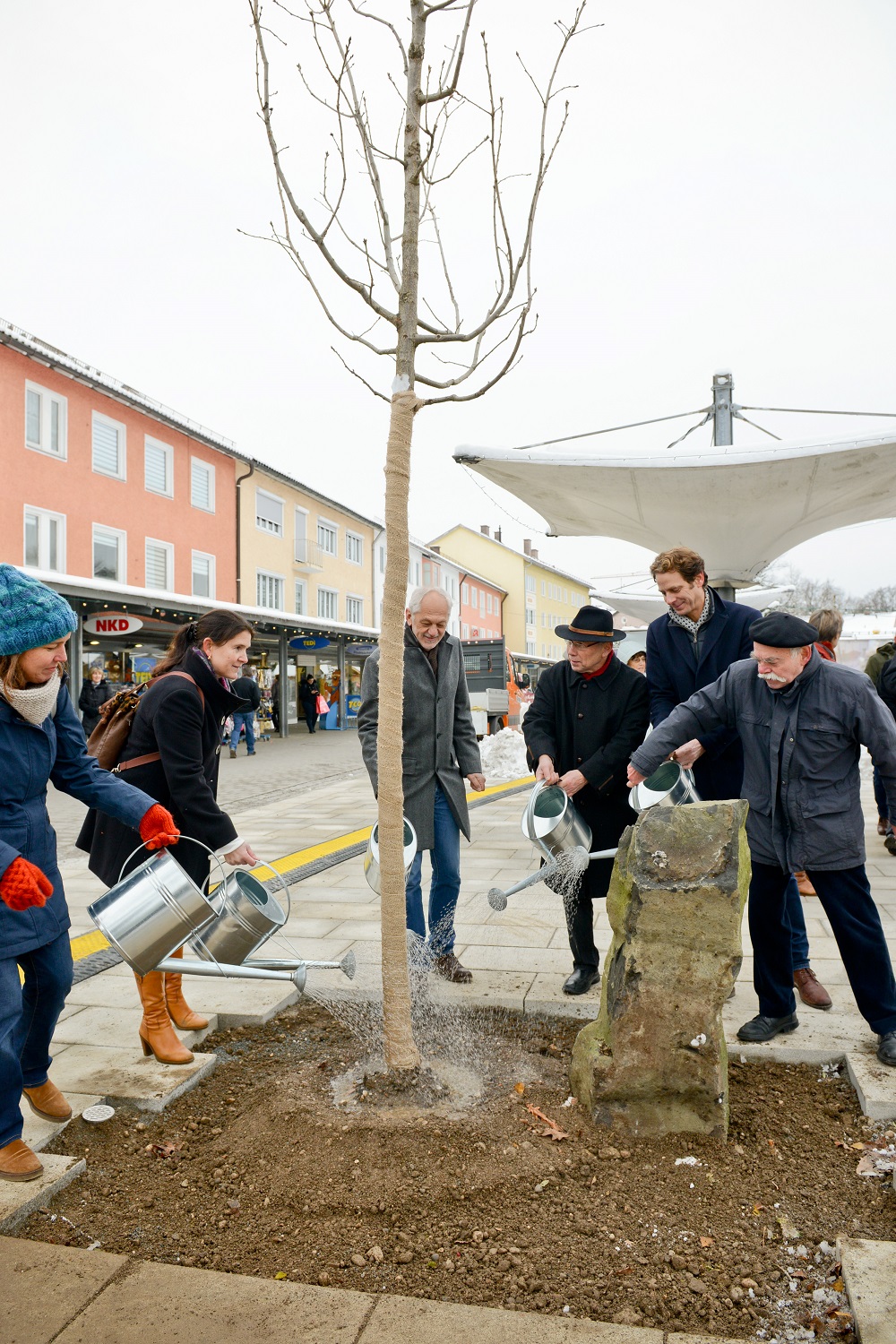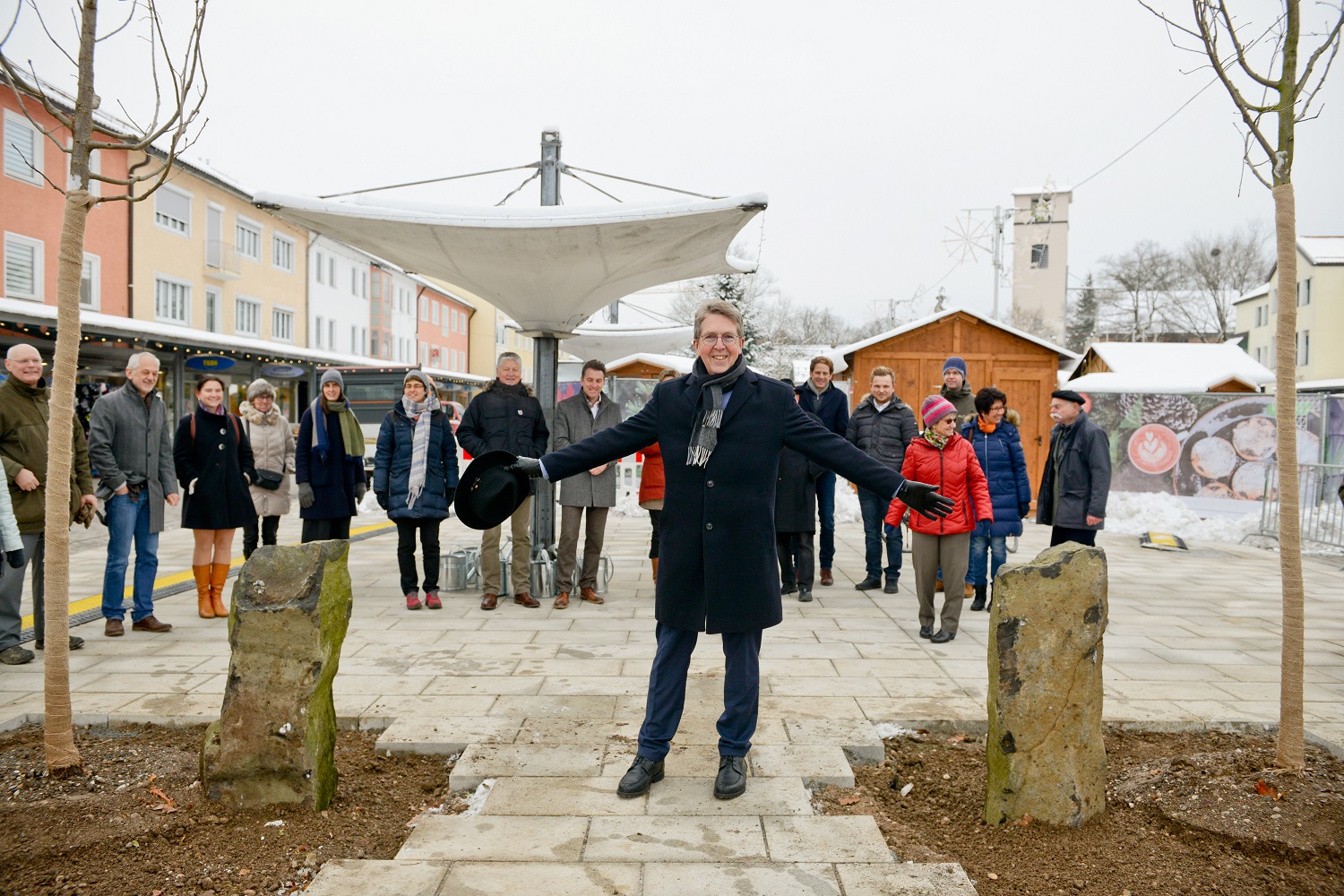 Fig.: 1. row: Dr. Birgit Löffler, Director DASMAXIMUM and First Mayor Klaus Ritter welcome everyone present. City gardener Robert Kratzer explains the procedure of the planting.
2.row: Swietelsky employees place the first basalt stele and plant the first oak. Birgit Löffler, municipal architect Thomas Gätzschmann, First Mayor Klaus Ritter and other participants shovel the excavation of the first oak planting.
3.row: Birgit Löffler inspects the setting of the second basalt stele. Robert Kratzer helps to position the second oak. Klaus Ritter, Franz Hofmann, Board Member of VR meine Raiffeisenbank eG, and Dr. Robert Anzeneder, board member of DASMAXIMUM Circle of Friends, fill the excavation of the second planting.
4. row: (from left to right) Dr. Robert Anzeneder, Dr. Michael Elsen, Head of Schlossbrauer Stein a.D., OStD Matthias Schmid, Principal Johannes Heidenhain Gymnasium Traunreut and Franz Hofmann water the oaks. At last First Mayor Klaus Ritter is pleased about the two new oak plantings in honor of Joseph Beuys in Traunreut's municipal area.
Photos: Photo Gastager / R. Winkler