10 years circle of friends - prelude into the jubilee year!
The coming year will be a very special one for DASMAXIMUM: The Friends and Sponsors of DASMAXIMUM e.V. will celebrate its 10th anniversary, our museum benefactor Heiner Friedrich will turn 85 and our lighthouse project Wort:Bilder will also enter its 10th year. To kick off the anniversary year, the Circle of Friends is organizing a very special event to which we would like to cordially invite you: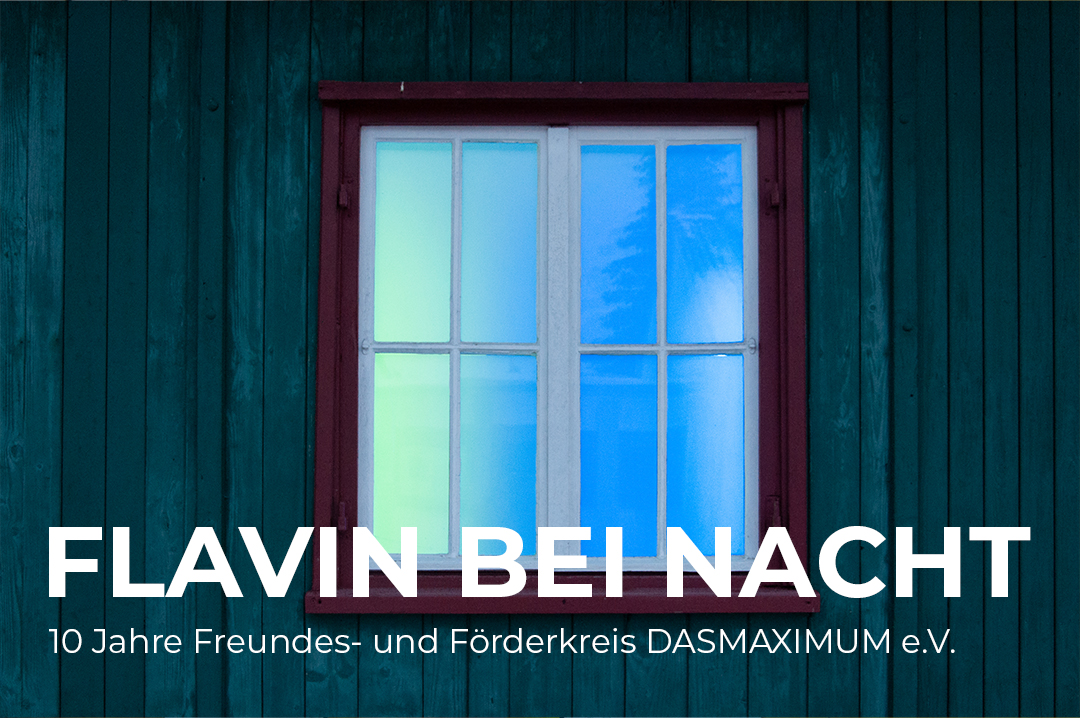 Flavin by night"How do you think the lights and colors in artist Dan Flavin's work look in the dark?" This is a question we get asked again and again at DASMAXIMUM. As a daylight museum, however, we close our doors before nightfall, which is why this question has remained unanswered for visitors until now.

At Friday, January 27, 2023, the Flavin Hall on the museum grounds will be open from 4 - 8 pm. Experience the luminous and intense color world of the light artist Dan Flavin once outside the usual opening hours! In keeping with the museum's concept, the unique light installation "European Couples" can be rediscovered again and again as the sun sets and then in full darkness. The food truck of the Country inn Hittenkirchen warms with mulled wine and indulges with fancy delicacies inspired by the theme of American art.

The American Dan Flavin (1933-1996) is probably one of the most important light artists in the world. Using industrially prefabricated fluorescent tubes and minimalist forms, he succeeded in an unconventional way in detaching fluorescent light from its use in the advertising world and transforming it into art. With the 9-part installation "European Couples" DASMAXIMUM shows one of his early major works in Traunreut. Sculpture, architecture and the light colors on the surrounding surfaces unite in it to an artwork of unlimited extension.

Program

16:00 Art Encounter for Children on Dan Flavin
17:00 Welcome by José Hazanas, Chairman of the Circle of Friends, followed by an introduction to the work "European Couples" by Dan Flavin by Dr. Maria Schindelegger, Director of DASMAXIMUM.
18:00 Heiner Friedrich and Dan Flavin, Vanessa Zmudzinski M.A., wiss. Assistant DASMAXIMUM
19:00 Introduction to the work "European Couples" by Dan Flavin by Dr. Maria Schindelegger, Director DASMAXIMUM

All visitors are invited to try out the active sheet on Dan Flavin, financed by the Circle of Friends and Sponsors.

Admission and participation in the program are free of charge!
We are looking forward to your visit.