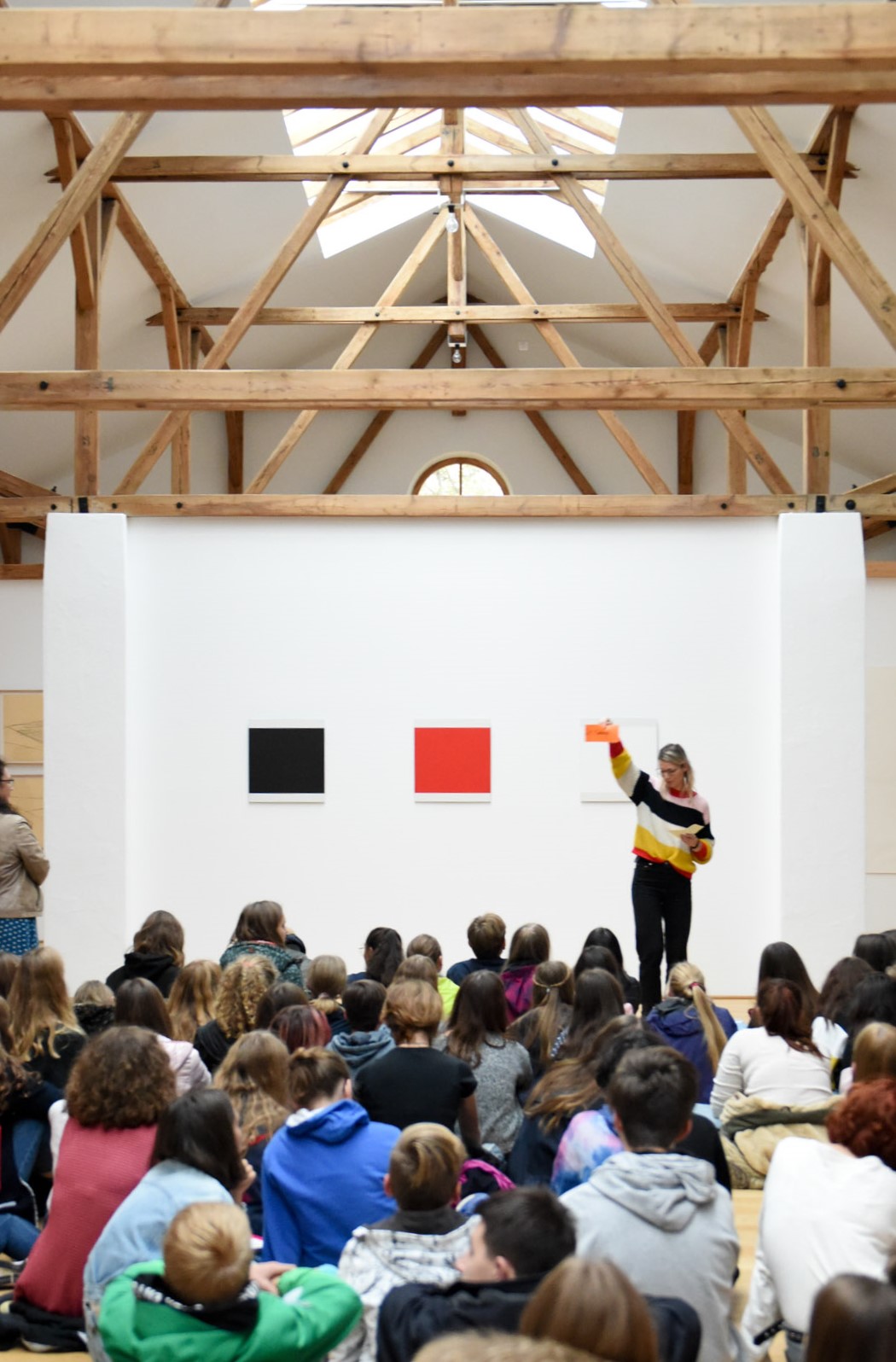 Pauline Füg gives the pupils of the 11 participating grammar schools tips on creative writing.
Photo: Gastager / R. Winkler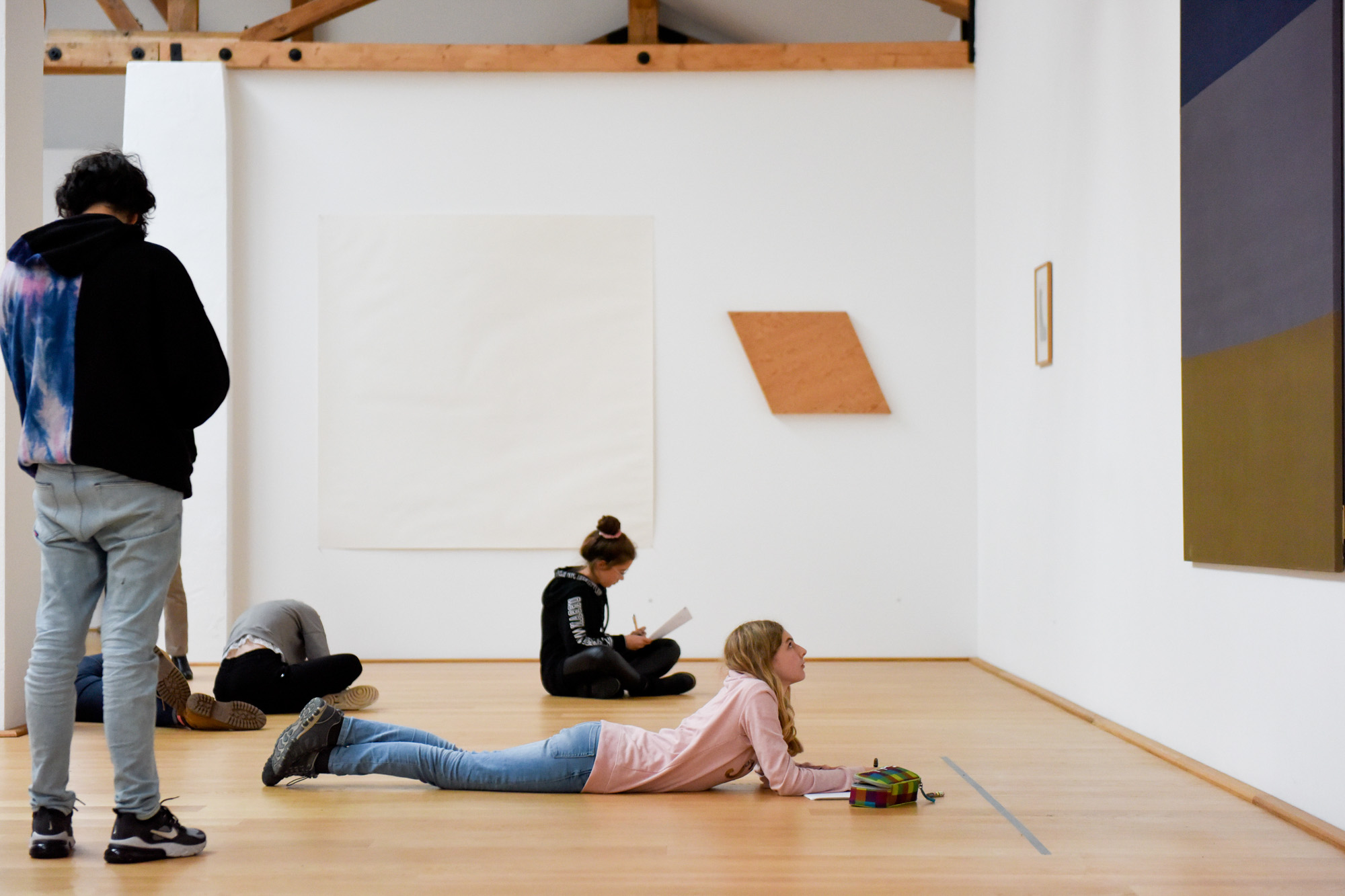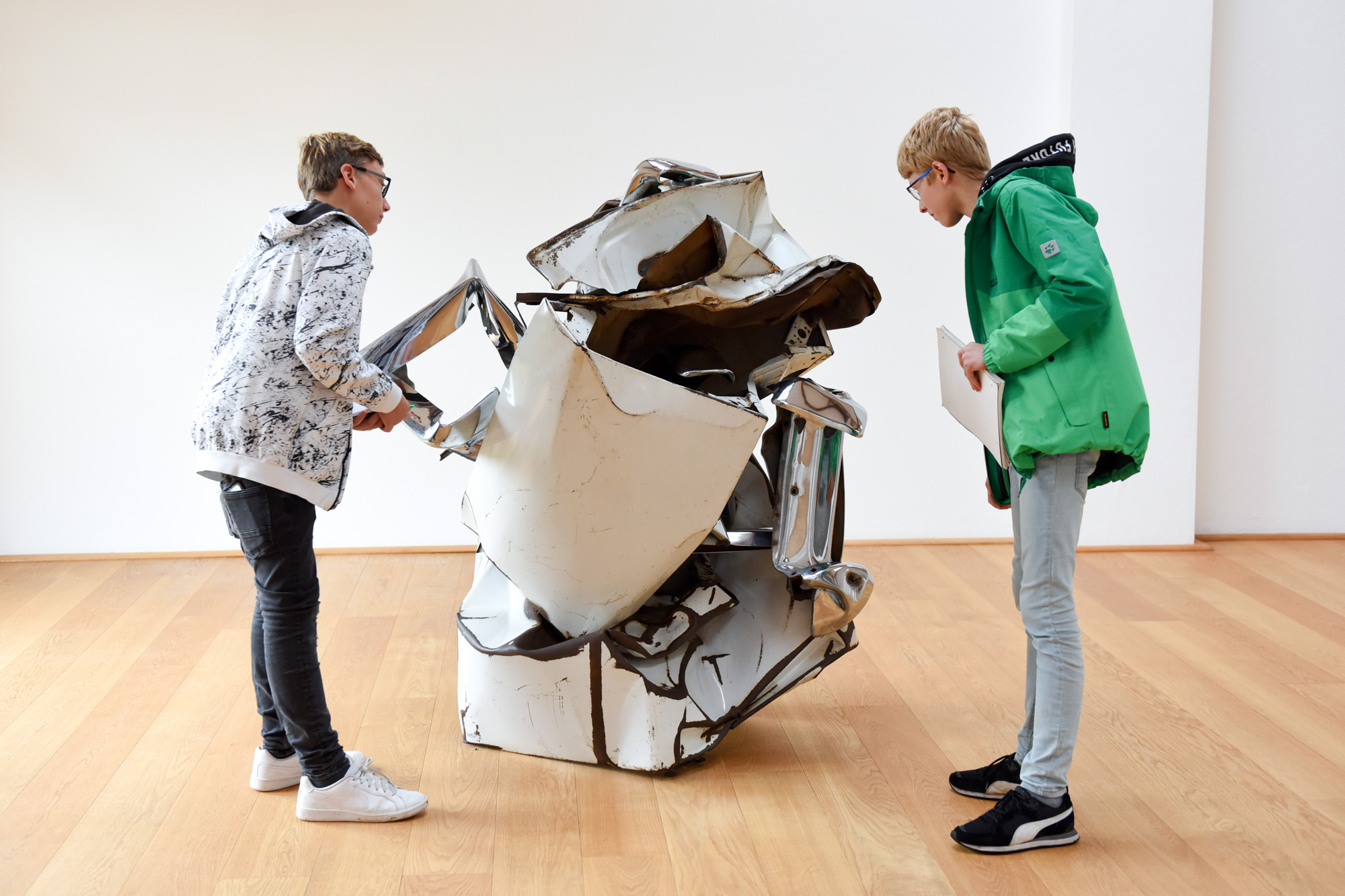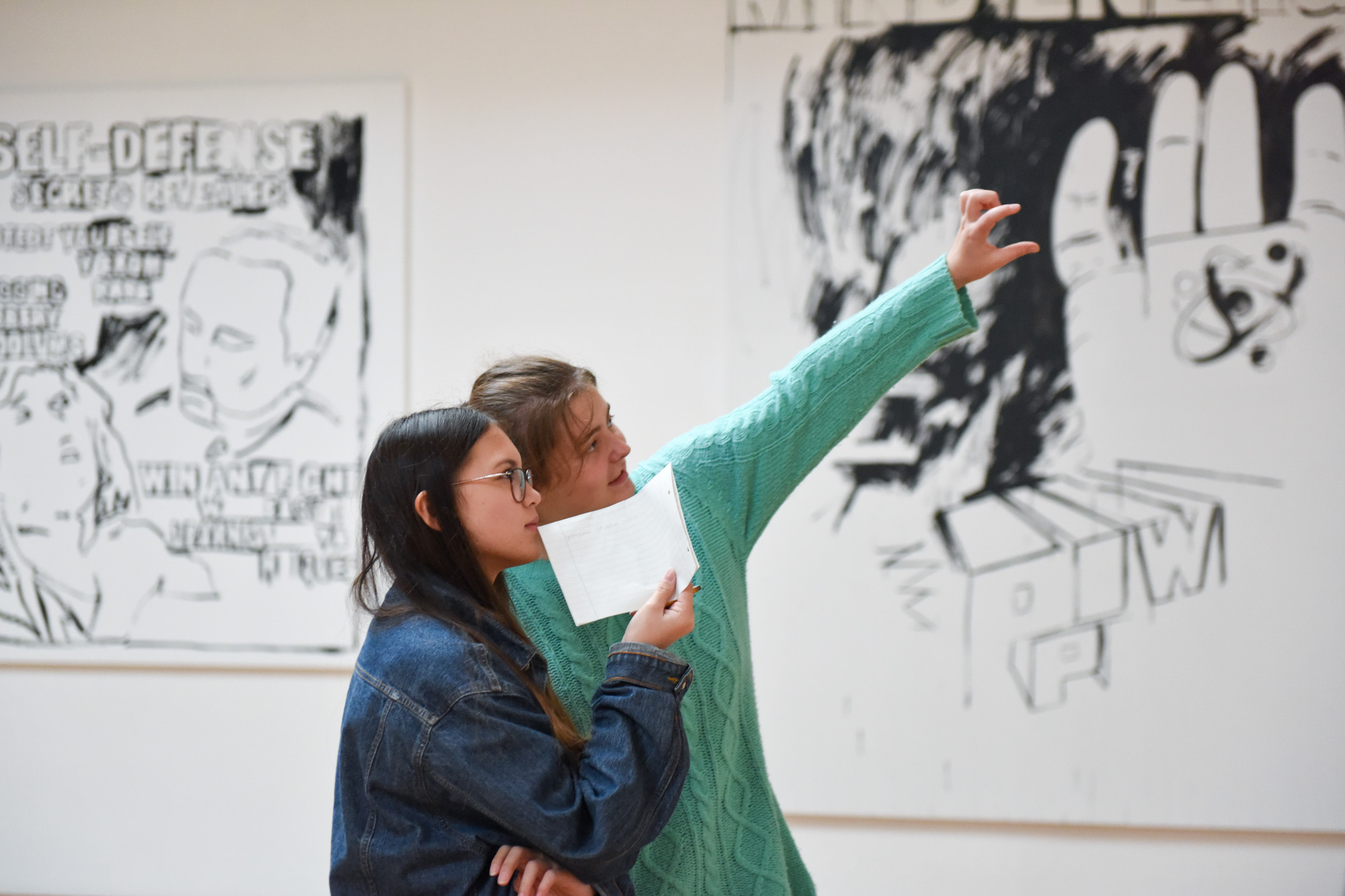 Concentrated atmosphere during the opening event in the DASMAXIMUM.
All photos: Gastager / R. Winkler
Eleven grammar schools and a museum together active: This is the generously designed writing competition "KunstWortKunst", a joint project of the school cluster of the grammar schools of the districts Traunstein and Altötting with the museum DASMAXIMUM KunstGegenwart, Traunreut.
The competition uses the international significance and central location of the DASMAXIMUM Museum in Traunreut to place art and creative writing at the centre of interdisciplinary education. From the grammar schools of the districts of Traunstein and Altötting, which are united under the aegis of the Technical University of Munich to form the cluster, pupils* of the 9th and 10th grades are invited to write a free text about a work of art in the museum.
"Art is about life. She's the footprint of life. She's shaped by life. But she defies life's freedom. She's different. She's demanding. It is subversive in the sense that it resists constraints and expectations. Actually, we do. And that is where understanding begins," says the Bavarian poet Josef Wittmann, who motivated the participants*in the kick-off event in 2015, because "creativity doesn't care whether you want to write something or not. Like a Siamese twin, creativity is the basis of experience. And she's like experiencing just curious. For what's coming. To what it does to you."
This is where the approach of "KunstWortKunst" and the concept of the museum opened by art patron Heiner Friedrich as a foundation in Traunreut meet in an ideal way. The focus here is not on art-historical instruction but always on the experience of art. The author and poetry slammer Pauline Füg is accompanying this year's kick-off - thanks to the DASMAXIMUM project WORT:BILDER and the Bavarian Culture Prize she has been awarded, she is also a permanent fixture here in Germany.
The diversity, intensity and quality that young texts have in common, when this freedom becomes possible in encounters with works of art, surprises the seven-member jury with Ingeborg Bachmann Prize winner Norbert Niemann and experts from literary studies, art, culture and the press. After the first judging of the texts in November, the final phase will begin in January, during which the prize winners will be determined and presented at a festive awards ceremony on February 2, 2020. The same applies to the Text-Bild-Band with the best 20 contributions, published by "Freundes- und Förderkreis DASMAXIMUM Traunreut e.V.".
In cooperation with the grammar schools, the creative project KunstWortKunst is an important addition to the curriculum and is therefore firmly anchored in the school calendar every two years.       
Information & Contacts:
DASMAXIMUM ArtGegenwart
Museum for Contemporary Art with works by Georg Baselitz, John Chamberlain, Walter De Maria, Dan Flavin, Imi Knoebel, Uwe Lausen, Blinky Palermo, Andy Warhol, and Maria Zerres
Dr. Birgit Löffler, loeffler@dasmaximum.com
Johannes-Heidenhain Grammar School
Reference high school for the cluster schools of the districts Altötting and Traunstein
StDin Theresia Bauer, theresia.bauer@jhg.bayern.de