24.11.2016
OAK PLANTING IN HONOR OF JOSEPH BEUYS
TOWN HALL COURTYARD, TRAUNREUT
As part of the campaign "Oak Planting in Honor of Joseph Beuys" in Traunreut, four new oaks were planted in November 2016. At a prominent location in the town hall courtyard, the first municipal oak with an accompanying basalt stele was planted on November 24 at 3 p.m. Employees of the town hall and the Foundation DASMAXIMUM, city councilors, members of the DASMAXIMUM Circle of Friends , local residents and other planting partners attended the planting.
The day before, Johannes Stüttgen, master student, closest collaborator and artist colleague of Joseph Beuys, held a lecture-performance on the meaning and context of planting as a sign of a new idea of the future.
PARTICIPANTS
Tree sponsor: City of Traunreut
Initiator: First Mayor Klaus Ritter
Planting: Stadtgärtnerei Traunreut under the direction of Robert Kratzer
Earthworks: Construction Yard citiy of Traunreut
Tree: Scarlet oak
Basalt stele: Landsburg Quarry, donated by the Foundation DASMAXIMUM
A project of the DASMAXIMUM foundation together with the city of Traunreut
PHOTOS OF THE OAK PLANTING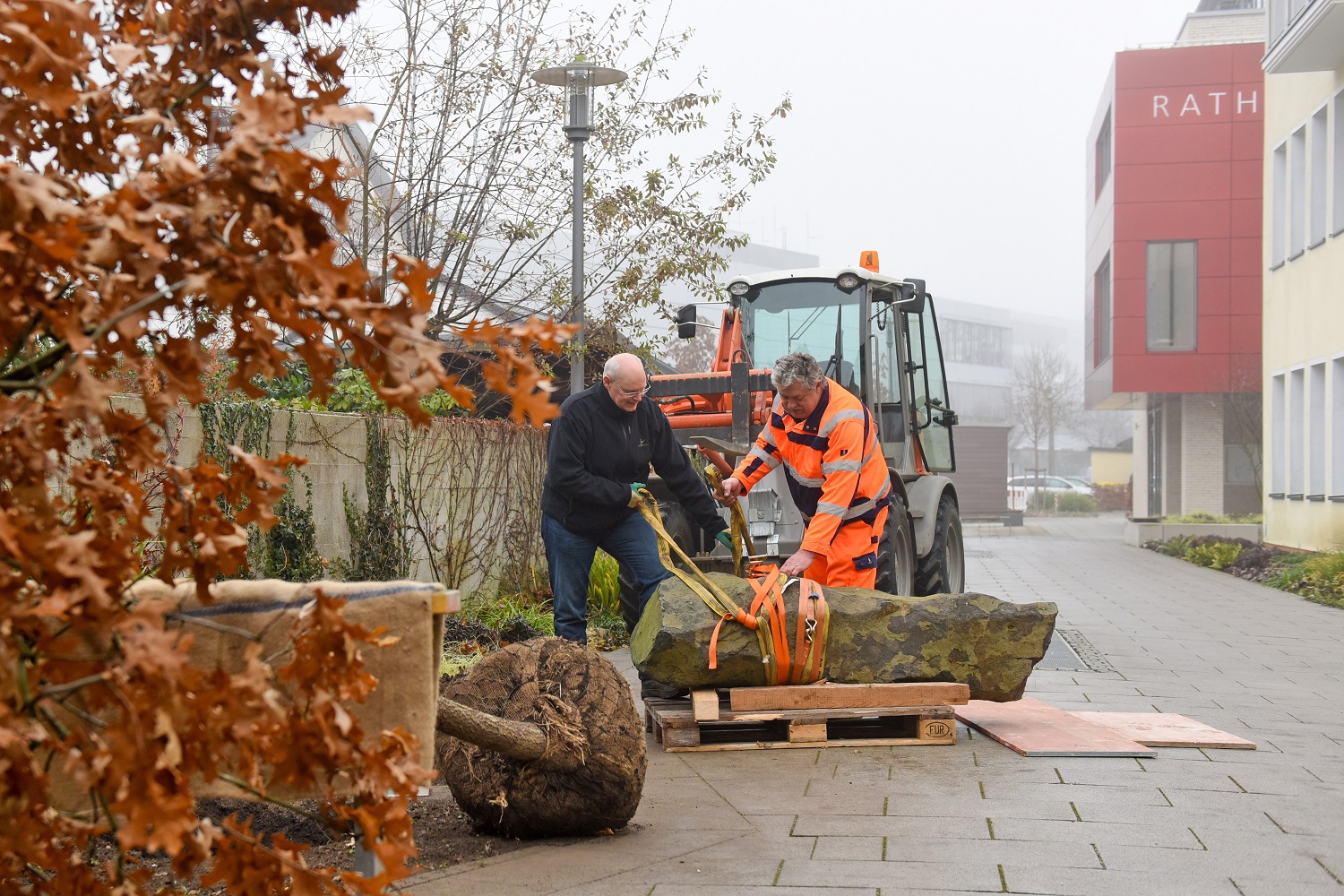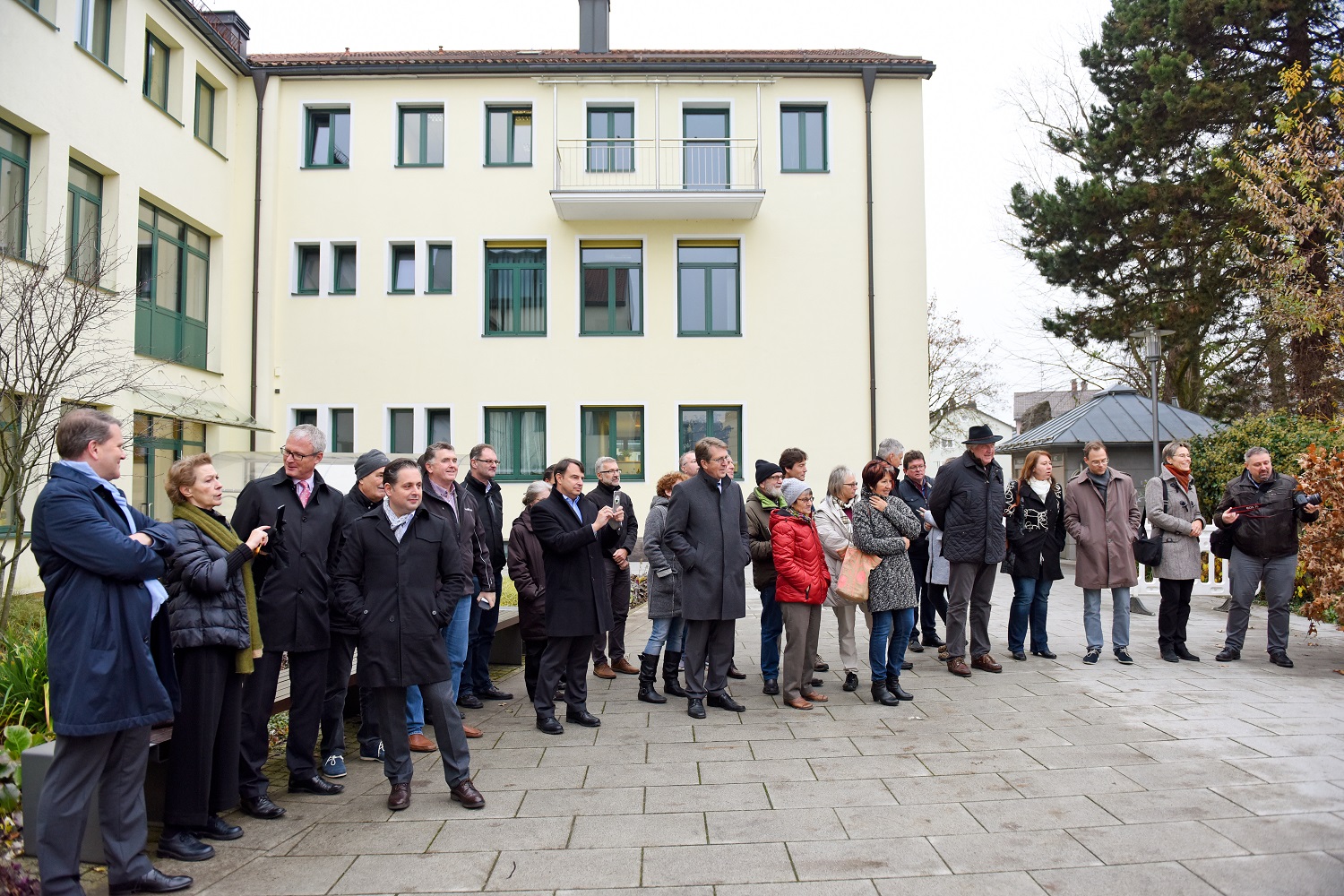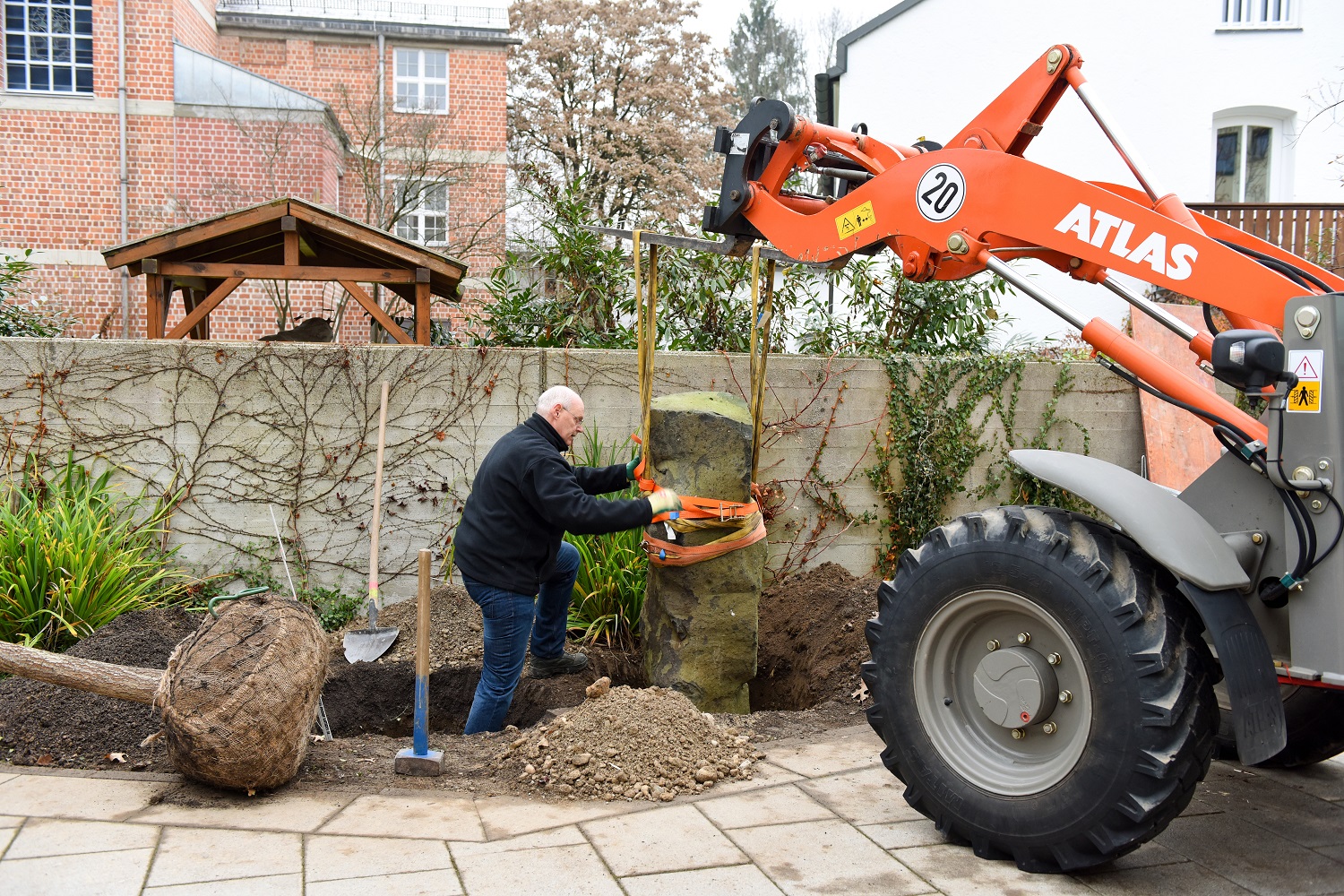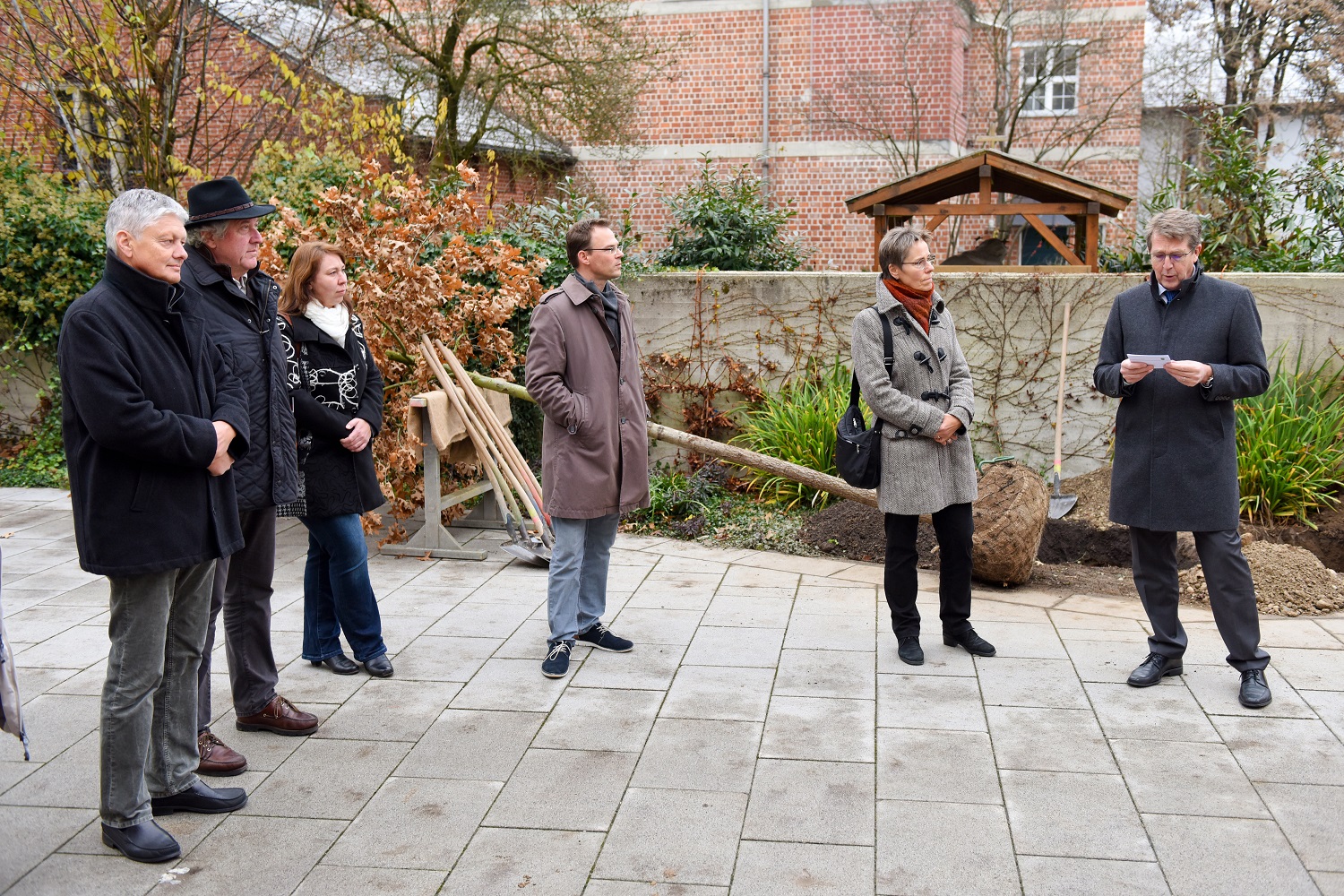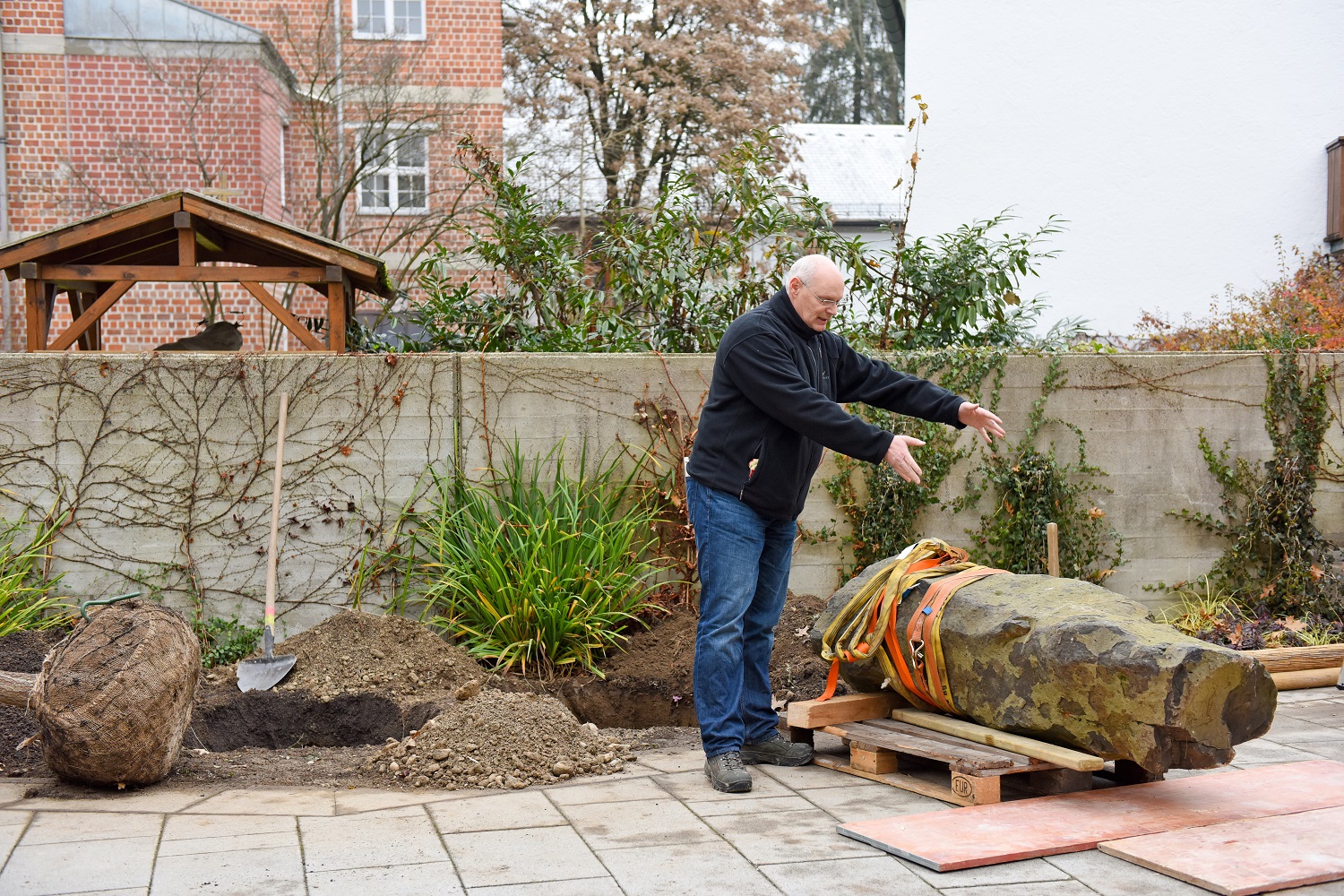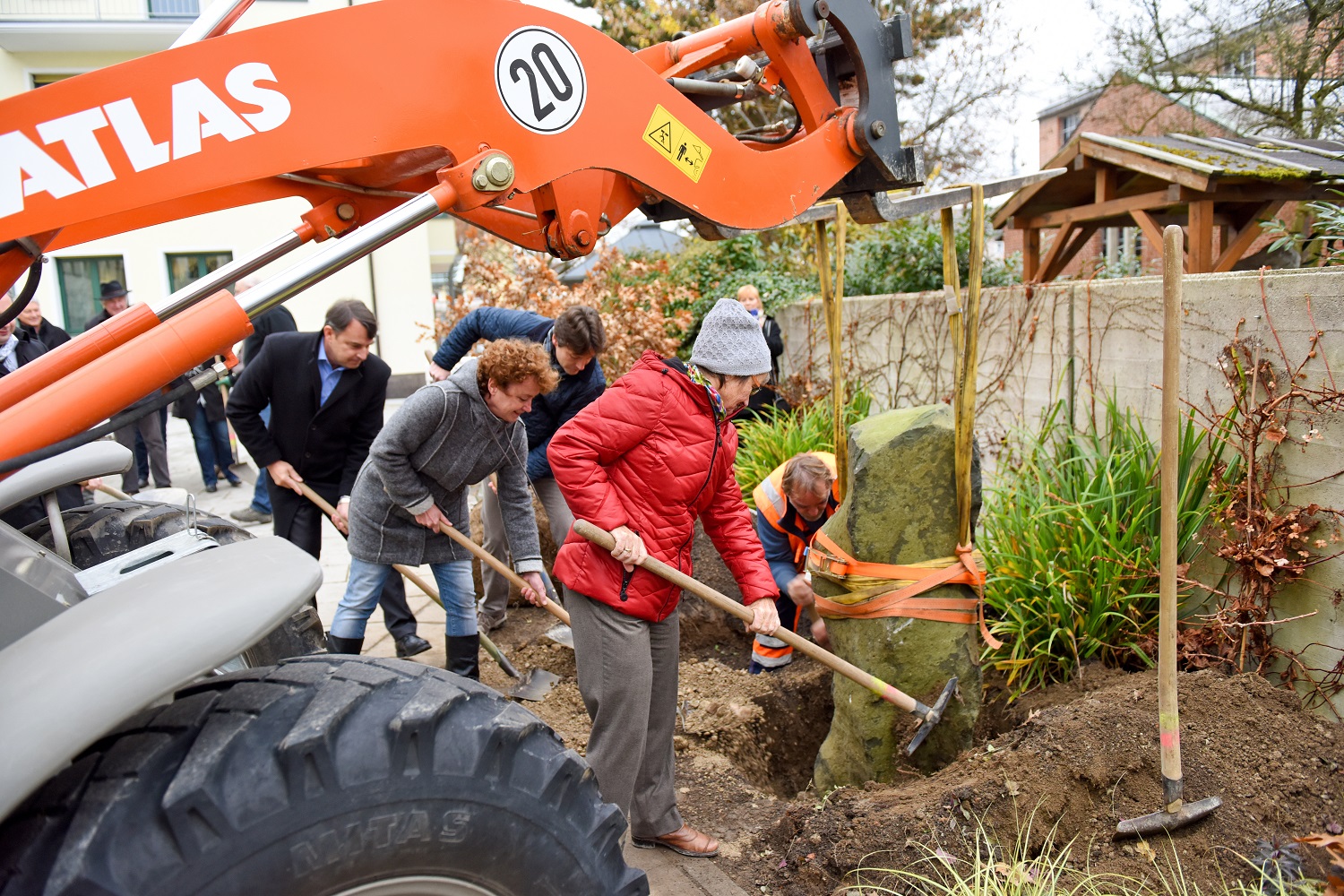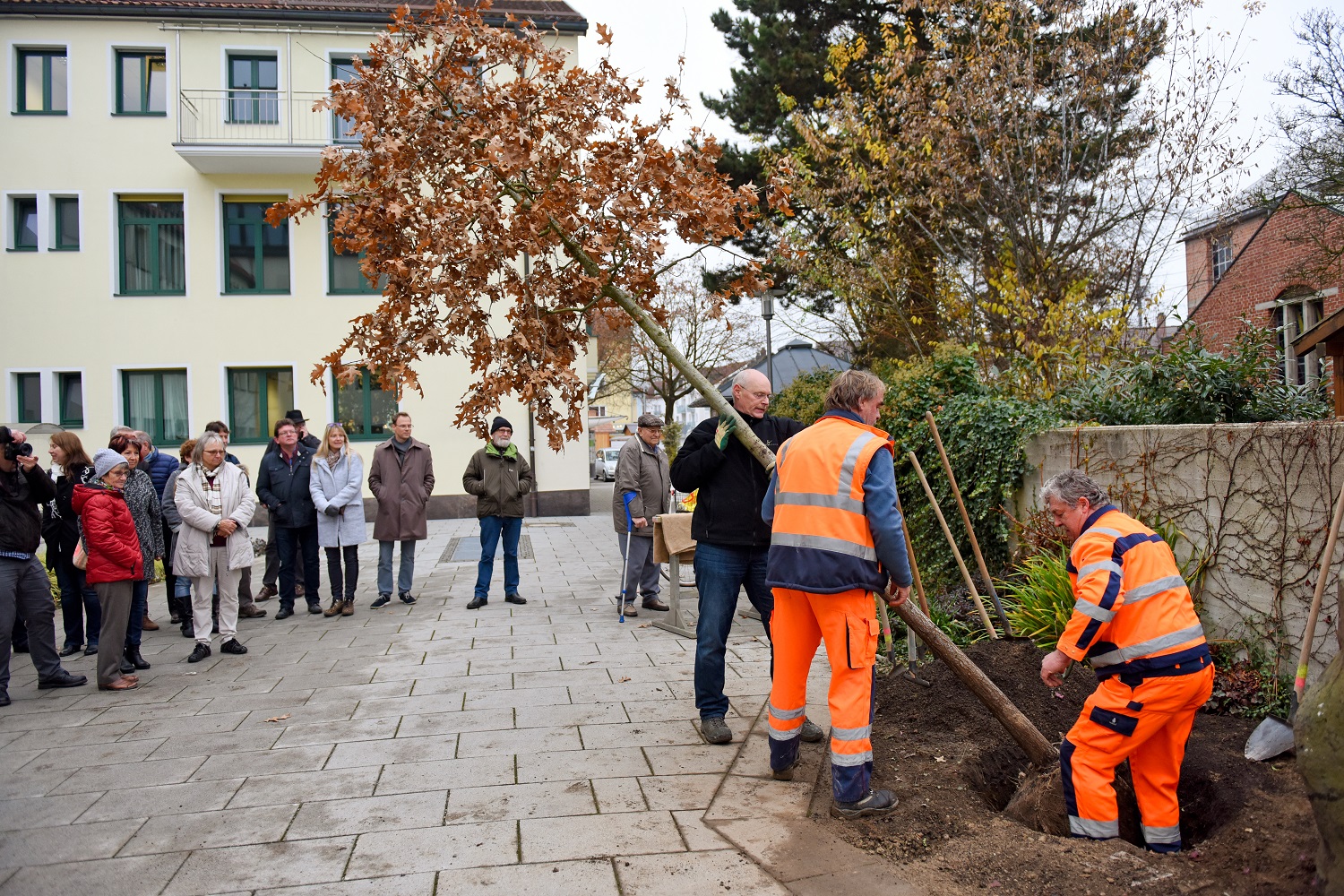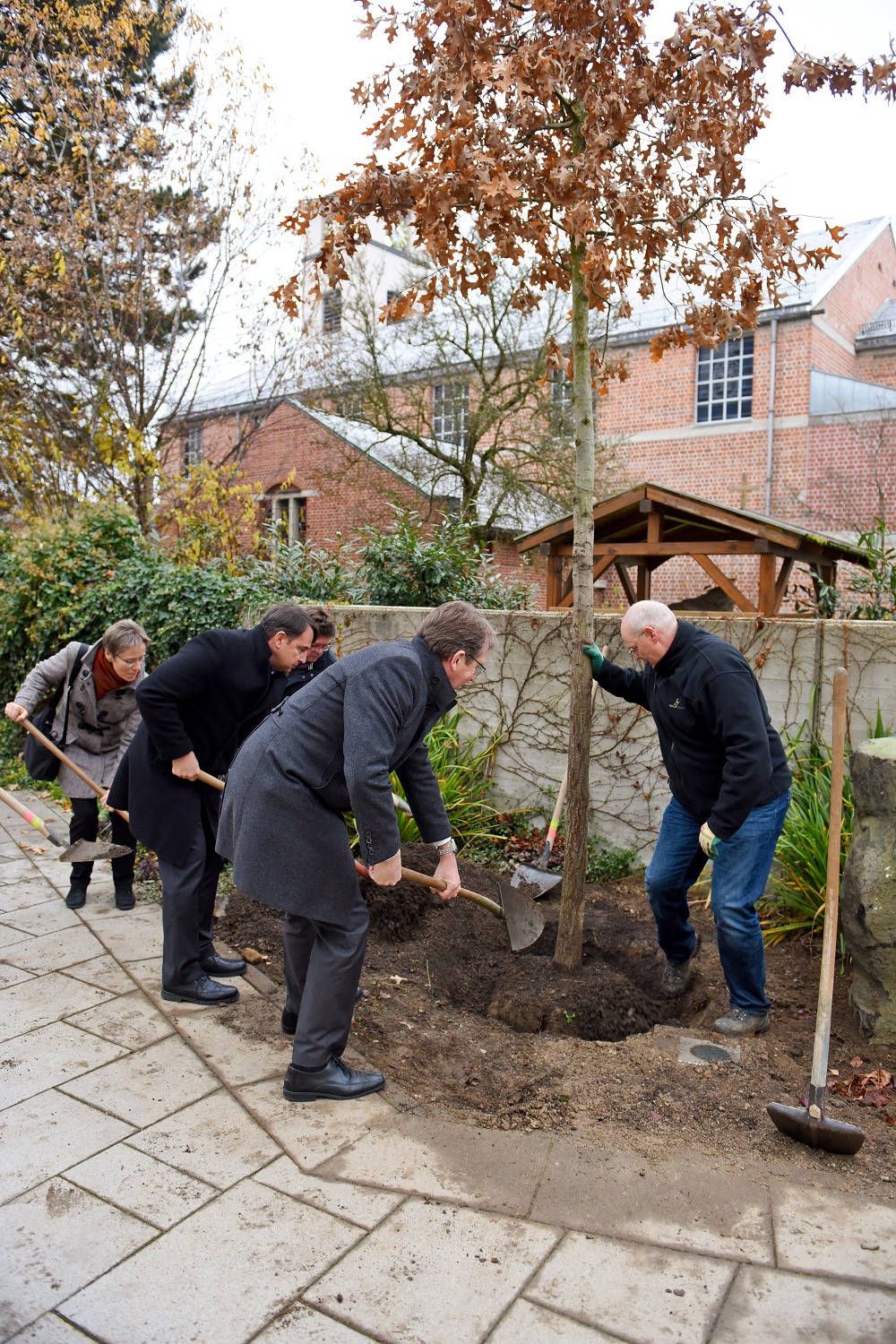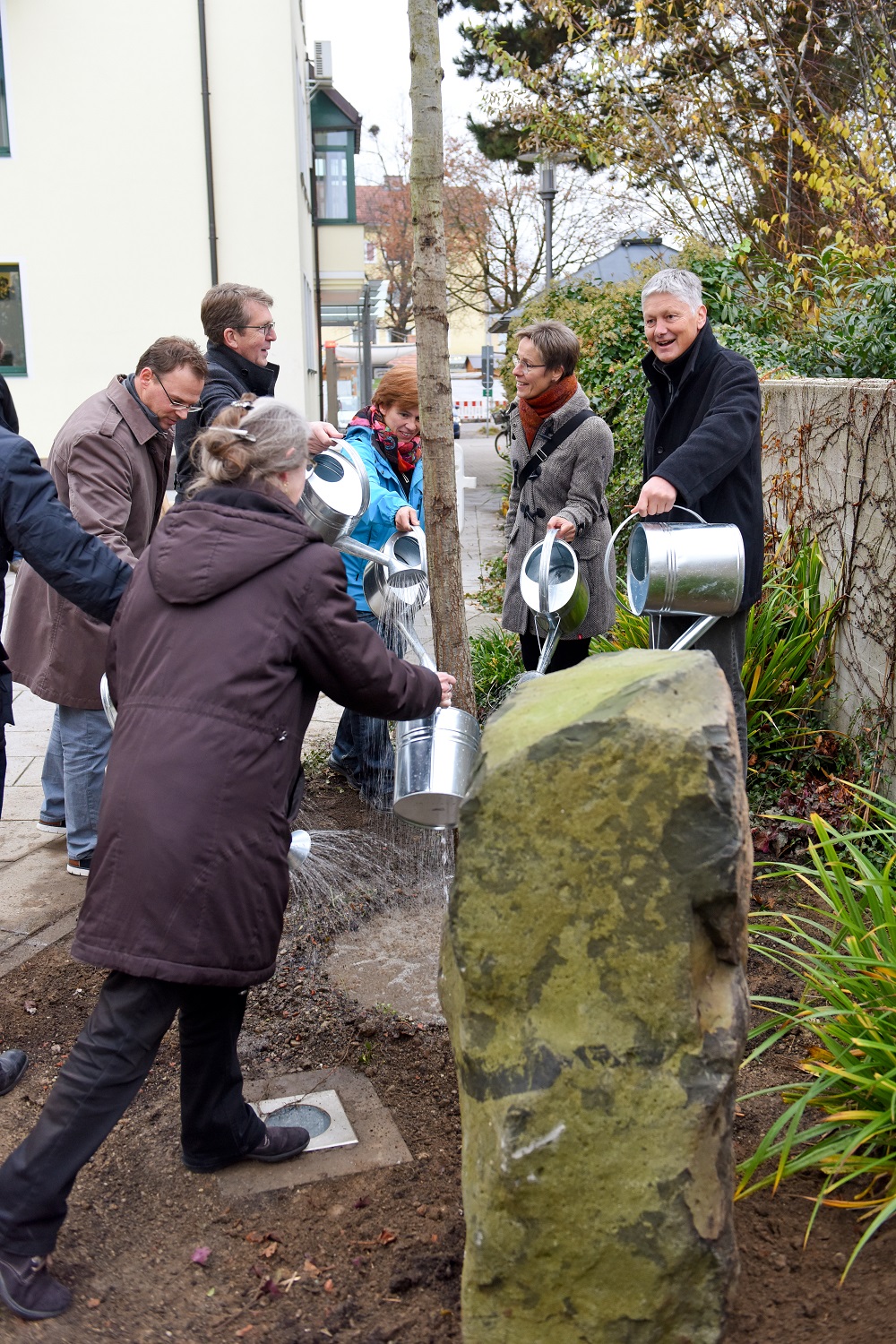 1.R.1.f.l.: City gardener Robert Kratzer during the preparations for planting. 1.R.2.f.l.: First Mayor Klaus Ritter speaks introductory words, next to him (f.r.t.l.) Dr. Birgit Löffler, Director DASMAXIMUM, StD Matthis Reuter, Johannes-Heidenhain-Gymnasium, Henriette Matovina, Traunreuter Stadtblatt, Dr. Peter Lämmerhirdt, Board DASMAXIMUM Foundation, Dr. Robert Anzeneder, Board Friends DASMAXIMUM and Director of the JHG.
2.R.: Robert Kratzer explains the planting procedure to those present, among them Friends of the Bank José Hazanas and Michael Pfennigwerth from Hauck&Aufhäuser Munich, Franz Hofmann from VR Bank Traunreut and the town's master builder Thomas Gätzschmann.
3.R.1.f.l.: Robert Kratzer places the tree with employees of the municipal building yard. 3.R.2.f.l.: Klaus Ritter, Thomas Gätzschmann and Birgit Löffler fill the planting hole. 3.R.3.f.l.: Matthis Reuter, Klaus Ritter, Dr. Ulrike Trips-Rommel, Birgit Löffler and Robert Anzeneder water the freshly planted tree.
Photos: City of Traunreut, Photo Gastager / R. Winkler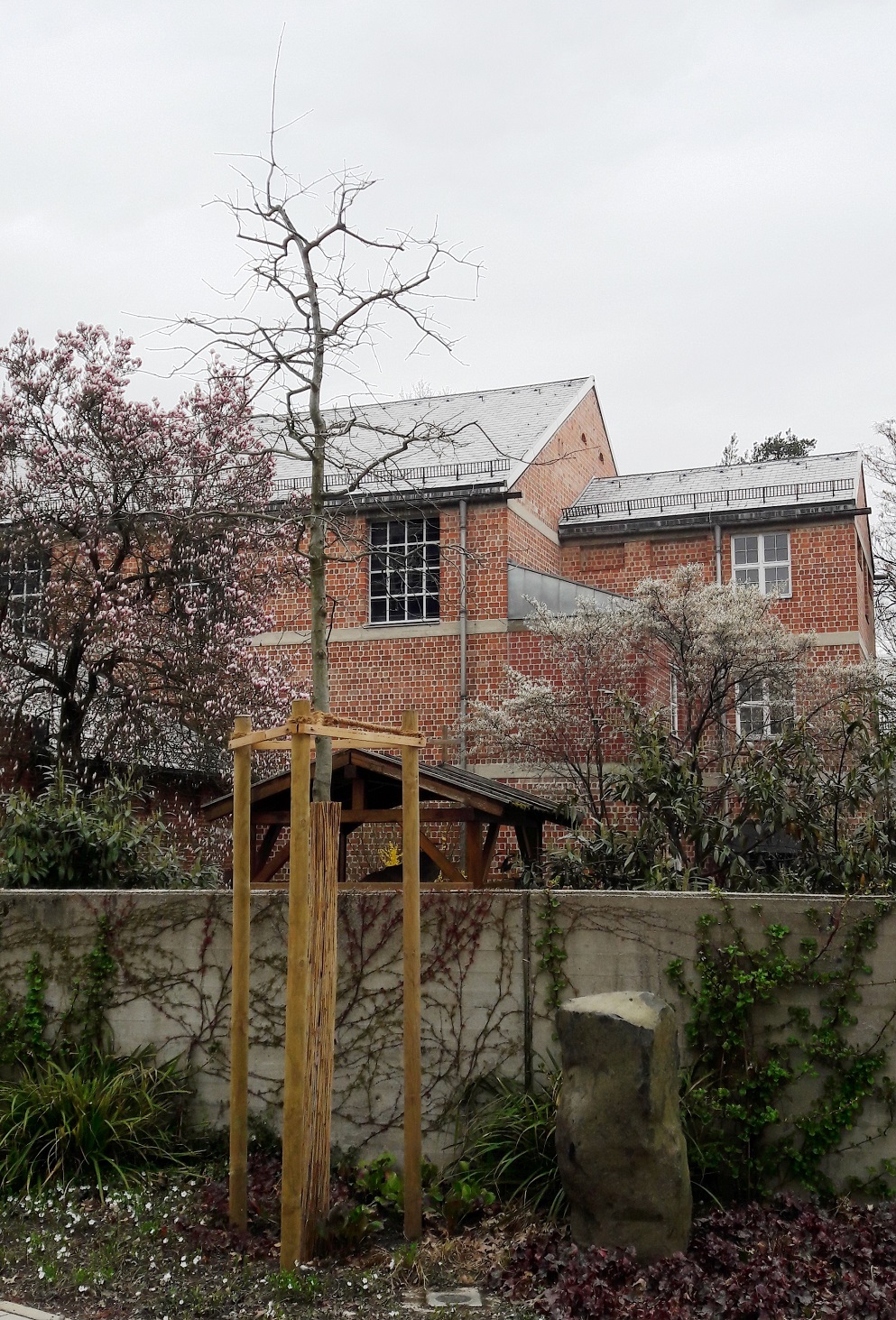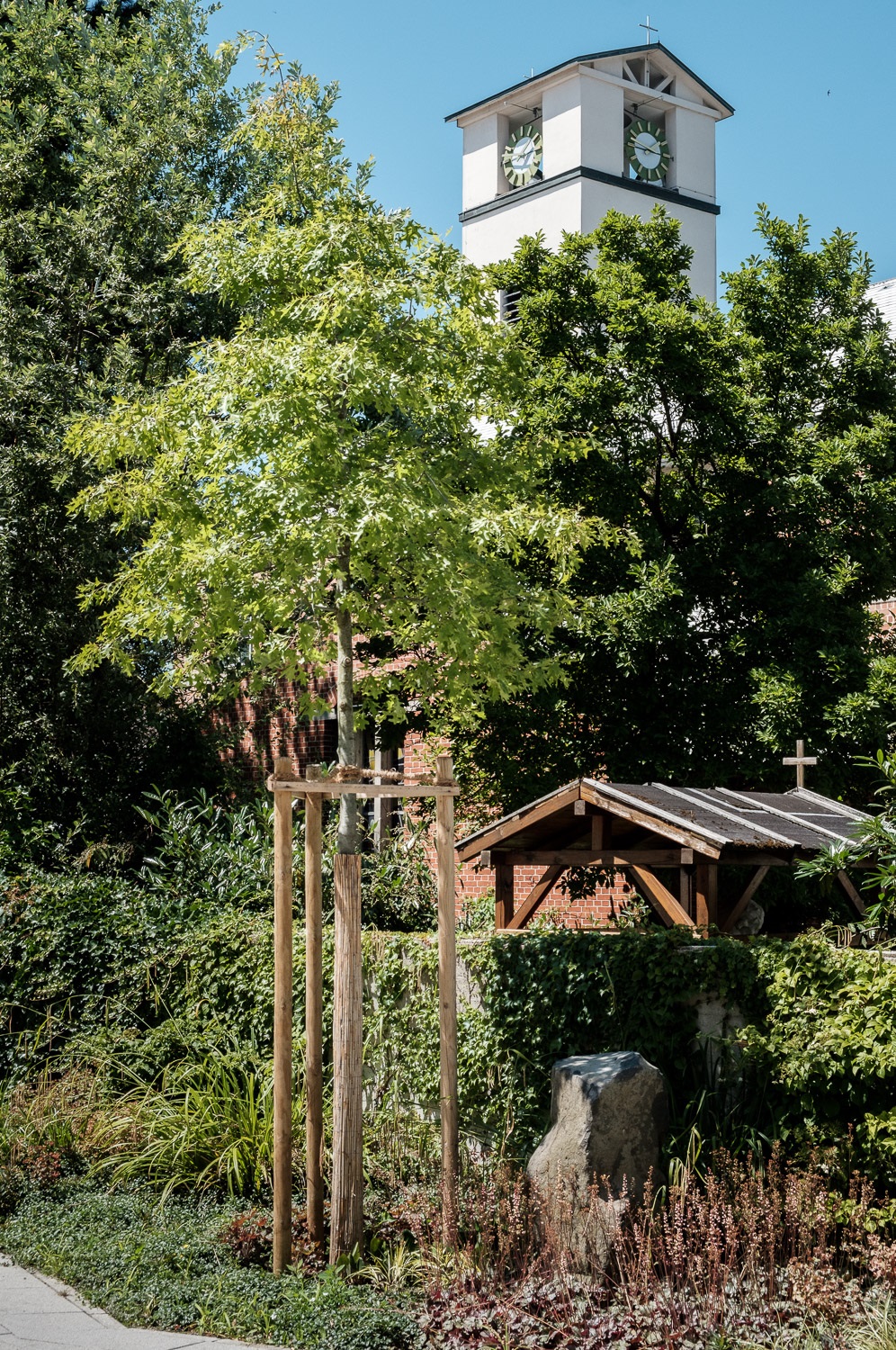 July 18, 2017
Photo: Franz Kimmel