14.10.2021
OAK PLANTING IN HONOR OF JOSEPH BEUYS
ST. GEORGEN, SUN SCHOOL
Oak and basalt show the direct relationship between past, present and future. An elementary school, such as the Sonnenschule in St. Georgen, therefore offers the perfect location for an "oak planting in honor of Joseph Beuys". On 14.10.2021, the long-cherished wish of the principal, Arno Rausch, and on the initiative of the local group Traunreut of the Bund Naturschutz e.V. was followed up - now a reach at the Sonnenschule reminds of the common responsibility, for the following generations.
The planting took place in the presence of Hans-Peter Dangschat (first mayor of Traunreut) and Dr. Peter Lämmerhirdt (first chairman of the DASMAXIMUM Foundation), accompanied by the music school's young brass band. Together they presented Simon Bauer, chairman of the Traunreut branch of the Bund Naturschutz e.V., who had taken over the tree sponsorship, with the tree sponsorship certificate.
PARTICIPANTS
Tree sponsors: BUND Naturschutz - Ortsgruppe Traunreut and City of Traunreut
Initiators: Arno Rausch (Headmaster Sonnenschule) and Simon Bauer (BUND Naturschutz - Orstgruppe Traunreut)
Planting: City of Traunreut, Department of Civil Engineering - Parks, Master Gardener Robert Kratze
Tree: Turkey oak
Basalt stele: Landsburg Quarry, donated by the Foundation
DASMAXIMUM / Heiner Friedrich
PHOTOS OF THE OAK PLANTING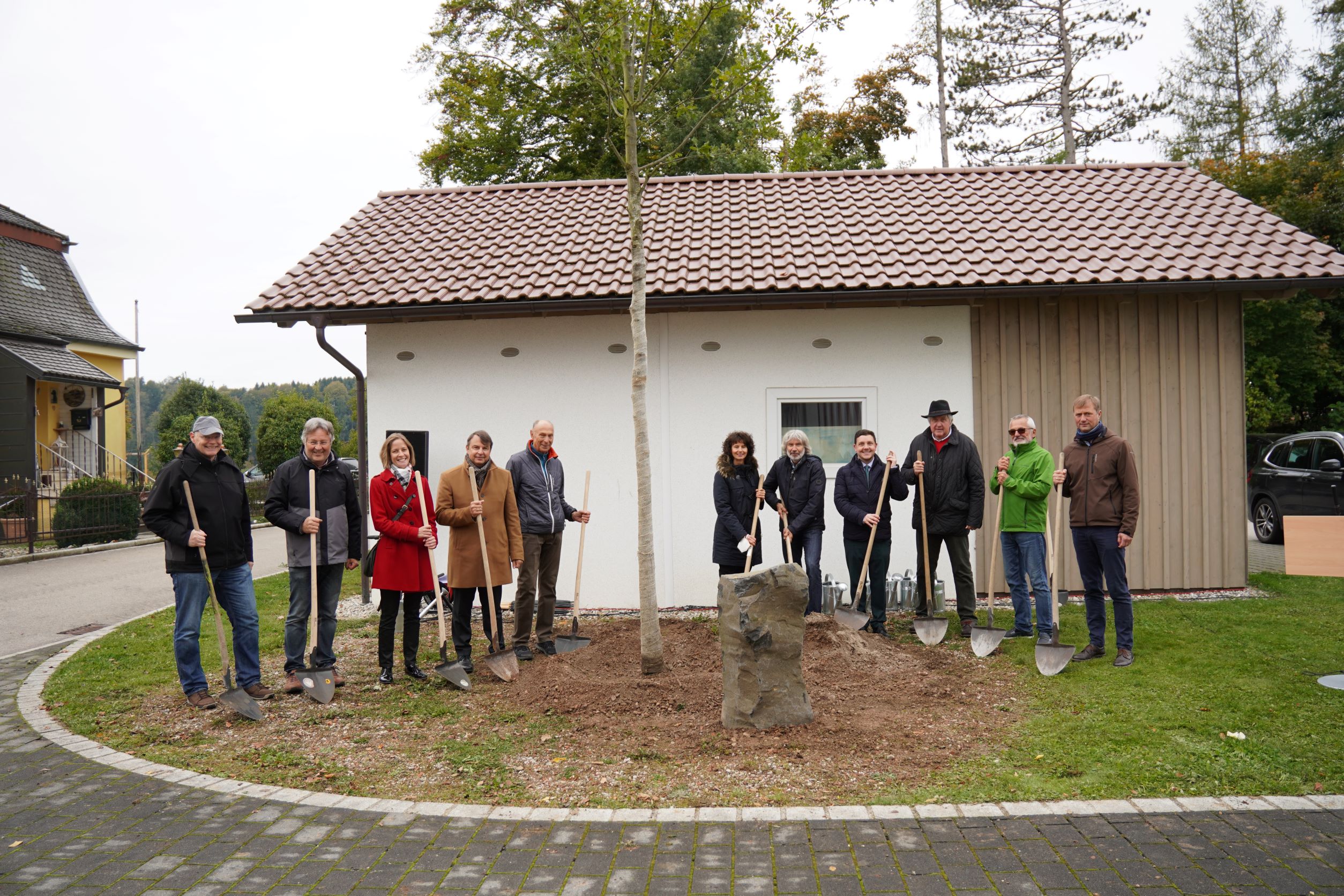 Fig.: The participants of the planting campaign in St. Georgen with freshly planted oak and basalt stele
Photos: Martina Glaser/City of Traunreut